Last Updated on July 21, 2021 by Mark Roberts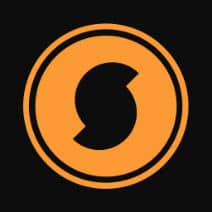 If you have ever wondered how to identify a song on pc and looked for ways online, then I am sure you probably know about the soundhound. Soundhound is an excellent app when it comes to finding out music playing around you.
By launching the app, you will be able to figure out what music is playing. The app is also available on multiple platforms like Windows phones Android, iOS, and so on. However, if you are wondering how to download soundhound for pc windows 10 then I am here to help you out. In this article, I will be explaining all the steps.
Talking about Soundhound, it is one of the best music recognition app for PC. You can easily identify original music or perform a singing search. It also comes with quite a lot of features, some of them are the:
Features of Soundhound
---
Save your searches:
One of the best parts of the sound hound app is that it saves your searches. So whatever music you look for using the app will be saved in your personal history. Plus, you will get to know at what place you get to hear the music that you liked so much. Furthermore, it also gives you the option to connect your Spotify account. So you can create playlists and so on.
Karaoke Supported:
The app also offers you real time lyrics. As a result, you can sing along and have a karaoke like an experience. Moreover, the app also allows you to discover the lyrics of most of the popular songs available in the Soundhound charts.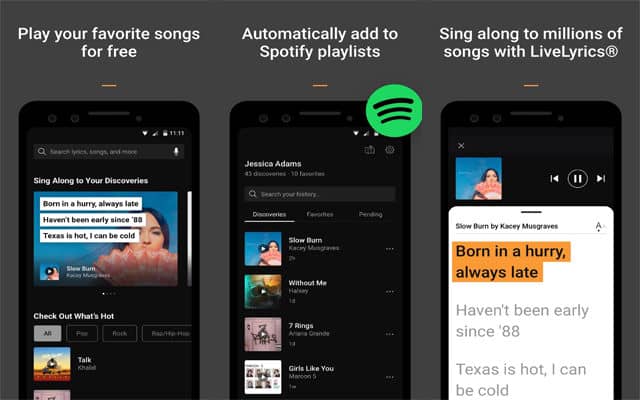 Find New Music:
Using this app, you will also be able to find new music. The app includes a big orange button, which lets you find music what is playing around you. Like, you will get every bit of information you might need like the album, song name, and lyrics.
Even the app can also help you to find songs that are stuck in your mind. Simply sing in front of the app, and it will detect what song it is. Furthermore, you will also get to know the current top songs and what music is being played all over the world.
Play:
The app also includes a built-in YouTube music player. As a result, whatever song you find using the app can be played via YouTube free of cost. Furthermore, you can also connect your Spotify account to stream music from SoundHound. Moreover, you can also transfer your discovered songs to your Spotify playlist. But you will require both Soundhound and Spotify subscription. Plus, it gives you the option to sync your music to multiple platforms.
Lyrics:
The app will also help you with real time lyrics. Even, you can find any song by simply typing down the lyrics. You can also access the lyrics of your recently discovered music and so on.
Voice command supported:
Soundhound also comes with voice command support. As a result, you can identify and discover music without even touching the app. You can use different commands like What's the song, Show me lyrics to the song, Add it to my playlist, and so on.
How to Download Soundhound for pc and Mac?
---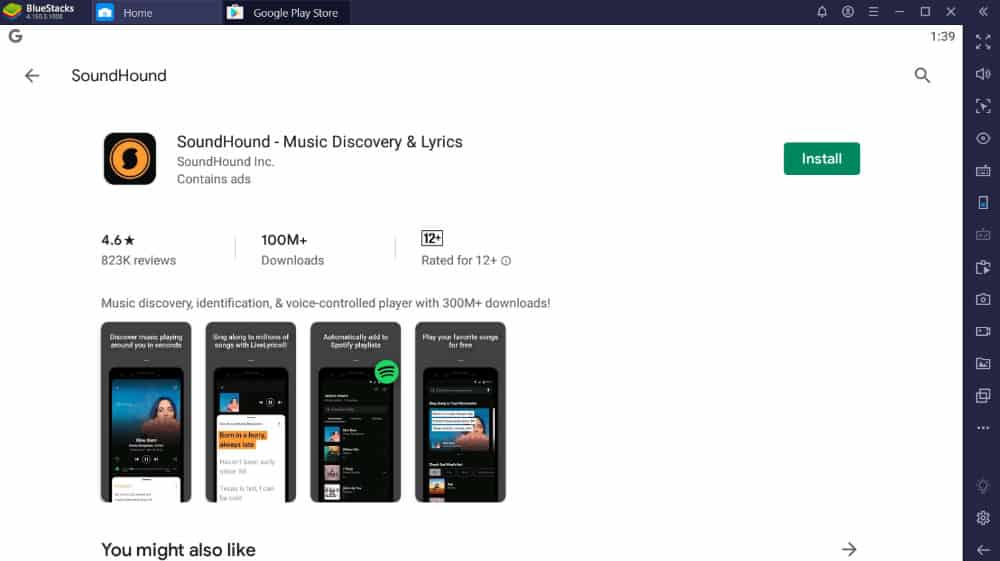 Downloading soundhound pc can be a complicated process. Since, SoundHound is available for Windows phones but not for Windows PCs.
Hence, you will need to install soundhound for computer via an Android emulator. Android emulators are petty helpful when you wish to download a mobile-based app on your computer. Also, it is a completely free method.
Like you can download emulators like Bluestacks and NoxPlayer free of cost and they are highly reliable. For more information, follow these steps:
Method 1: Using Bluestacks
Step 1: First of all, go ahead and download Bluestacks from its official website www.bluestacks.com.
Step 2: Then double click on the setup file and follow all the screen instructions and install the emulator.
Step 3: After that, launch the emulator, and it will ask you to sign in. Over here, you can use your Google account or create a new Google account.
Step 4: Once you have finally launched the emulator, click on the Library tab. Then go to Google Play Store.
Step 5: Over here search for Sound hound for PC and click on the install button.
Finally, wait for the download to get finished, and you will be able to start using soundhound windows 10 app.
Method 2: Using NoxPlayer
Step 1: Go to the official website of NoxPlayer and click on the download button to download NoxPlayer setup file.
Step 2: After that, follow all the steps and install the emulator on your computer.
Step 3: Next, it will ask you to sign in. So use your Google account to sign in. You can also create a new Google account for Noxplayer.
Step 4: Once the emulator is set up, go to the tools folder and select the Play Store.
Step 5: Now search for Soundhound and click on the install button.
Step 6: Finally, wait for the download to get finished, and then you will be able to use Soundhound on PC without any trouble.
Final Words:
So that was all about soundhound for pc and mac. Now go ahead and try installing the app via an emulator and see how it is working for you. Also, if you have any more questions to ask, then do feel free to drop a comment below.
Related Posts: