Sundance Now is an American pay television channel owned by AMC Networks. It is available on Roku and is loaded with the best documentaries, true crime, political thrillers, and more.
Sundance Now can be accessed via subscribing to the Roku Channel Store to stream their premium content. To stream their premium content, the user has to pay and subscribe to the channel on a monthly or yearly basis.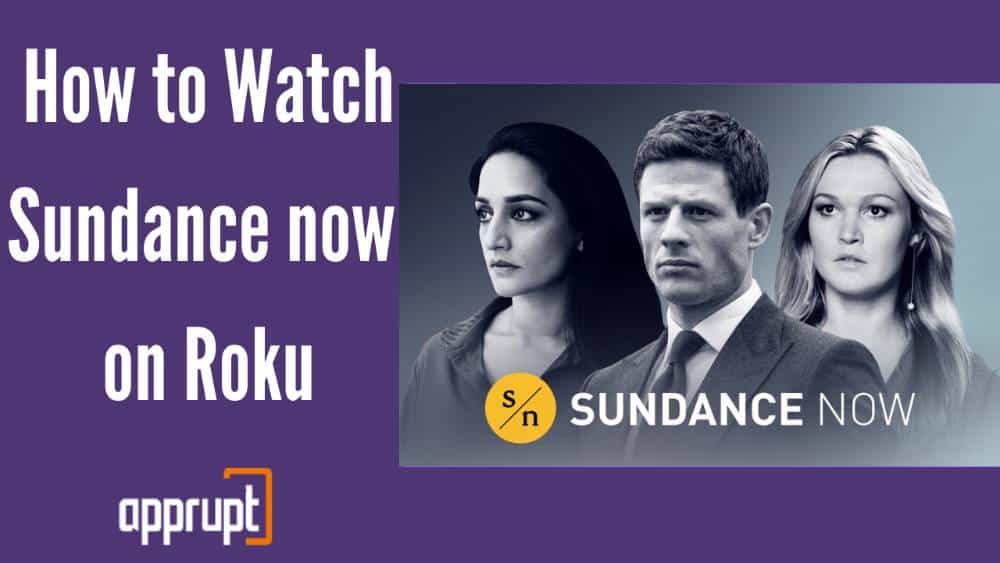 Providing a 7-day free trial, it has a variety of TV shows and movies you can choose from with an option to stream live or on-demand.
Is there an app for Sundance now on Roku?
---
Yes, Sundance Now has an app that helps the users to access content and watch the movies, shows, and more streamed on Sundance Now.
The app has detailed information about its content and even recommends users what to watch based on the user data it collects. Filters like language, rating, cast, genre, and more help in making a better choice while choosing what to watch.
How to watch Sundance now on Roku?
---
Installing and activating Sundance now is a fairly simple process provided you follow the steps given below carefully –
Following steps are given for easy installation of Sundance Now –
On your remote control, press the Home button to open Roku's home screen
Select the Streaming Channels option from the menu to search the channels of your choice
Select Search Channels and enter "Sundance Now" in the search field
A short description of the channel along with its subscription prices should be displayed on the screen. Select Add Channel and Sundance Now will begin downloading on your Roku device.
Click OK on the confirmation message that pops up.
There's also an alternative method to install Sundance Now on your Roku device –
Go to https://channelstore.roku.com/en-gb/browse by typing the URL given in your browser window
Sign in to your Roku account by entering valid login credentials
In the search field, type Sundance Now
The channel details should pop on the screen. Select Add Channel and Sundance Now will begin its download process on your Roku device. 
Restart your Roku device to make sure Sundance Now is properly installed and runs smoothly
After following these few steps, Sundance should be successfully installed on your Roku device.
The next key step is activating the channel to access digital content for streaming. Follow the steps given below to activate Sundance Now on your Roku device –
Sign in to your Roku account and note the activation code
Enter the activation code and other details
Sign in with your pay-TV service account
Restart your Roku device
Sundance Now comes with a free 7-day trial period. After this span is over, if the user wishes to continue, they need to have a subscription to a pay-TV provider. It costs $6.99 per month and $59.99$ per year, depending on the plan you choose.
How to Cancel Sundance Now on Roku?
---
If you do not like the kind of content streamed on Sundance Now, or just didn't find anything that suits your taste, you can cancel your subscription for free within the 7-day trial period.
If the trial period is over and you've paid for a given period, Sundance Now remains active till the due date even after you cancel.
Canceling Sundance Now on Roku can be done in two ways –
Through Roku device
Click on the Home button on your remote control
Navigate to Sundance Now and highlight the channel with the help of arrow keys on your remote
Select * icon on your remote
Select Manage Subscriptions to view the details of your subscription
Select Cancel Subscription to cancel your subscription
Using the Roku website
Go to www.roku.com by typing the given URL in your browser window
Sign in to your account by entering your valid credentials
Select Manage Account to view your account information and other relevant details
Select Manage your subscriptions to view your subscription details
Select Sundance Now from the list of subscriptions 
Select Cancel Subscription to unsubscribe to Sundance Now
Select Confirm to proceed and complete the cancellation process. 
Conclusion
Sundance Now is available on Roku at $6.99 per month and $59.99 per year. It has a wide variety of documentaries, thrillers, and over 67+ tv shows to choose from. It is ad-free to make the user's streaming experience interruption-free and enjoyable.
Following the steps above, you'll be able to add a subscription, or even cancel it accordingly.