Last Updated on December 9, 2021 by Mark Roberts
Have you decided to buy a new Roku device? You must be wondering: "How much does Roku cost?", "Will I need to pay for the channels?", "Are there any monthly fees?" and so on?
Ideally, you don't need to spend all your savings on Roku. The device comes at an affordable cost and supports free and paid channels. So, you can even save a few bucks by choosing not to subscribe to unwanted channels.
Nevertheless, you may have to pay additional charges for extra Roku accessories like cables, remote, etc. So, the question remains: "How much does Roku cost?"
To get all your Roku cost-related queries solved, we've covered all the Roku costs in this guide. Check it out!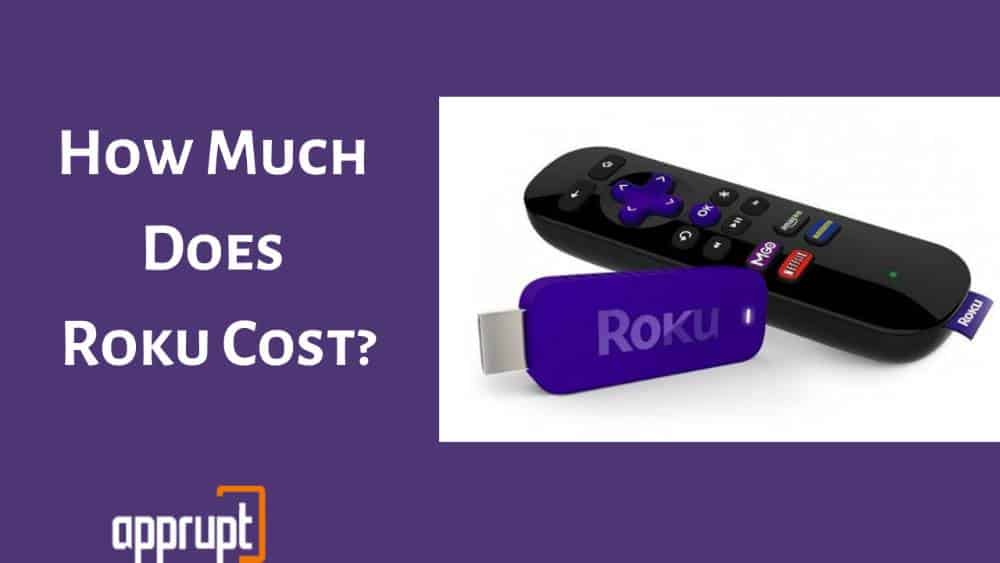 How Much Does Roku Cost Per Month?
---
Roku doesn't have any monthly subscription fees. You only need to pay the one-time purchase fee for a Roku device that costs between $19.99 to 169.99. But, the paid channels that you add to your Roku device might have monthly or yearly charges. That means you need to pay for these channels and not the Roku device.
How Much Does Roku [Roku 3, Roku 2, Roku Ultra, Roku 4] Cost At Walmart, Amazon, or Their Official Site?
---
Roku devices are quite affordable. You can get Roku streaming players for only $29.99. But for advanced players, you will have to shell out a few hundred dollars. Here is the price of the top Roku devices:
Roku Models Comparison by Price
| | Price at Amazon | Price at Walmart | Price on Roku Website |
| --- | --- | --- | --- |
| Roku 3 | $149.99 | NA | $99.99 |
| Roku 2 | | $92.89 | $79.99 |
| Roku 4 | $60.00 | | $129.99 |
| Roku Ultra | $66.01 | $66.01 | $69.99 |
| Roku Express 4K+ | $39.99 | $28.98 | $39.99 |
| Roku® Streaming Stick® 4K | $39.99 | $39.00 | $49.99 |
| Roku® Streaming Stick® 4K+ | $39.99 | $47.50 | $69.99 |
How Much Does A Roku Express Box Cost?
---
The Roku Express Box is an affordable Roku streaming device that supports HD streaming. It is compatible with almost every TV. the box comes with an HDMI cable and remote. You can get a Roku Express for $19.99 from the Roku website or $19.00 from the Amazon website.
Does Roku Cost Anything to Activate?
---
No. Roku does not charge anything for activating the device. You only need to create a free Roku account and link your Roku device to your account.
Also, note that Roku asks for your payment details during the activation process so that you can pay for a channel subscription using your Roku.
Again, beware of fraud and scam websites that charge for Roku activation charges. Several Roku TV users often report such scams while activating their devices. So, avoid giving personal information or paying money on unknown websites.
Which Channels Are Free On Roku?
---
The best part about Roku is that you don't necessarily have to purchase costly subscriptions to watch programs. Roku has a wide range of free channels streaming content related to sports, news, movies, TV shows, and much more.
So, if you are not ready to spend your hard-earned money on subscription channels, the free channels can entertain you equally. Besides, paid Roku channels also offer free trials or free versions to Roku TV users.
The most popular free channels on Roku are:
The Roku Channel
Pluto TV
Fawesome TV
Tubi
Crackle
NewsOn
Stirr
Popcornflix
CBS Sports
TED
Newsy
Vevo
ChefsFeed
Crunchyroll
PBS
PBS Kids
See also: Best Free Roku Channels List and How to Find Them
Does it Cost Anything To Have A Roku Account?
---
Not at all! Creating a Roku account is absolutely free. All you need to do is go to the official Roku website and create your free Roku account by providing your personal information.
After creating your account, you can link as many Roku streaming devices as you want to your single Roku account. This way, you can sync the settings between multiple Roku devices (if you own more than one Roku).
However, Roku asks for your payment details like credit card information so that you can pay for channel subscriptions directly from Roku pay.
See also: How To Change Roku Account on TV or Website
What is The Cost Of Roku Channels?
---
If you want more fun and full access to premium services of Roku streaming channels, you can go for the paid channels on Roku. The cost of these streaming services varies from channel to channel.
Some channels have a one-time subscription fee, while others have monthly, quarterly, semi-annual, or annual subscription charges. If you wish to stream cable-TV-like content, streaming channels like Hulu, Sling TV, FuboTV, etc., can be a good option. These channels begin at a monthly cost of $5 and above.
Alternatively, if you want to watch movies, sports, TV shows, etc., you can go for channels like Netflix, Disney+, Amazon Prime Video, HBO, Cinemax, etc. The subscription to these channels begins at $5.99 per month and can go up to $9.99 per month.
How Much Does A Roku Remote Cost?
---
A free Roku remote is included in the package when you purchase a new Roku device. You can use this remote to control your Roku device after pairing it. But, if your remote is lost or damaged, or you want a new remote for your Roku, you can choose to purchase any of these Roku remotes:
Roku Simple Remote – Compatible with most Roku devices and comes at $14.99.
Roku Voice Remote – Comes with voice control features and costs $19.99.
Roku Voice Remote Pro – Comes with rechargeable batteries and lost remote finder functionality. It costs $29.99.
See also: How To Quickly Find A Lost Roku Remote
How Much Does Roku TV Cost?
---
The price of Roku TVs varies depending on the brand and model. You can get a basic Roku TV for $500 or the latest model for up to $1000 or above. However, it is worth noting that the features like display quality, size, sound quality, etc., will also vary depending on the price.
See also- Best Roku TV Deals of 2021
Roku TV models like TCL S-series that cost around $1000 or less might be a good option if you are on a budget. And if you are flexible with the budget, the TCL Roku 8K TV costing between $2199 to $2999 might interest you.
What Is The Monthly Cost Of Roku To Use It?
---
You don't have to pay any monthly fee to use any Roku device. You only need to purchase the Roku streaming player by paying its one-time cost. But, if you have subscribed to any channel that requires monthly charges, you will need to pay for it. This monthly subscription fee will vary depending on the channel.
Roku Premium Subscription Cost
---
As stated earlier, Roku charges nothing extra other than the device cost. You can create your account for free and add as many channels as you want to your device. There is no premium subscription cost for the player. Also, if any website offers you a Roku premium subscription, do not pay for it. It is nothing but a scam!