Imagine you hopped onto your sofa and started binge-watching your favorite TV show. All of a sudden, your Roku tv keeps turning off by itself! What can be more annoying than that?
The Roku keeps turning off is a common problem that Roku users face. Relax, you don't need to panic! This Roku issue may arise due to several reasons. But, you can solve this problem yourself using the troubleshooting tips discussed in this guide.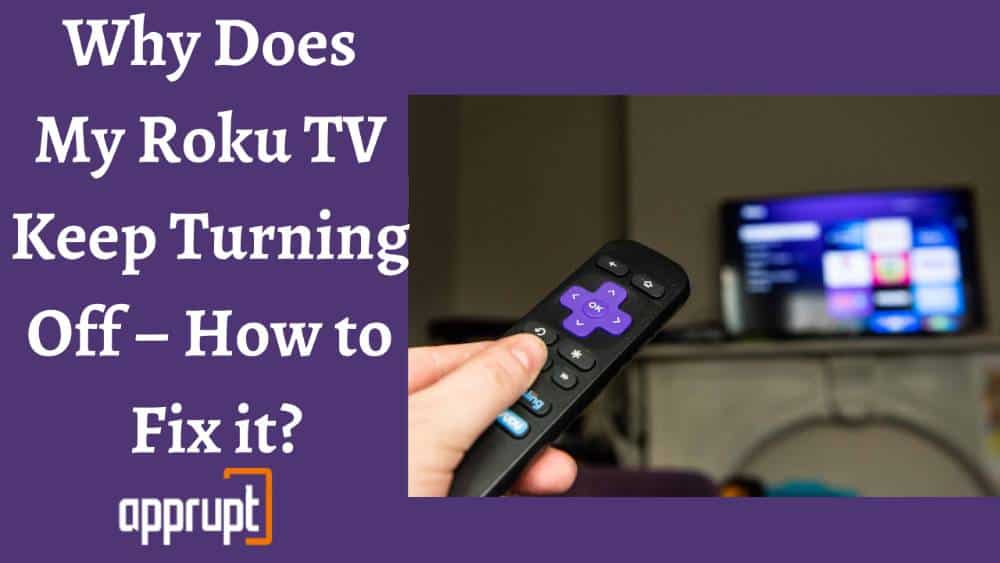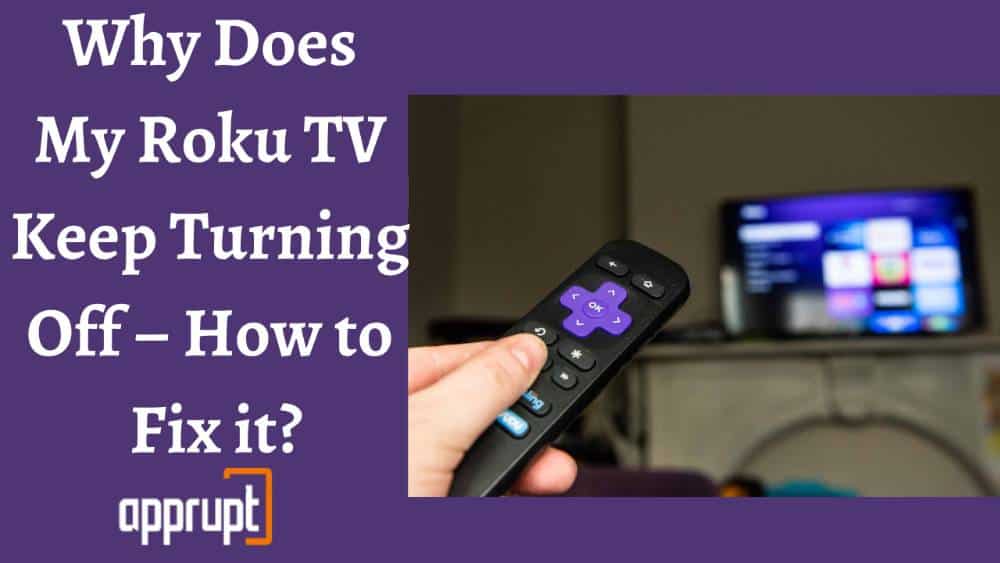 What Does It Mean When Your Roku TV Keeps Turning Off?
---
If your Onn, Hisense, Sharp, insignia or TCL Roku TV suddenly keeps turning on or off, it could be due to some firmware or hardware issue.
It can also occur due to a low power outage or a faulty cable. And that doesn't mean you need a replacement for your TV. Absolutely not!
Your TV screen will display an error message, or a red flashlight will appear on your Roku streaming player when it doesn't receive enough power.
If so, check the power supply and proceed with the solutions listed in this guide. And your TV will get back in action! No further efforts are required!
5 Reasons Due To Which Your Roku Keep Turning Off By Itself?
---
Your Roku TV may keep turning off by itself due to various reasons. But the main culprits are as follows:
1. Outdated Firmware:
Roku keeps updating its operating system regularly. Your TV will update automatically whenever new firmware is released, and the system will reboot after the process completes.
If your Roku is automatically updating, it will cause untimely reboots, or you can choose to update it manually. You don't need to bother about that. The device will start working correctly after the update.
Contrarily, if you are using extremely old firmware, it can cause your Roku to restart or crash at any time. In that case, manually check for the latest firmware and schedule an update.
2. Device No Longer Supported:
Like Roku firmware, Roku also updates its streaming players and releases new models yearly. With the release of the newer models, stop supporting the older ones. So, you need to check your model number and make sure Roku supports it.
Go to Settings > System > About > Device model > Software version to check the model number.
If you are using the newer models listed in the table below and the firmware version is above 7.0, be sure that that's not the reason causing your TV to keep turning off.
4660X
4640X
4620X
4400X
4230X
4210X
4200X
3910X
3900X
3810X
3800X
3710X
3700X
3600X
3500X
3420X
3400X
3100X
3050X
3000X
2720X
2710X
2700X
2500X
2400X
3. Overheating of Roku Device:
When you use your Roku device for long hours, the device will start overheating. This overheating can welcome many Roku problems, including Roku keeps turning off and freezing.
4. Application Bugs:
Roku applications must be updated to keep them compatible with the Roku software. But, some developers fail to maintain their apps. Eventually, the application bugs cause the Roku device to restart forcefully.
5. Loose power cord connections:
Roku TVs need a proper power supply to function correctly. Hence, if the power cable or any other cable connection gets loose, it will cause the device to keep turning on and off suddenly.
6. Maybe there is a problem with your Roku Remote power off button due to which your roku remote keeps turning off tv.
How Do I Stop my Roku TV From Turning Off?
---
Now that you know the causes, it is time to talk about how to get rid of the Roku player that keeps turning off the problem.
1. Check for a System Update:
Roku streaming players demand regular updates. And if the device fails to update automatically, it causes various problems. If you are not sure whether you are using the latest version, here is how to check for updates manually and get it done.
Go to the home page by pressing the home button > Navigate the Settings menu > Click System > Select System Update > Choose Check for Update.
If any update appears on the screen, click update now to update your Roku.
2. Turn Off HDMI-CEC and Restart your TV:
The CEC feature lets devices control each other using HDMI. However, it can sometimes be the major culprit behind a flaw in streaming Roku. So, make sure that the HDMI-CEC feature is not enabled on your Roku.
Go to the Settings menu > Click System > Choose Control other devices (CEC) > Uncheck all the boxes and restart your TV.
3. Unplug your TV for Several Minutes:
Sometimes your Roku player might want to do nothing! That's why it's behaving weirdly. So, give it a break! Unplug the TV from the power socket and leave it for a few minutes. You can even wait for half an hour. Then plug it in again and restart the TV.
Your problem should get fixed now.
4. Try Unplugging All The External Connected Devices From Your TV:
Have you connected speakers, HDMI cables, BlueTooth, or any other device to your TV? Why not give it some freedom? Disconnect all the external cables, speakers, and everything else that's attached to your TV.
Wait for a few minutes. Then start plugging in one device at a time. If all works well, the TV will begin functioning correctly.
5. Check Any Previously Or Currently Connected Devices:
If any previously connected or currently attached gadgets like gaming consoles have the feature to turn your TV on or off, disconnect these devices after using them. This will fix the Roku keeps turning on/ off issue.
6. Turn Off The Roku Mobile App After Using It:
If you often use the Roku mobile app to control your TV, make sure to turn it off after using it. Sometimes, the app may control your TV in the background, causing it to turn on or off suddenly.
7. Reset the TV Completely:
Another method to fix the Roku tv keeps turning off issue is to hard reset your roku Tv completely. This method will erase all the Roku settings and uninstall all the apps leaving the TV blank. You can then sign in to your Roku account and check whether the issue has been solved.
8. Try To Place The TV In-Store Mode Instead Of Customer Mode:
Another troubleshooting technique is placing the TV in-store instead of in customer mode. This method will let you use the TV and install the apps, as you would typically do, but it will fix other issues like the TV keeps turning off.
Navigate to the Settings page > Click System > Click Environment > Select Shop.
9. Check All Your Power Cord Connections:
A low power supply can also cause the TV to turn on and off abruptly. Ensure that the power cable is connected correctly to the socket and is in working condition. If necessary, replace the power cable.
If you use a Roku streaming stick, plug it into the TV's USB port. It will ensure enough power supply for the device to work smoothly.
Read on How to Fix Roku low power issue
10. Contact the TV Manufacturer For Help:
If none of the solutions worked for you, contact your TV manufacturer. Most manufacturers provide excellent after-sale support, and you can reach out to them via call or email. And if your TV is in warranty, you can demand a replacement.
FAQ's
---
Why does my Hisense Roku TV keep turning off?
If your Hisense TV keeps turning off all the time, it can be due to a power timer. You can check the Settings to verify if you have not enabled the power timer.
Alternatively, use the power buttons on the TV instead of your TV remote control. If these methods don't work, reach out to Hisense support and ask for assistance.
Why does my Roku keep turning off and on?
Power issues can be the main culprit causing the Roku to keep turning off and on. You can check the power supply and even connect the Roku to your TV using the USB port.