Are you tired of too much wiring scattered all over your rooms and the high subscription fees you need to pay for your cable or satellite TV provider every month? Get rid of them with AirTV on Roku. It also supports local channels. which includes ABC, CBS, NBC, FOX, PBS, etc.
With this over-the-air (OTA) platform, you can watch all the top TV shows and movies on your big screen with just a stable internet connection. AirTV will deliver the local OTA channel to your Roku or any other internet-connected device. This gets even better since all of this is free of cost.
This article breaks down how you can utilize this brilliant platform to enjoy the best of entertainment.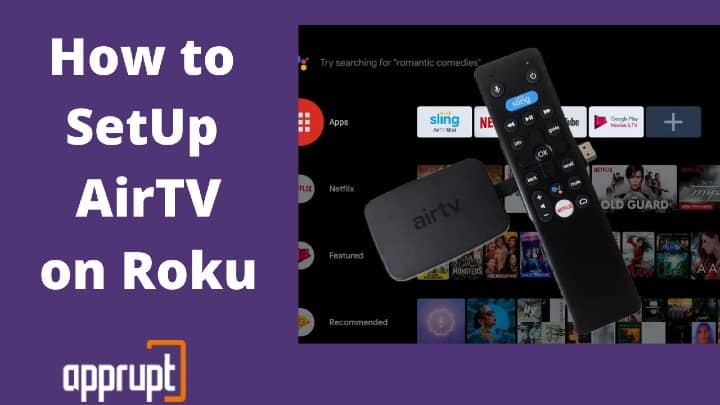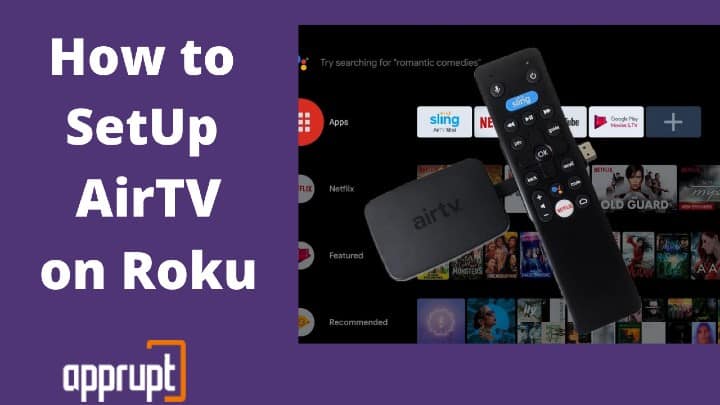 Features of AirTV
It gives you access to all its content without any subscription or contracts.
It provides just one precise guide where you can navigate through all the channels present on the platform.
It provides an antenna that you should install somewhere it can receive a good signal to give you instant access to a wide range of content.
You can rewind, fast-forward, pause or resume the recorded content available on the channels at your convenience.
You can watch all the local entertainment, sports, news, or other local telecast channels with a SlingTV integration.
A SlingTV subscription also allows you to record broadcasted content in cloud DVR that you can watch later on.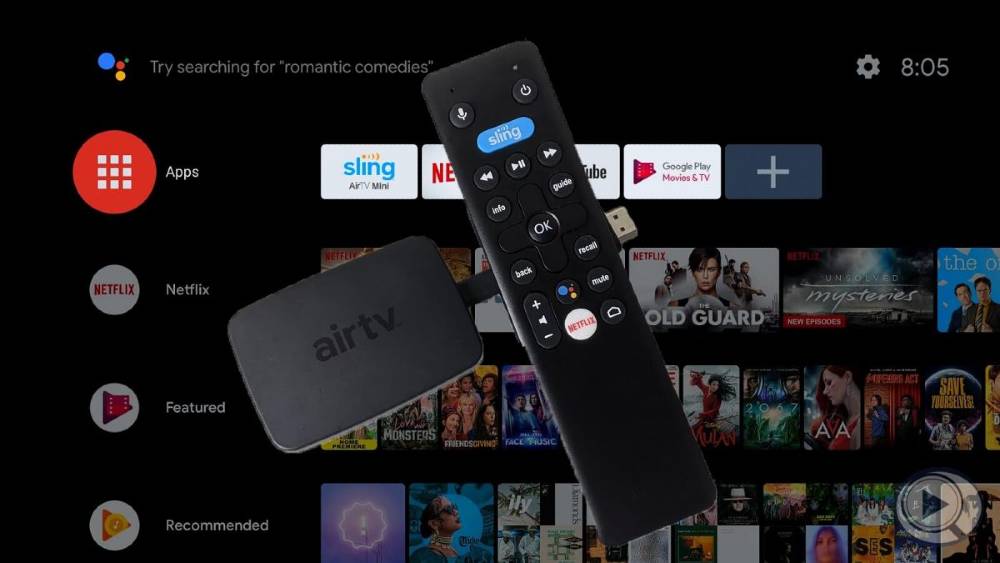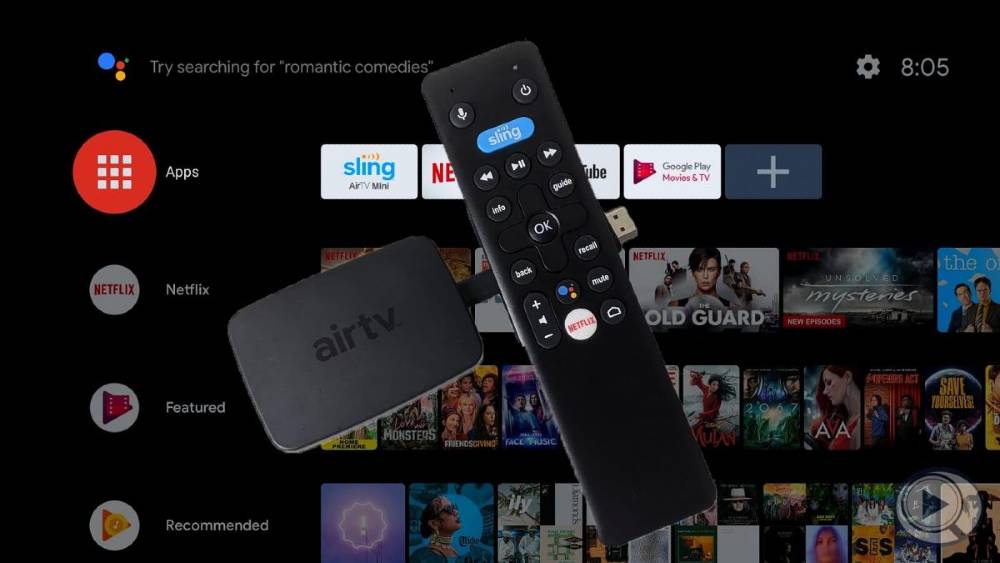 How to Install AirTV on Roku
Even though you can not install the AirTV app on ROKU, you can access all its channels and content through Sling TV.
---
Step 1: On your smartphone, download the Sling TV app from Play Store or App Store.
Step 2: Sign in to your account or create a new one with the right credentials.
Step 3: Go to the app's settings and tap on the "Over-the-air Channels" option.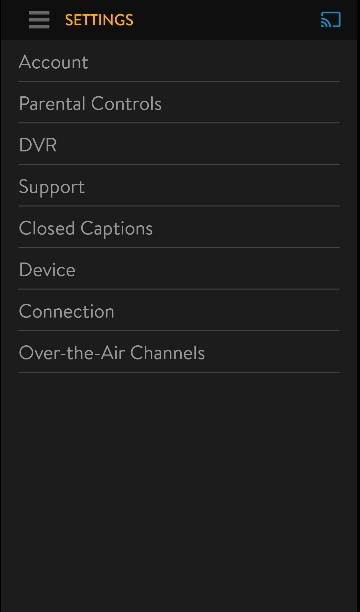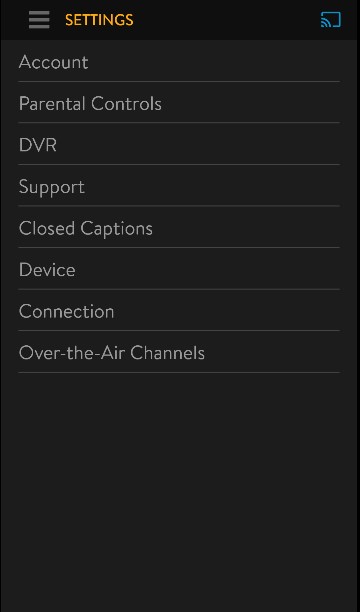 Step 4: Select "Set up AirTV" and just follow the instructions appearing on the screen to complete setting up your AirTV.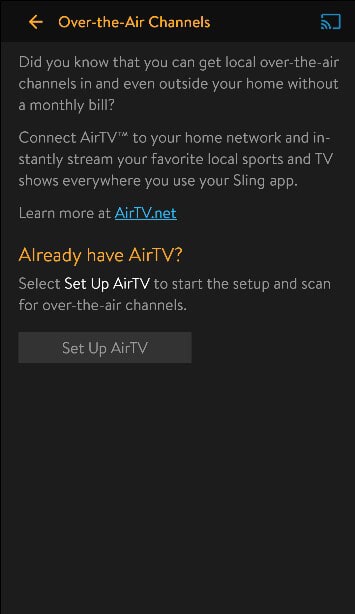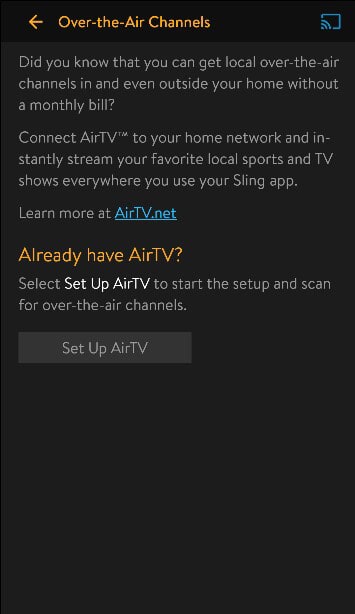 Step 5: Now, Open your Roku TV and press the "Home" button on the remote.
Step 6: Select "Streaming Channels". This will open the Roku Channel store.
Step 7: Choose the "Search" option and enter "Sling TV" in the search bar.


Step 8: Select the channel from the results. Then select the "Add Channel" option and it will start downloading.
Step 9: A prompt confirming the end of the installation process would pop up on the screen. Click on "Ok".
Step 10: Finally, log in to your Sling TV account with proper credentials and you would be able to see all the AirTV channels.
Important Note:
You can easily download the AirTV app on Roku until 2019 when it was discontinued. Sling TV had informed their customers beforehand that the channel will be removed. They have shared the information on continuing streaming AirTV local channels on Sling TV.
Install Terrarium TV on Roku Stick
Frequently Asked Questions
---
Is a Sling subscription necessary to access AirTV?
No. Getting a Sling subscription is not necessary to stream AirTV channels on it. But with a subscription, you would be able to enjoy more advanced features like recording content to watch later on as well as all your local channels and Sling TV content would be available in one place.
Is there a monthly fee charged to access AirTV?
No. The best part about cutting the cord and replacing it with AirTV is that it's absolutely free. You can watch all the content from the local channels it broadcasts free of cost, without any subscription or contract.
Should I download AirTV on each device?
No, you don't need to download the AirTV app on all the devices you own. This is because all the compatible devices in your home are connected automatically by the platform using the home's wireless connection.
What are the HD antennas compatible with AirTV?
AirTV Player is compatible with any OTA antenna with a coax connection. You would also need an AirTV Adapter to establish a connection between the antenna and the AirTV player.
Related: Stream Starz on Roku
Conclusion
AirTV is the best alternative to cable or satellite TV available in the market right now. Even though its removal from Roku has made it a little complicated to watch it through Sling TV, it is still an excellent platform for top-notch entertainment.