AMC on Roku is an excellent entertainment channel from the AMC networks that drives all your boredom away. It offers all the biggest blockbusters, trending series, and TV shows along with a collection of AMC original content. You can dive straight into all the full episodes, trailers, highlights, extra content, and much more without even signing up for an AMC account.
This article will help you explore all that you need to know about this channel and provide solutions to all your queries.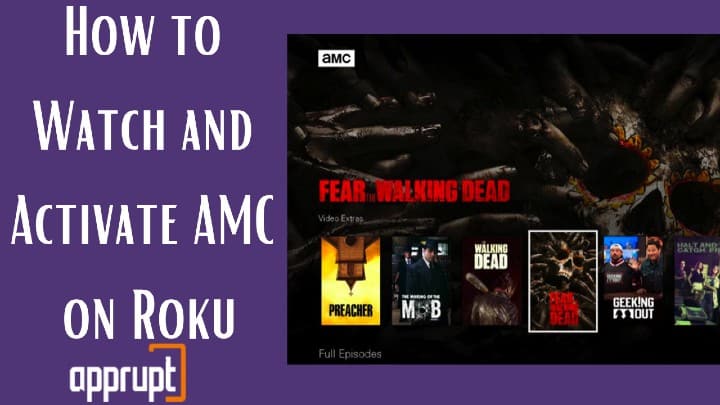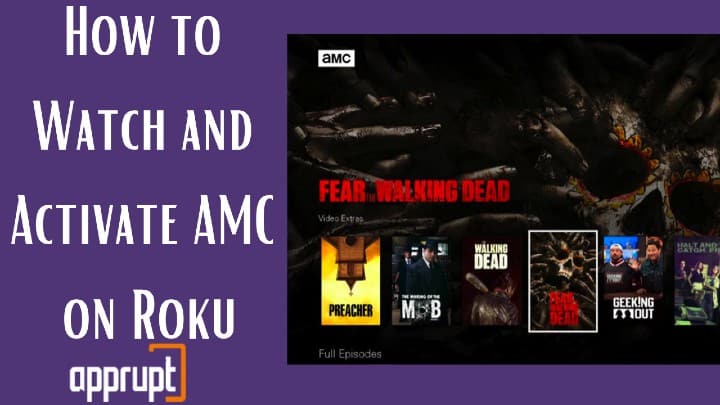 How to Watch AMC on Roku?
---
The following steps would help you download AMC app on your Roku streaming device in a very effortless way:
Step 1: Join the Roku streaming device to your big TV screen via the HDMI port. Switch on both devices.
Step 2: Push the remote's Home button to open Roku's homepage.
Step 3: On the menu on the left side of the screen, you would see the "Streaming Channels" option. Click on it to launch the Roku Channel Store.
Step 4: Head over to "Search Channels" and search for "AMC".


Step 5: Choose the AMC app from the suggestions list. Click on "Add Channel" on the next channel info page to download AMC app.
Step 6: Wait while the installation process of the AMC app gets completed and then click on "Ok" in the confirmation message. After this, you must activate AMC.
How to Activate AMC on Roku- amc.com/activate?
---
The AMC needs to be activated after getting installed. You can do this by a simple procedure:
Step 1: Open the newly downloaded AMC app by tapping on "Go to Channel". As the channel opens, an activation code would pop up on the screen. 
Step 2: Get a gadget like a PC or a smartphone that supports a web browser and go to the AMC activation site: https://amc.com/activate.
Step 3: On the AMC activation site, sign in to your AMC account using the proper credentials of your AMC account.
Step 4: Now, type in the activation code you see on your Roku screen in the empty space in your browser screen. Select "Submit".
Step 5: Select your pay TV provider from the menu and log into your account using your pay-TV account details.
This would activate AMC on your Roku devices and finally, all the content would be loaded onto your Roku streaming device's screen for you to dive into.
What is AMC Premiere
---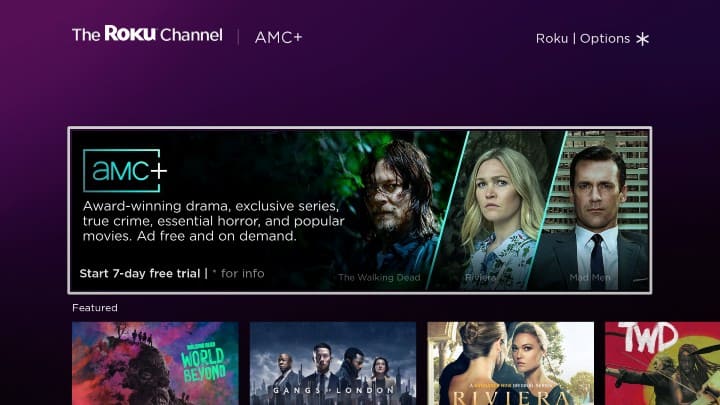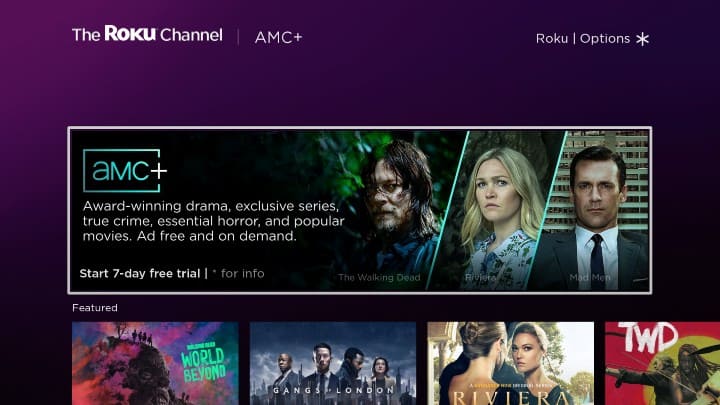 AMC Premiere is a premium subscription that users can buy in addition to the original pay-TV or live-TV AMC subscription. It allows its users to enjoy all the content without any commercial breaks.
You even get early access to selected content or same-day access to all of the latest episodes of ongoing AMC shows. It even offers downloading content on its cloud DVR storage for offline viewing for up to 14 days. It is a mandatory requirement for avid AMC content lovers.
How to subscribe to AMC Premiere on Roku
---
You can subscribe to AMC Premiere on Roku by buying it for an extra $4.99 per month or $59.99 per year along with your regular cable TV or other streaming service subscription.
You can stream AMC and all of its content on the official AMC app for Roku or on whichever streaming platform you use for streaming AMC.
Other ways to Watch the AMC Channel Roku without Cable
---
Even if you do not have a cable or satellite TV subscription, you can still enjoy all of AMC's top-class entertainment on several other streaming services. All of these services provide AMC in their channels' list at different packages and can be streamed on all major streaming devices.
Philo TV – $25 per month, comes with 7 days free trial, 64+ other channels, 3 simultaneous streams, 30-Day Unlimited cloud DVR storage. Try a 7 Days Free Trial of Philo
fuboTV – $64.99 per month, offers 7 days free trial, 110+ other top channels, 3 simultaneous streams, 500 hours of cloud DVR storage.
Sling TV – $30 per month with either of their "Sling Orange" or "Sling Blue" package, or $45 per month for the "Sling Orange + Blue" package. All of these plans come with 3 days free trial, top entertainment channels, simultaneous streams, and cloud DVR storage.
YouTube TV – $64.99 per month, offers 2 weeks free trial, 85+ channels, YouTube original content, unlimited DVR storage with a 9-months shelf life, 3 simultaneous streams.
AT&T TV – comes with its "Ultimate" and "Premier" packages that start from $94.99 per month with 7 days free trial period, delivers 130+ other quality channels, 3 simultaneous streams, 500 hours of cloud DVR storage.
Features of AMC App on Roku
---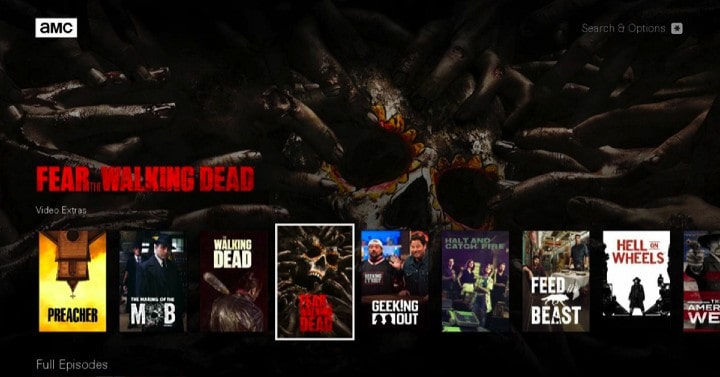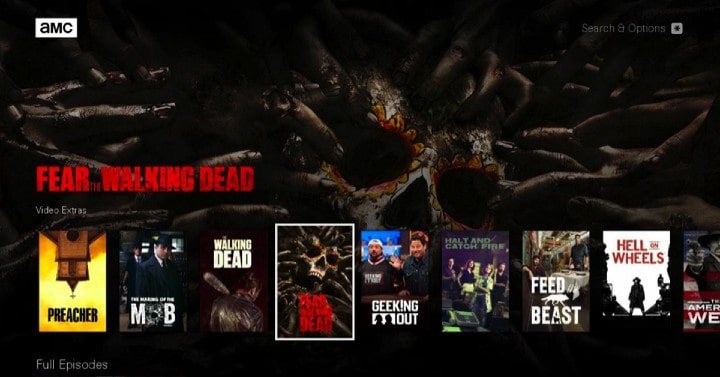 You can enjoy all of its hit AMC shows like The Walking Dead, McMafia, Humans, The Terror, Fear the Walking Dead, etc.
You can even watch on demand content like shows and movies on this AMC app.
Users can buy the Premier subscription to watch quality entertainment without any ads, get same-day or early access to AMC shows.
It is a multi-platform supporting channel as it is compatible with iOS, Android, Chromecast, Apple TV, Amazon Fire TV, and of course, Roku.
Fascinating series & Movies Available on AMC
---
AMC brings you a wide collection of series and movies of every genre for the varying tastes of all kinds of customers.
Breaking Bad
The Walking Dead
Fear the Walking Dead
Doctor Who
The Terror
Hell on Wheels
Major League
Die Hard
Alien
Major League
The Mummy
Charlie's Angels
The Punisher
Silver Streak
The Day the Earth Stood Still
Frequently Asked Questions
---
How much does AMC cost on Roku?
You can download AMC free of cost on Roku TV and stream all the content offered by it. All you would need is a subscription to a pay TV provider, beforehand. 
Where is AMC+ on Roku?
The designated AMC app for Roku is available on the Roku Channel Store. It is a bundle that consists of all that AMC Premiere offers and much more, from the premier collections of Shudder, IFC Films Unlimited, Sundance Now to exclusive series and access to acclaimed shows from BBC America, AMC, SundanceTV, and IFC without any commercial interruption. You can have fun with all of these for $8.99 per month (+taxes) or $83.99 per year (+taxes).
What are the TV providers available on connected devices?
AMC is provided by a wide range of TV providers. These are DirectTV, AT&T U-verse, Spectrum, Xfinity, Optimum, Dish, Fios by Verizon, Cox, etc.
Is it necessary to create a new TV provider account to watch AMC on any device?
No, it is absolutely not necessary. You can watch AMC on multiple platforms using only one TV provider account.
What to do when the activation code isn't working?
If your activation code is not working or shows that it is expired, you need to select the "Get a new code" option. This would generate a new code which should work fine.
How to troubleshoot AMC Roku not activating issue?
If you face any issues while activating the AMC channel on Roku TV as it malfunctions, stops working, or does not get activated, then you should begin with restarting your Roku TV. Also, make sure to check if your internet connection is working properly and is fast enough.
Sum Up
---
AMC is a brilliant channel with lots to offer for you to have a good time. You can stream AMC within the physical boundaries of the US and its territories but can use VPN to get access to its content if you are outside of the mentioned boundaries. We hope this article could guide you through all the processes of installing and activating this channel, the additional requirements, the extra plans you can get, and the alternate ways to watch AMC without any cable.