If you are in a hurry here are some best deals:
Roku TVs are similar to smart TVs but are backed by Roku technology. These TVs support a wide range of streaming channels allowing you to watch live TV and on-demand programs in premium quality like HD or 4K.
Roku TVs offer several new features and have an easy-to-use interface. However, the best part about choosing Roku TVs over other smart TVs remains their affordability.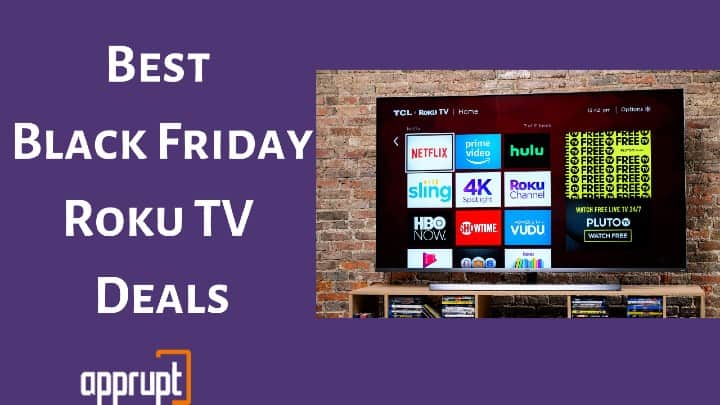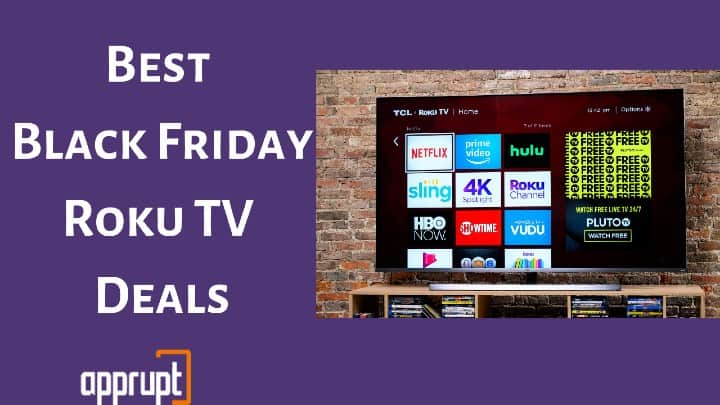 Since Black Friday is almost here, whether you are looking to bring home a 4K Roku TV, 32-inch TCL Roku TV, 55-inch Roku Smart TV, or any other model, you can get it at an incredible deal. To save your time and money, we've tracked the best Black Friday Roku TV deals for you.
Find the list below!
Best Roku TV Deals of 2023 on Amazon, Walmart, Target, and Bestbuy
---
Major retailers like Walmart, Target, Amazon, Bestbuy are already running the early bird Black Friday sale. So you can grab the best Roku TV deals before it is late. Below we have curated the best Black Friday Roku TV deals available at different stores.
TCL Roku TV Deals on Amazon
---
The Black Friday sale at Amazon began earlier this week. You can save more than $100 by purchasing Roku TVs from Amazon during the sale. Some top Roku TV Black Friday deals on Amazon are:
TCL 50″ 4-Series 4K TV: was $499 now $359 @ Amazon
An ideal option for those on a budget. It streams content in 4K quality with the HDR viewing quality that gives an exceptional picture quality. The TV also supports voice controls like Alexa, Hey Google, Siri.
TCL 40″ 1080p Roku TV: was $349 now $229 @ Amazon
This TCL Roku TV offers a little lesser picture quality (only up to HD) than the 4K one. However, it supports voice controls and is easy to set up. You can even change it to game mode if you are a gaming fan.
Hisense 40-Inch Class H4 Series LED Roku Smart TV with Alexa Compatibility (40H4F, 2020 Model) was $329, now $229
The perfect option for those willing to purchase an all-in-one TV. This model has inbuilt WiFi support. Additionally, it can be connected to cable, satellite, and gaming setups. It lets you connect with your Android and iOS device to use the Roku remote via the app.
Hisense 50-Inch Class R6090G Roku 4K UHD Smart TV with Alexa Compatibility (50R6090G, 2020 Model) was $499 now $379
Another Hisense Roku TV that is compatible with Alexa and Google Assistant. The TV has a sleek design and offers crystal clear picture quality of up to 4K. It even comes with integrated WiFi and Bluetooth connectivity.
Related: Best Black Friday Roku Streaming stick Deals in 2023
Roku TV Deals on Walmart
---
Walmart is offering up to a 20% discount on several Roku TVs. You can purchase the latest Roku TVs at a killer deal. Here are some best Roku TV deals at Walmart:
TCL 55″ 4K QLED Roku TV: was $699 now $477 @ Walmart
The TCL 4K QLED Roku TV has Quantum dot technology that enhances the viewing experience by offering a striking contrast and accurate colors. It can stream content in 4K UHD Dolby Vision. The slim design and integrated cable management give it a clean, clutter-free stunning look.
Hisense 58″ 4K Roku TV: was $426 now $348 @ Walmart
The Hisense 4K Roku TV comes with a spectacular HDR vision display and offers instant access to thousands of streaming channels. It produces crisp, clear audio and a lag-free viewing experience. Above all, the bezel-less design of this TV is worth falling for.
Onn 50″ 4K Roku TV: was $349 now $329 @ Walmart
Whether you choose to watch movies, TV shows, news, or sports, you can stream it all on this 4K LED TV through cable, satellite, or WiFi. If you love giving commands, use the Roku mobile app to pass voice commands to your Roku and say BYE to the old Roku remote!
Onn 70" Class 4K UHD LED Roku TV: $398.99 at Walmart (Special Buy)
Are you tired of watching movies on the small screen? Get the Onn 70-inch 4K LED Roku TV for an out-of-the-world viewing experience. The TV supports voice controls and has a customizable home screen.
Deals on Target
---
Target offers heavy discounts on several Roku products, including Roku TVs, soundbars, streaming sticks, and other accessories. Check out the top deals on Roku TVs at the Black Friday sale on target.
Element 65" 4K UHD Roku TV: 54% off at $299.99 (Reg. $649.99) at Target
If you are looking for mid-range Roku TVs, this Element 65-inch Roku TV will interest you. The device comes with integrated internet connectivity and is compatible with Google Assistant, Alexa, Siri, and Apple HomeKit. It even comes with a free Roku app that lets you control your device without a Roku remote.
TCL 55" 4K UHD HDR Roku TV: 27% off at $379.99 (Reg. $519.99) at Target
Want high-quality products at an affordable cost? The TCL 55-inch 4K Roku TV offers 4K resolution with accurate brightness and colors. Stream thousands of channels by connecting the TV with your home network through the integrated WiFi functionality. And control all the options with the Roku mobile app available for free with the TV.
TCL Roku 4K UHD HDR Smart TV: 31% off at $499.99 (Reg. $719.99) at Target
If you've ever wanted to get a high-range Roku TV, try this TCL 65-inch TV. You can get it at an incredibly low price and enjoy its cutting-edge features like 4K resolution, voice control, Roku search, and many more. You can also personalize your Roku TV to make it all yours!
Deals on Best Buy
---
At the Best Buy Black Friday sale, you can save hundreds of dollars on your favorite Roku TVs. The early bird sale is live now, and here are some products that you shouldn't miss on:
TCL – 55" Class 4 Series 4K UHD Smart Roku TV Was $499.99 Save $120 Your price for this item is $379.99
The TCL 55" 4K TV is an ideal pick if you want a low-budget TV. Though you don't get Dolby vision, the TV supports HDR10. The inbuilt voice controls make it more convenient to use the device for streaming shows or navigating through the menu.
TCL – 65" Class 4 Series 4K UHD Smart Roku TV Was $699.99 Save $200 Your price for this item is $499.99
Packed with the latest features and stunning 4K resolution, the TCL 65-inch Roku TV is on sale at an unbelievable price. The TV supports all voice assistants and uses HDR technology. You can even personalize the home screen and connect the TV to your mobile app for a seamless viewing experience.
TCL – 50" Class 5 Series QLED 4K UHD Smart Roku TV Was $599.99 Save $150 Your price for this item is $449.99
Getting a Roku TV with Quantum dot technology at lesser than $500 is a rare deal. But this Black Friday sale at Best Buy has made your dream come true! You can get this Roku TV and enjoy all its top-notch functionalities while binge-watching your favorite movies and shows.
Should I Wait Till Black Friday to Buy a Roku TV?
---
If you have been scouting for high-end Roku TVs, you can wait till the Black Friday sale is live. There you will find such products at an unmatchable deal. However, if you are in a hurry, you can get a new Roku TV a week before Black Friday. That's because most retailers begin early sales, so you can likely find your favorite product at a great deal.
Whatever be your decision, make sure to do some research prior to the sale so you can grab the deal as soon as possible!