Even though Dailymotion was officially discontinued some years ago but still lots of people trying to install Dailymotion on Roku. If you are one of them and still can do it, then we have the answers to your Problem, Is Dailymotion available on Roku?
Dailymotion is one of the favorite platforms of users worldwide for uploading and viewing videos. Through this app, content creators can showcase their talent by uploading videos on different topics.
Dailymotion is available on most platforms. So, users can create a Dailymotion account and watch its content.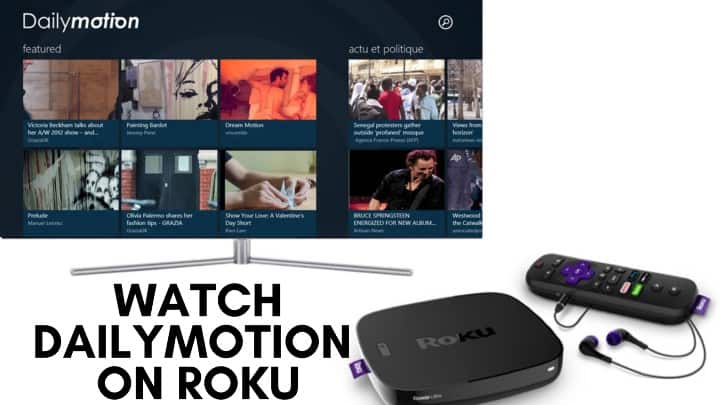 If you're a Roku user, you must be knowing that until last year, users were also able to view Dailymotion on Roku. However, the Dailymotion app is no longer available on the Roku channel store. Therefore, it's not possible to stream the videos from Dailymotion to your Roku directly.
But yeah, you can still use a different approach to get Dailymotion back on your Roku.
"And how's that possible" …. you ask?
Well, this post is all about that! Here we have mentioned the different ways to run Dailymotion on your Roku device. So keep reading!
Can you Get Dailymotion on Roku?
---
The Roku channel store doesn't have the official Dailymotion app, and the Dailymotion private channel is also no longer working on Roku. Besides, Roku doesn't even allow sideloading channels.
Still, the good news is that you can watch Dailymotion on Roku! For that, you will need to follow the solutions provided below, and you'll be able to stream content from Dailymotion to your Roku successfully.
Alternative Way to Get Dailymotion on Roku
---
The best and hassle-free approach you can follow to stream Dailymotion on the Roku TV is by casting or mirroring the screen of a secondary device (smartphone, iPhone, PC, etc.). The process is pretty simple and will barely take you a few minutes.
Other than this, you can upgrade to another streaming device like Amazon Firestick. But this will require you to invest a few bucks from your pocket!
Hence, screencasting is a better alternative. And in the next section, we will cover the exact steps you need to follow to get your favorite movies and shows on Roku tv from Dailymotion.
Watch Dailymotion on Roku from your Android Device
---
If you are a smartphone user, you can mirror your screen and use Dailymotion on your Roku to watch your favorite content. Here are the steps that you will have to follow to screen mirror your android device:
1. Turn on your Roku and connect it with your TV through the HDMI port.
2. Navigate to the settings menu on Roku, tap on the network option, and check if your Roku and smartphone are connected to the same internet connection. If not, get them connected to the same network, then proceed further.
3. Now go to the screen mirror options and set the screen mirroring option to Always or Prompt. (In some devices, this option will be stating "Enable Screen Mirroring," so tap on it to activate it.)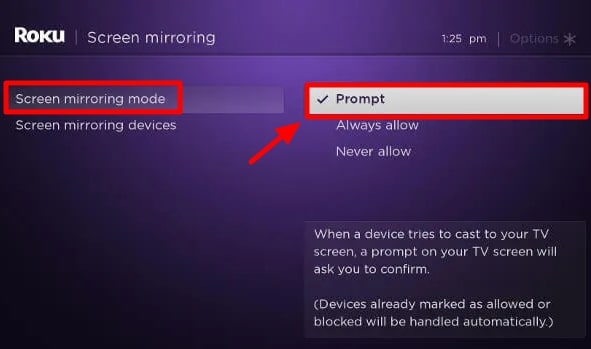 4. Install the Dailymotion application on your phone from the Google Play Store.

5. Go to the settings of your phone.
6. Tap on the Connection and sharing options and click on the cast option.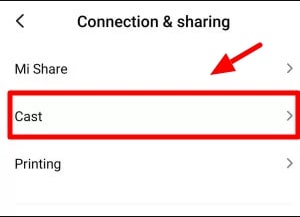 7. Your smartphone will search for nearby devices. Once it detects the Roku, click on it, and the screen of your mobile will be mirrored.
8. You can now launch the Dailymotion app and view the videos on the bigger screen.
Screen Mirroring Dailymotion Videos on Roku with Firefox for Android
---
Note: While the above method is pretty straightforward and works any time, the problem is that you cannot use your device for any other use while streaming Dailymotion.
The solution to this is to use the Firefox browser on your android device and screen mirroring through its screencasting feature.
That way, you can use your mobile for whatever other purpose you want to while enjoying the Dailymotion content on your Roku. Plus, you won't even have to keep your phone's screen active throughout the streaming session. Amazing, right?
So, below are the steps that you will have to perform for screen mirroring Dailymotion videos through Firefox on your Android device to your Roku device.
1. You will have to begin by installing the Firefox channel on Roku. So go to the Roku channel store.
2. Choose the search channels option.
3. Then type in "Firefox" in the search bar.
4. Go to the right side of the search field and choose the Firefox channel.
5. Now click on add channel option, and after entering your Roku PIN, the channel will be added.
6. Once your channel is added, click on Ok and go back to the home screen of Roku.
7. Install Firefox for Android on your smartphone by downloading it from Google Play Store.
8. Now launch firefox on your android device, and in the search bar, type dailymotion.com.
9. Then search for the content you want to play and click it to begin streaming.
10. Click on the Cast icon in the player and select your Roku device from the list.
11. The video will now start playing on the TV connected with your Roku device.
Watch Dailymotion on Roku from PC or Laptop
---
You can stream videos on Dailymotion from your PC or laptop on Roku by mirroring the screen of your device. For that, you will first have to ensure that the screen mirroring option is enabled on the Roku device. Besides, you should connect your PC and Roku device to the same internet connection. After that, you can follow the steps mentioned below:
1. Launch the Google Chrome browser on your laptop or PC and type dailymotion.com in the search bar.
2. Now create a new account or log into your Daily motion account.
3. Tap on the three dots icon on the top right corner of the browser and choose the cast option.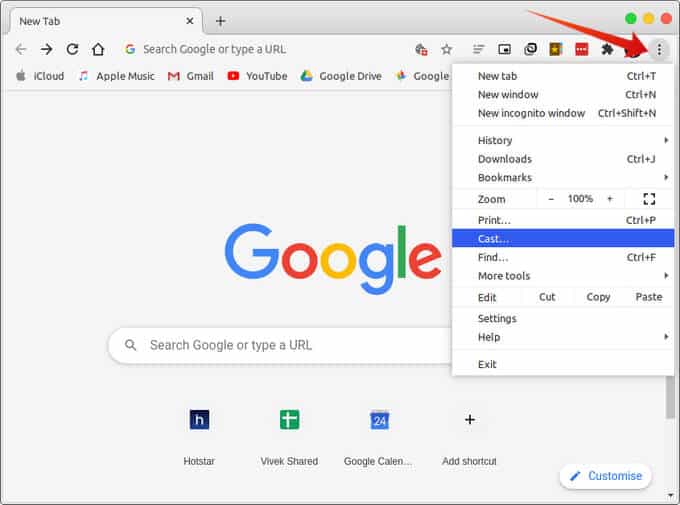 4. It will show the sources. Click on the Cast tab option.
5. Choose your Roku device from the options displayed and tap on allow on the confirmation message that appears on the screen.
6. Your screen is now mirrored, and the content you play will be played back on the Roku screen.
Do I have to Log in to Dailymotion to Watch Videos on Roku?
---
It's your choice whether you want to or don't want to log into your Dailymotion account. If you wish to watch content from the channel you follow, like a video, follow a channel, or save a video for later, you will have to log in to your Dailymotion account while watching it on Roku.
Otherwise, you can browse and watch any content from Dailymotion without signing in.
Note: In case if you face any problem streaming content, that may due to cache on your Roku player. Read our guide on how to clear cache on roku.
RELATED: VLC on Roku
Conclusion
---
The Dailymotion app is not available on Roku, and the Dailymotion private channel is also not working. Hence, the most convenient way to watch Dailymotion on Roku is by screen mirroring or screencasting. And in this article, we have told you how you can do that. So, follow the steps, and you'll be able to use Dailymotion on your device without any issues.