Disney Plus is a subscription-based online video streaming platform available on various streaming devices, owned by Walt Disney Company. It is home to shows and movies from Pixar, Disney, Nat Geo, and more. However, Roku users have been facing trouble streaming Disney; issues such as buffering and getting kicked to the home screen are very common. This article will tell you about reasons that could be causing these issues, along with how to troubleshoot Disney plus not working on Roku.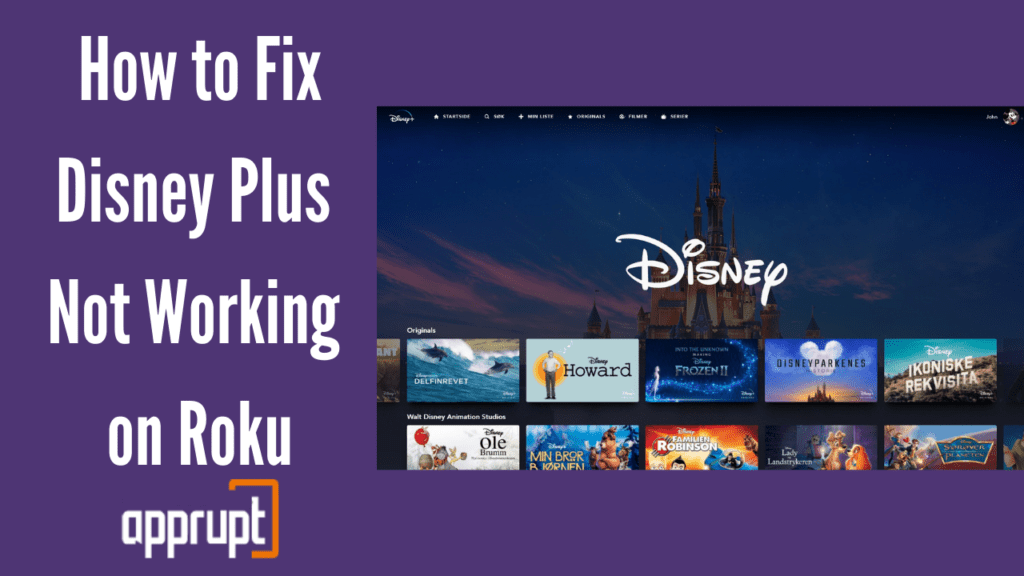 Is the Disney Plus App Compatible with your Roku?
---
The Disney plus app is compatible with most Roku TVs and streaming devices. You can download the application from the Official Roku channel store and stream it on your Roku. If you're unable to add the app, you can visit the Disney support site to confirm if your device is compatible or not.
Why Disney Plus not working on Roku
---
There can be several reasons behind Disney plus not working on your Roku streaming devices. Take a look at these all possible reasons mentioned below:
Hardware issues with Roku
Unstable Internet Connection
Server issue with Disney plus
Cache and app data
How to fix Disney Plus on Roku not working
---
Now, we will tell you nine different methods to fix your issues with Disney plus not working on Roku; also, remember to keep trying the other methods if one fails to work for you. Here are the methods:
1. Reboot your Roku device
You can reboot your Roku device by plugging it out and plugging in again after a few minutes, which will soft reset your Roku and re-sync the device and the application data and also clear its memory, helping the app work correctly.
2. Update Disney Plus app
It is safe to assume that you might be using the older version of the Disney Plus app that can cause issues like glitches or buffering. You can update Disney Plus, log in to it, and see if you can get rid of these problems.
3. Restart your Modem or Router
Buffering or getting kicked back to the homepage can be caused due to network issues. Restart your Router/modem in order to make sure that there isn't any problem with your internet and you have an active internet connection with sufficient signal strength to stream Disney plus. 
4. Uninstall and install Disney Plus
Reinstalling an application helps with issues such as app freezing or crashes. You can remove the Disney plus app and install it again to remove any corrupted built-in cache and application data, which could help fix the streaming problems.
5. Upgrade Roku device
There might be a possibility that you're using a Roku streaming device with an older firmware version that doesn't support the Disney plus app. Consider updating your Roku streaming device, restart it and see if the problem persists.
6. Check your TV
If you have connected your Roku streaming device to an external A/V port, remove it and try to plug it directly in your TV and see if it helps. This could also cause issues sometimes.
7. Reset your Roku device to Factory Settings
This is a big step, but if nothing works, you can try resetting your Roku streaming device to factory default settings and then check if the problem is solved. However, before you do so, remember you will need to reinstall everything on your Roku device again.
8. Contact Disney Plus Help Center
Reach out to the Disney Plus help center and report your issues. The help center representatives are experienced and answer your questions to help resolve your issues. You can email them or directly contact them via their phone number.
9. Contact Roku support
Contact Roku support in case none of these methods work for you and report the problems you're facing with the platform. The experts will provide technical support to help solve the issues. You could also look at the Roku community to check if others have the same problem as you.
Conclusion
---
This article guides you with several methods to fix your issue of Disney plus not working on your Roku device. These methods are proved to be helpful by many users, and we hope you too find this useful.