This article describes the method to Install the Fubotv app on Firestick. You can stream your favorite sports and entertainment channels on the big screens of your Fire tv with multiple screen-sharing. We will guide you more about setting up and using the Fubotv app on Firestick.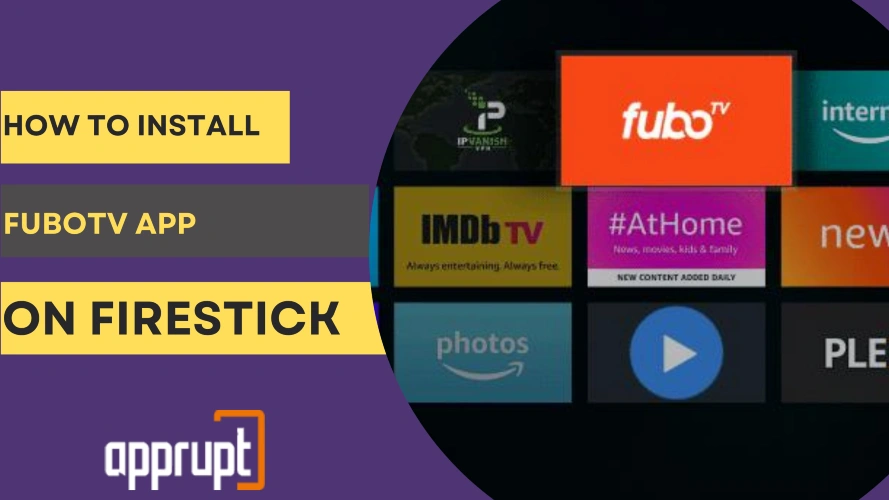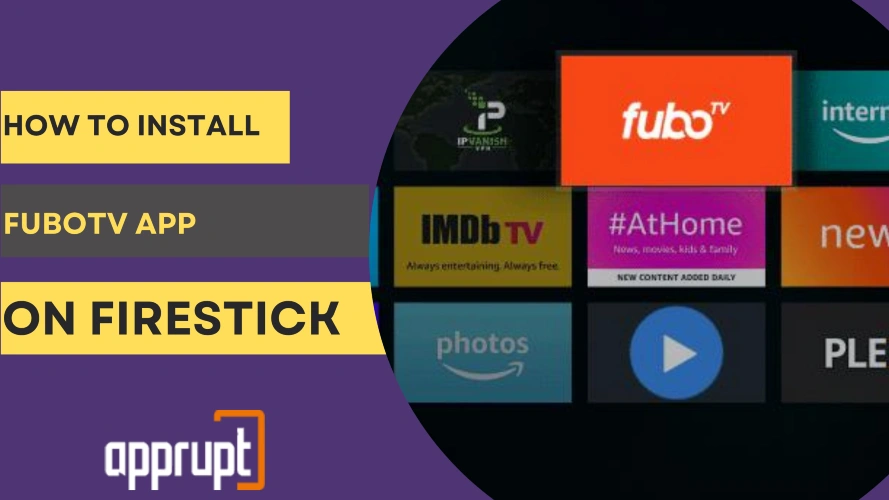 How to Install Fubotv on Firestick From the Amazon App Store
---
The Fubotv app is available to install from the Amazon app store in countries like the United States, Spain, and Canada. The below steps apply to users living in these countries.
Steps to install Fubotv on Firestick
Start your FireStick.
Press the home button from the remote to open your fire tv home screen.
Select the "Find" icon.
Select the "Search" bar.
You can search using either the remote or voice feature of Alexa.
Access the on-screen virtual keyboard to type "Fubotv" in the search bar.
After typing a few alphabets, you see suggestions for the Fubotv app below the keyboard. Select "Fubo Tv."
The Fubotv app will become available to install in the "Apps & Games." Again, Select the Fubotv app icon.
To install it, you can select "Download" or "get" whatever displays on your screen.
Once it's installed, Select "Open" to open the app immediately. If not right now, access it from the "Your Apps & Channels" section.
How to Set Up and Use Fubotv on Firestick
---
Before using the Fubotv app, you must create a new account. When you open this app on your fire tv stick, it will ask you to sign up with a FuboTV subscription.
You can complete the registration process on your computer or mobile using any browser. Fubotv offers 7 days free trial during which it won't charge any amount. You can cancel your subscription anytime during this period.
Steps to create a new account with Fubotv.
Open any web browser on your device.
Enter this URL for Fubotv website – www.fubo.tv.
Click or tap on the "START FREE TRIAL" orange button.
You can sign up using the following options – your Facebook, Apple, or google account or email address. Select anyone.
Go through all the available plans on your screen.
Click or tap on the "Start free trial" button. If you want, add more channels from the list.
Click or tap on the "CONTINUE TO LAST STEP" button.
Provide all the details needed to finish the payment procedure.
Click or tap on the "START WATCHING FUBOTV" button on the right end.
Steps to set up the Fubotv app on Firestick.
The interface of the Fubotv app is user-friendly.
When you open this app for the first time on your fire tv, it asks you to Sign in or start a free trial. Select "Sign in" as you have made an account already.
You can sign in using a code or your email address.
Select "Sign in with a code." You will receive a code on your screen.
Open a browser on your phone or computer, and visit the link –FuboTV Activate- fubo.tv/connect
Login and type the code from your fire tv screen.
On the next screen, You will see a default profile named "My profile." Select it. To create a new profile, Select "Add Profile." You can manage your profiles by visiting the link – fubo.tv.
You will see options to select any channel from many. Select one. Click "Continue."
If you want to record your favorite shows, select "continue."
Steps to use the Fubotv app on Firestick.
You will start with the home screen of the Fubotv app.
To open the menu options, Select the "Menu" button at the top. The diverse menu options are Home, Sports, Shows, Movies, Guide, and Recordings.
Different sports are categorized in the "Sports" tab: Football, Soccer, Basketball, and more (almost all the popular sports). FuboTV sports channels show diverse sports content related to NBA, NHL, MLS, NFL, boxing, golf, MLB, tennis, NASCAR, European soccer tournaments, etc. Select any sport to catch up on its previews, replays, upcoming events, reviews, highlights, & sports documentaries.
In the "Shows" tab, you will explore lists of different shows with already telecasted episodes. You can watch the new episodes of any show.
Select the "Movies" section to check all the available movies on fuboTV.
The "Guide" tab offers detailed information on all the live tv channels on Fubotv.
The last tab of "Recordings" shows the lists of your saved and recorded videos. It shows how much DVR storage is occupied.
How Much is Fubotv Per Month?
---
The fuboTV offers four different plans, each with distinct features. Here's a brief description of all fuboTV subscription plans with a price.
1. Starter
It Costs you $64.99 monthly, including 121 channels with 250 hours of recording cloud DVR storage space. You can share this plan with two more people.
2. Pro
It Costs you $69.99 monthly, including 121 channels with 1,000 hours of cloud DVR storage space. You can connect a total of 10 screens in a single account. Hence, you can purchase this plan by sharing costs with many people.
3. Elite
This fuboTV app subscription costs you $79.99/month and includes 167 channels with 1000 hours of recording storage space. You get 46 entertainment channels extra in this. You can access this plan on 10 screens.
4. Latino Quarterly.
It Costs you $32.99 per month, including 32 Spanish language channels with 250 hours of recording space. With this plan, you can access the FuboTV app on three screens.
Note: The prices may change with time and vary when you add more products or services.
Is Fubotv Free on Fire Stick?
---
No, you cannot access the content of Fubotv on your Amazon fire tv stick for free. Like different streaming services such as Netflix and Hulu, you must purchase the Fubotv app premium plan out of the four. You can buy its subscription via the website.
As FuboTV isn't free, you can activate its seven-day free trial while signing up for any subscription. They ask you to add your credit card details but won't deduct the amount before 7 days.
You can use the above steps to cancel the subscription to enjoy FuboTV's free service.
FAQ's
---
How Do I Cancel Fubotv on Fire Stick?
It's your choice to cancel your subscription plan anytime. If you do this before completing the 7 days trial period, you won't be charged. The steps are similar to what you followed while signing up on the fubotv official website.
Here are the steps to cancel the Fubotv subscription on Firestick.
Open any browser on your mobile phone or computer. Open the link – fubo.tv.
log in to your account.
On the right side of your name, you will see a drop-down arrow icon on the top right of the screen. Click or tap on it.
Select the "My Account" option from the drop-down menu.
On the next screen, Tap or click "Subscription & Billing."
Search for the option "Cancel Subscription" at the bottom of the page. Select it.
Complete the on-screen instructions to cancel your Fubotv app account.
When you receive the "Confirmation Confirmed" pop-up message on the screen, it indicates that you have canceled your subscription.
Why Does My Fire Stick Keep Saying That It Can't Find the Fubo Tv App?
The FuboTV app is unavailable because you live in a country where its service is not accessible. Till now, You can install Fubotv only in the United States, Canada, and Spain. You can check your "Country Settings" by login into your Amazon account.
Wrapping Up
---
We have explained all the essential information about using the Fubotv app on your Firestick. You can easily download Fubotv on your Firestick and access all the tabs. Its membership plans are worth trying as you can enjoy diverse movies and sports events in one place.