Last Updated on November 26, 2021 by Mark Roberts
If you are interested in faith entertainment, or family-friendly entertainment, you should install Pure Flix on Roku.
Pure Flix is a popular streaming service that offers tons of movies, animation videos, TV shows, documentaries, devotional videos, and Christian-themed titles. It is an excellent platform to watch religious titles with your family or kids.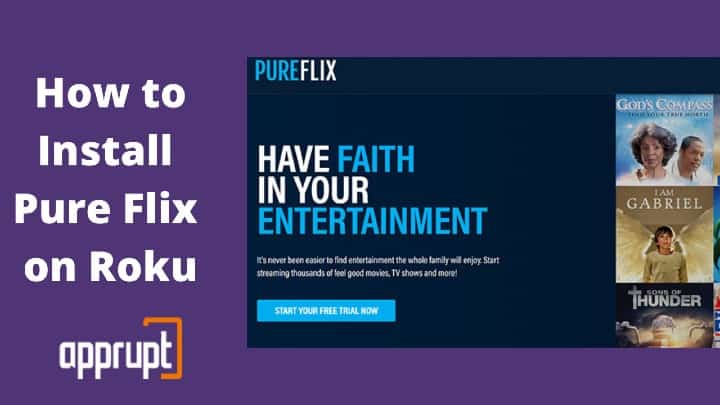 The channel is available on most streaming devices like Roku, Chromecast, Apple TV, Amazon Fire TV, and many more. And it streams videos in HD quality.
However, keep in mind that Pure Flix is a paid streaming service, so you'll need to purchase its subscription to stream content. Also, there is a one-month free trial that you can opt for if you are not willing to buy the plan right away.
That said, the process to install Pure Flix on Roku streaming device is pretty simple. Nevertheless, if you are still struggling to get it done, you can follow the steps mentioned in this guide.
Install Pure Flix on Roku streaming device
---
You can download Pure Flix on Roku streaming device in just a few steps. The channel is available on the official Roku Channel store. So you can get it from there, and after activating it, you can stream content from Pure Flix app. Here are the steps that you'll need to perform for that:
1. Press the home button on your Roku TV remote. It will take you to the Roku home screen.
2. On the Roku home page, scroll down until you see Streaming Channels.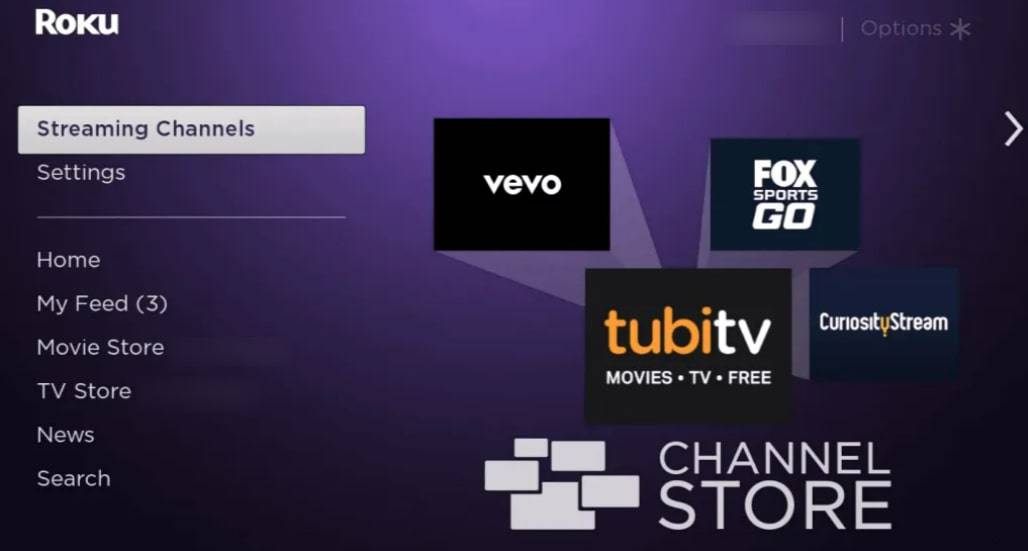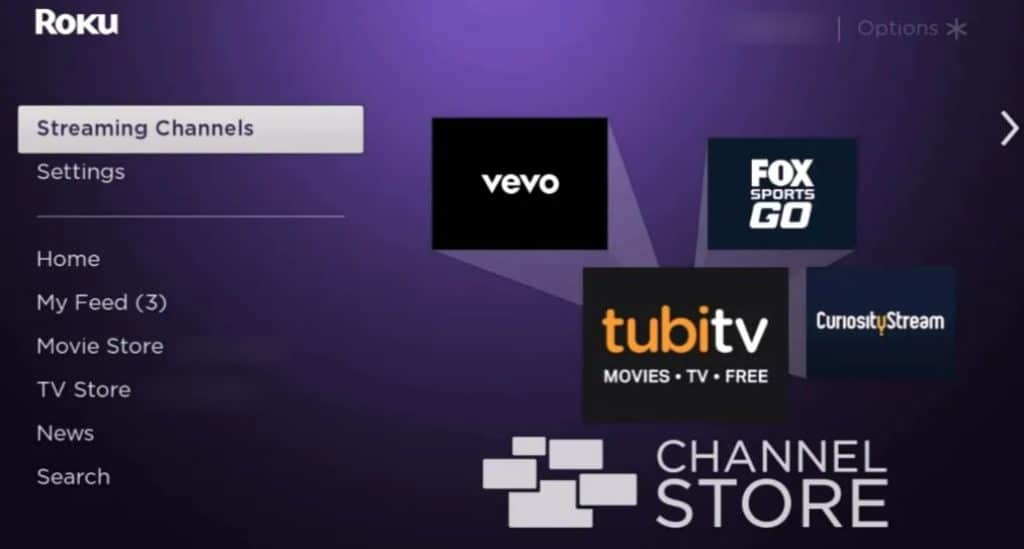 3. Click on it, and the Roku channel store will open.
4. Navigate to the bottom and choose Search channels.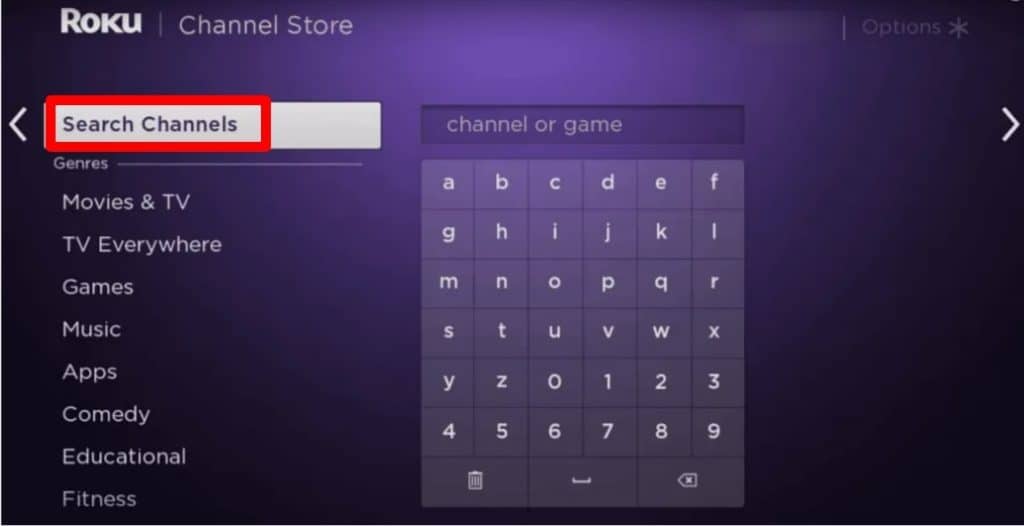 5. Type Pure Flix in the search bar using the keyboard.
6. Choose pure flix on roku from the list of channels that appear.

7. Select Add Channel. You may have to enter your Roku account PIN.
8. Then click OK when you see the channel added pop up on the screen.
9. Pure Flix will now appear under the channels list on the Roku Home Screen.
Launch the Pure Flix Roku app
---
At this point, if you have already subscribed to Pure Flix, you can enter your login credentials after launching the channel. Otherwise, follow the steps below.
1. Visit the www.pureflix.com website on your web browser.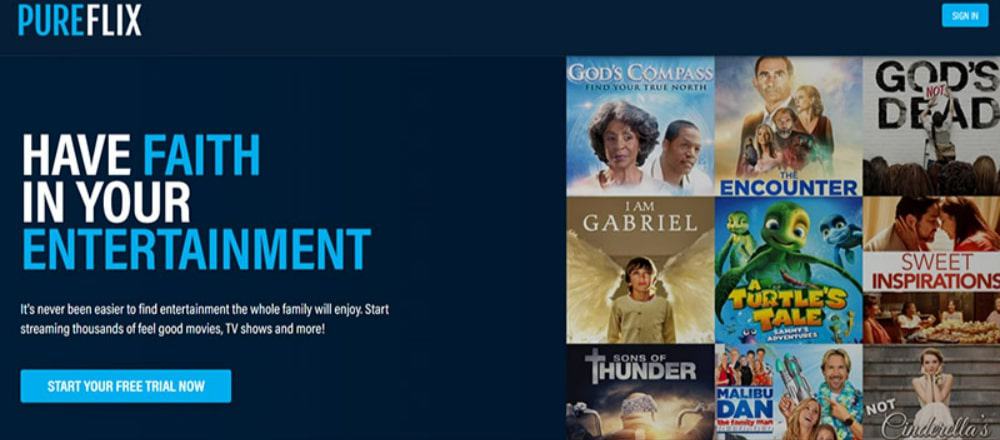 2. Tap on the Start Your Free Trial Now option.
3. Choose the monthly or annual subscription plan, as per your preference.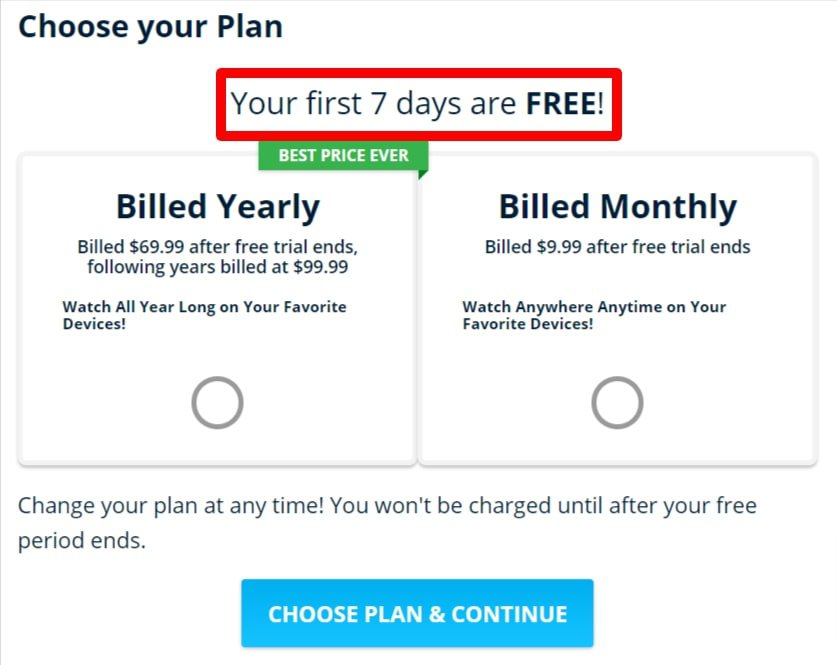 4. Provide your name, email address, and complete the payment process.
5. For the first month, you can watch the content for free. Afterward, your credit card will be charged as per the plan you've chosen.
6. Go to your Roku device. Launch the Pure Flix app, provide your login credentials.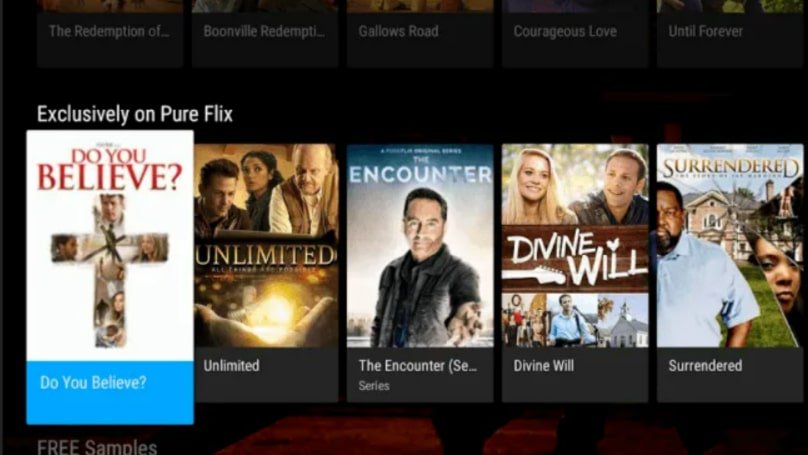 And it's done! You can now stream any tv shows of your choice and enjoy the experience.
Note: In case if you are experiencing playback issues or buffering problems that may be due to cache on your Roku player. Read our guide on clearing cache on roku and How to fix roku buffering.
How to Cancel Pure Flix on Roku streaming device
---
Pure Flix app has loads of entertaining content that you can enjoy watching with your family. But for any reason you didn't like the channel, you can cancel your account without any hassle.
If you have signed up for Pure Flix using your Roku device, you'll need to cancel your account by visiting my.roku.com or through your Roku device only.
Below are the steps to cancel the Pure Flix channel on Roku:
1. Highlight the Pure Flix channel on the Roku device.
2. Press the asterisk (*) button on your Roku remote.

3. Select the Manage Membership option and click OK on the Roku remote.
4. Select Cancel Membership and click OK on the Roku remote.
5. Again, select Cancel Membership and click OK on the Roku remote.
Your account is now canceled.
Learn How to Cancel Your Roku Subscriptions
FAQ's
---
How much is Pure Flix on Roku?
Pure Flix app is a paid streaming service that offers a monthly plan of $10.99 and an annual plan of $99.99. Both plans come with a 30-days free trial. So, if you wish, you can go for the free plan to try out the platform.
Is it a free app on Roku?
While you can download Pure Flix app on Roku for free, you don't get the free monthly trial plan with it. The channel offers a free monthly trial only when you sign up from its website. So, if you choose to purchase Pure Flix from Roku through direct billing, you will have to pay for it right from the first month.
Can I get Pure Flix for free?
No, Pure Flix app is a subscription-based channel. So, you need to purchase its monthly or annual subscription to use it. Nevertheless, if you sign up for Pure Flix app from its official website, you can try it for free for 30 days.
Why is Pure Flix not working on Roku?
---
If you are experiencing issues while streaming Pure Flix on your Roku, you can try the following methods to fix it.
1. Check whether your Roku device is up to date?
2. Check the internet connection.
3. Uninstall the PureFlix app. Reboot and restart your Roku device. Then reinstall the PureFlix channel on Roku.
RELATED: Mobdro for Roku
To Conclude
---
If you want a family streaming app on Roku, you won't find any better than Pure Flix. If you still aren't convinced, head to Pure Flix's website, sign up and install Pure Flix on Roku using the steps mentioned in this guide.
Enjoy the Christian family shows, movies, Anime shows, etc., on the channel, and when you are ready, purchase its monthly or yearly plan.