Philo is an online and Live TV available to stream on various streaming devices such as Roku, Apple TV, Firestick and other devices. However, Roku users face issues running Philo smoothly, like loading or app freezing. In this article, we'll tell you about the factors behind these issues and how you can fix Philo not working on your Roku.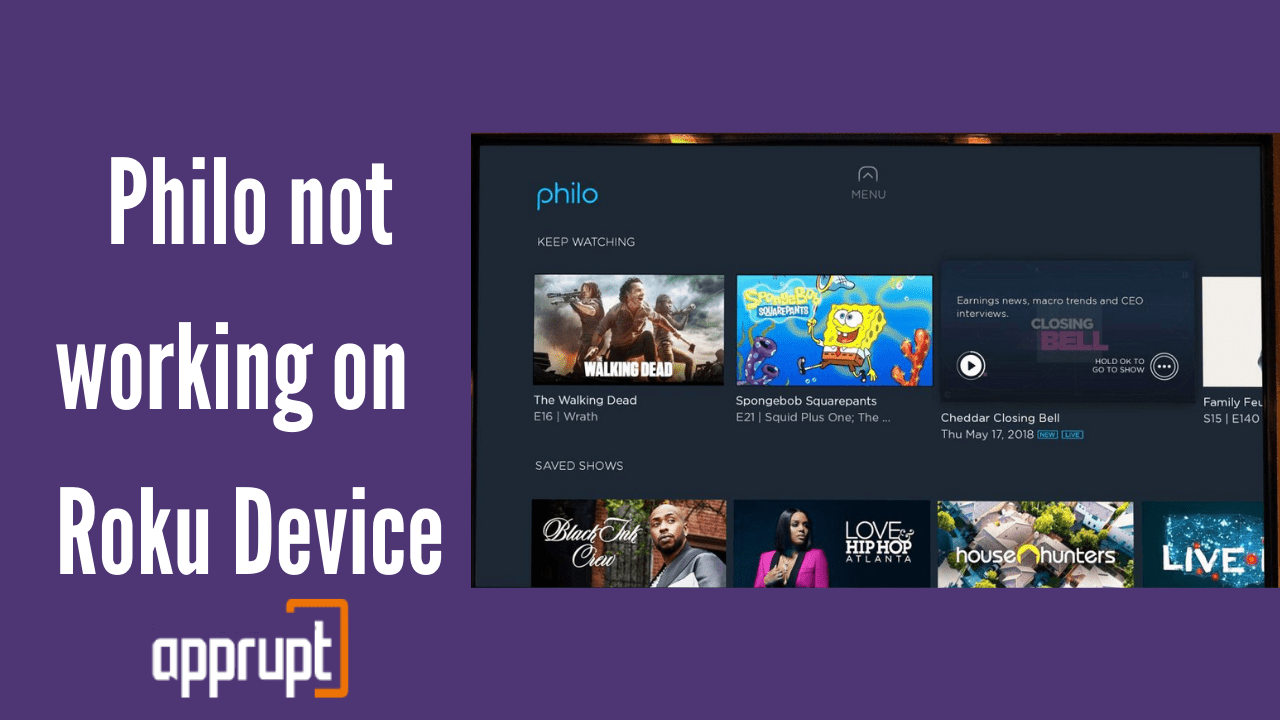 Why is Philo not working on Roku?
---
Philo not working on your Roku streaming device could be because of various reasons. All the possible reasons are listed below:
Unstable Internet Connection
Hardware issue with Roku device
Cache and corrupted app data
Minor Bugs
Older Roku device
How to fix Philo not working on Roku?
---
We will now tell you about different methods to fix Philo not working on your Roku issue. You can use these methods and help yourself. Let's see what these methods are.
1. Restart your Modem/ Router
You must have an active as well as stable internet connection to be able to stream Philo on your Roku device. You can restart your modem or router to ensure that the network issues aren't causing hindrances.
2. Removing and adding Philo
Most of the time, Reinstalling the application helps fix the issues such as glitches. When you remove and again add the application, it resets the device and app's data and eliminates any corrupted cache.
3. Restart your Roku device
There might be issues such as corrupted cache and bugs with the Hardware of your Roku device. Restart your device that will soft reset your device and re-sync the data, which might help with the problems you're facing.
4. Check device compatibility
Remember that Philo TV only works on new Roku TVs and media players. Check to see the compatibility of your device, and if your device is older, it might be the reason behind this.
5. Update Roku
Sometimes issues such as loading or buffering of apps are caused by old versions of Roku OS. If your Roku streaming device is newer and the problem persists, check for Roku updates and download & install if there are any updates available.
6. Check your Philo TV subscription
You need to have an active Philo subscription to be able to stream its contents on your Roku device. Check and confirm that you have a subscription, and if not, subscribe and login into the Philo TV application and see if the issue has been resolved.
7. Contact Philo Help Center
Contact Philo help center and let the experts there know about all the issues you're facing. These professionals have knowledge about the issues and know how to tackle them, and they will help you.
8. Contact Roku Support
In case none of the above methods seems to help you fix your problems, contact Roku support and report the issues to the experts and they will provide you with technical support. It is also suggested that you visit the Roku community to check if others have the same issues as you.
Frequently Asked Questions
---
How do I restart my Philo app?
To restart your Philo TV app, exit the application by signing out and then sign back in by entering your credentials.
Why does Philo keep shutting off?
Roku devices have a Bandwidth saver feature to help individuals with data usage that shuts the Philo app. After a few hours of no Remote activity, it suddenly stops, or the app shuts off. You can manually disable this.
Conclusion
---
The article gives you a detailed explanation to fix the issue of Philo not working on your Roku streaming devices. With the help of the steps mentioned earlier, you can resolve any issues you're facing and save yourself the stress. Hope you find this useful.