Last Updated on January 2, 2022 by Mark Roberts
Many Roku users experience that their Roku remote drains the battery faster. Lucky for you, there are several ways to fix this problem. These are simple, easy to follow, and will help you fix up your remote in no time.
Moreover, Roku has a new update which fixes this battery drain issue automatically.
Read on to find out how to fix your Roku remote battery draining issue quickly without burning a hole in your pocket!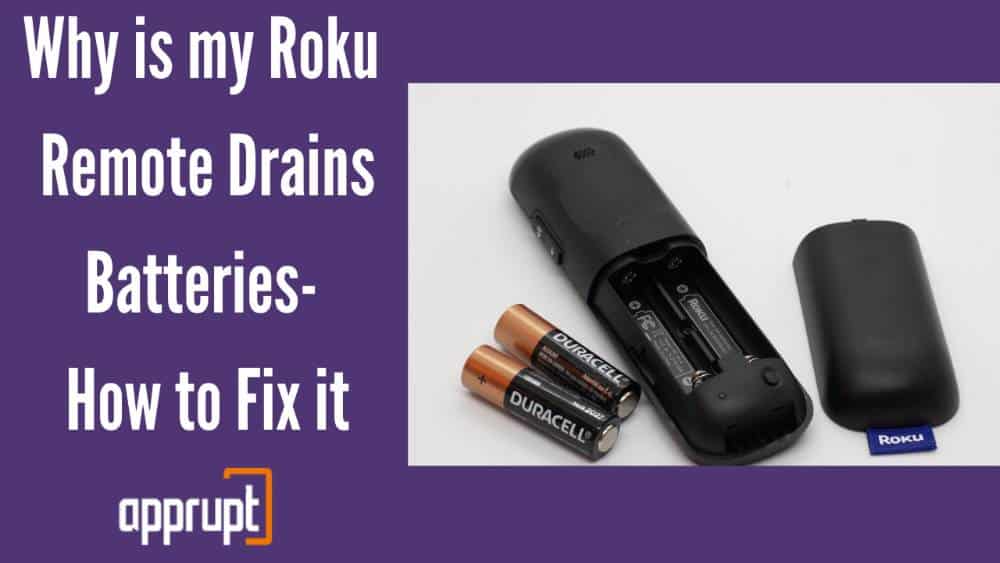 Why Your Roku Remote Battery Drains Fast?
---
There can be a lot of reasons as to why your Roku remote is draining its battery fast. A few of them are –
Overuse of the remote
Poor quality of batteries
Keys locked up in a pressed position, etc.
Using Voice feature for extended time
Powering device through usb port
You have a faulty remote
Roku Stick Remote Battery Drain Fix – Best Solutions
---
There are multiple reasons which can cause your Roku remote to drain the battery. Sometimes, it can be fixed easily by restarting the device whereas other times it requires a little more effort than that.
It can be due to the reasons mentioned above or due to some other underlying issue. But fret not, for no matter what the issue is, we've got the fix for you!
1. Try to power your Roku device through a wall outlet instead of usb port
Powering your Roku device through a wall outlet ensures that it gets the required amount of electricity to fully charge. In the case of a USB port, the charging speed is less.
More importantly, the battery gets drained even when a device connected does not require charging. Some people have the habit of connecting their phone to the USB charging circuit, and it will drain out the battery easily even it is not in use.
2. Try factory reset
Resetting your Roku remote erases all the personalized settings. You can do this simply by pressing the RESET button (located near the battery compartment) for a few seconds after restarting your Roku device. The pairing light will start blinking and the device should reset and pair.
3. Maybe remote is faulty so Get a new one
Sometimes, the odds are that you might have just received a faulty or damaged product. The best way to go about is to consider buying a new remote. Various options are available online on shopping platforms or
TIP – Try talking to customer support and check to see if you qualify their requirements for a free exchange or refund of the remote.
4. Don't Use the Voice Features
Roku's voice features enables the users to connect their earphones instead of the speakers – have high consumption requirements. While suitable for short periods of time, this can quickly drain your remote's battery when used for longer periods.
Disabling the voice features on your Roku remote can help significantly reduce the battery requirements of the remote.
This can be achieved by switching off the audio guide option in the accessibility section of settings.
5. Contact Roku support to likely replace your remote
Ultimately, if your Roku remote still malfunctions, you should consider contacting Roku support to try and get a replacement for the same. To contact Roku support, you can create a service/help request on Roku's website at www.roku.com.
Here, you can address your issues by talking to customer support either on chat with their LiveChat feature offering quick assistance. You can also call their toll-free number and talk to the customer service agent there about your issue in detail.
How long should Roku remote batteries last?
When used in a moderate way, Roku batteries should last for at least two months. If you observe that your Roku remote is draining within the first few weeks of use, take a shot at one of the tips mentioned above to solve the issue.
Bottom Line
We addressed a few of the popular issues faced by users when it comes to their Roku remotes. The quick fixes mentioned above will guide you to solve all your Roku remote battery issues.
But, if for some reason, you're unable to resolve your battery drainage issues, your last resort is to just call up a technical professional and let them take charge of the wheel from that point.