Are you a Roku user curiously searching to know Does Roku has Spanish Channels? Then, You are on the right article to explore the 24 most popular Free Spanish channels on Roku that you can watch with English and Spanish subtitles.
Roku constantly expands its user base by adding more channels for Spanish audiences. Stay tuned till the end to get more brief knowledge about these channels on Roku.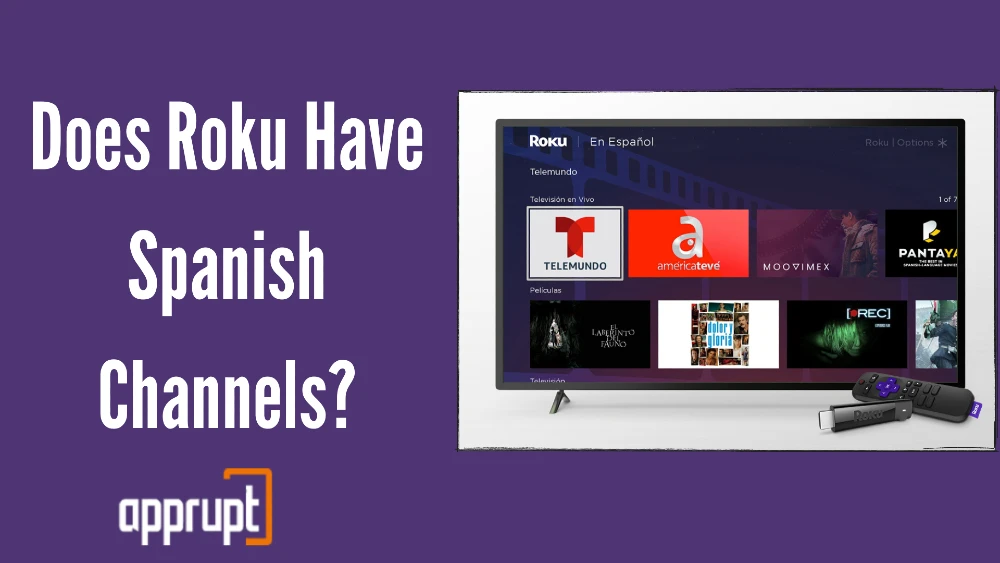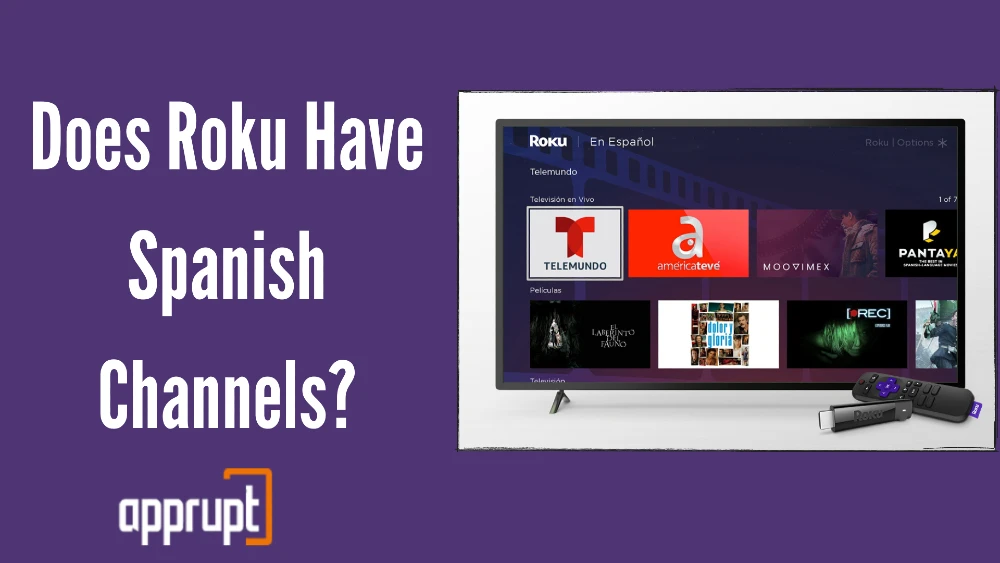 Are There Free Spanish Channels on Roku?
---
Roku has included the "Tv En Espanol" category on its devices, sticks, and players for streaming popular Spanish channels from the diverse fields of news, entertainment, tv series, classic shows, movies, and more.
Here are some popular free Spanish Channels on Roku that anyone from English can watch to Spanish-speaking audiences.
1. Tv en Español
Tv En Espanol category on Roku has dedicated its entire section to the people speaking the Spanish language. Here, You can do unlimited streaming and watch more than hundreds of free Spanish channels. You won't have to spend the extra penny watching some of the exclusive Spanish content available only in this section.
Some popular channels available are – Canela.Tv, Telemundo 52, Estrella tv, WAPA Tv, Television Mexico, V2M38JW, Wracan 10Tv, Telemundo 20 San Diego etc.
2. Prendetv: Tv Gratis en Español
Watch 50+ special channels and 1,000+ hours of your favorite shows and movies completely free in Spanish on Prende Tv. You can watch diverse content such as music, classic sports, series, comedies, and television shows with your family. Some popular programs that have captured the heart of the audience are available here-
Hollywood movies
Latin American series
La Rosa de Guadalupe
Liga MX
Novelas
Sitcoms
Nature documentaries
European soccer
Children's programs
Anime
3. Univision Now
On the Univision Now channel, you can enjoy some of the most pleasing entertainment shows, sports, and news in Spanish. To access this channel, subscribe to it on Roku and watch UniMas and Univision program's latest episodes live before their broadcast on Tv at your fingertips. 
It has a separate Spanish content library that you can watch anytime on demand. You can view shows anywhere, home, office, or on vacation.
4. Canela.tv
Canela.Tv was the first streaming channel for United States Hispanics, Delivering culturally appropriate programming in English & Spanish, including VOD, live channels, and original programs. You can access this channel on Roku via multiple devices such as smart TVs, mobile, players, browsers, and linear.
You can watch unlimited Spanish content from different categories such as Entertainment channels, Canela Kids, Sports, music channels, Popular classics, and more dubbed in English.
5. Vix – Cine. Tv. Gratis
Vix is a free and legal streaming service available in Brazil, the United States, and Latin American countries. Without buying any subscription, You decide on different Spanish shows from genres such as comedy, action, horror, religious films, drama, and more with fewer advertisements than regular Tv.
You can create a list of your favorite Tv series, movies, and novels to watch anytime. It includes 50,000+ hours of Spanish content, including live soccer events from Liga MX and UEFA Champions with Noticias Univision for 24/7.
6. Puerto Rico Fta Channels
You can watch all the Puerto Rico Fta channels on a Roku device or player without spending any penny. They have Spanish content for kids, adults and older people. One popular category for children is HeyKids which delivers educational to fun content, including educational songs and fun tunes.
7. Telemundo 52
Telemundo 52 on Roku delivers on-demand Spanish about news, special reports, and weather from KVEA, which is a local Telemundo affiliate from Los Angeles, California, for free. All the shows categories you can browse for free.
8. Wapa Tv
WAPA-TV is a Spanish-language autonomous television channel authorized in San Juan, Puerto Rico. You can watch hundreds of Spanish shows for free on Roku. WAPA-TV for a long time, delivering programs from diverse categories like boxing, comedies, sitcoms, BSN Basketball, World Wrestling Entertainment, NFL, baseball, human interest series, and
Puerto Rican professional wrestling.
You can catch some most loved shows by Spanish audiences such as La Comay, Guerreros, 60 Segundos, Girl squad, El remix, Lo Se Todo, Función Estelar, Fugitiva etc.
9. Azteca Mas
Azteca Mas offers exclusive Spanish-language reality TV series and soap operas including-
Cielo Rojo
Lo que Callamos las Mujeres
Destino
Cuando Seas Mía
Knockout
You will get free access to streaming of original series, classic novels, and addictive programs you will love. Catch top novelas including Destino, boxing reality show Knockout, Cielo Rojo, Cuando Seas Mía, and Lo que Callamos las Mujeres.
10. Dominican Networks
You can watch your favorite Dominican network's tv shows on Roku for free. Stream exclusive content from the Dominican Premium Television such as News, Live TV, Concerts, Religion TV, movies, Music, and More
11. Estrellatv: Tv en Español
Now, EstrellaTv is available for free streaming on Roku. This Spanish-language broadcasting network mostly features shows produced by itself for Latin American and Hispanic audiences. It broadcasts a mix of genres of shows like drama series, sports, news, entertainment programs, reality tv series, and imported Mexican feature films.
12. Filmrise Español
FilmRise Español offers the largest and finest selected FREE Spanish-language dubbed content for instant streaming on Roku. You can
explore their comprehensive collection of TV series and whole Length movies from diverse genres starring some of the most skillful entertainers from the Spanish Industry.
There are shows for all your family members, from elders to kids. Binge watch these famous Spanish series like true crime staples UNSOLVED MYSTERIES, HELL'S KITCHEN, BAKUGAN: BATTLE BRAWLERS, Peep show, Beyblade, forensic files, and hilarious comedies like DOC MARTIN.
13. Free Tv
As Freetv is available on Roku, you can watch and enjoy your favorite Spanish series and movies anywhere and anytime without any subscription. You get limitless access to some famous independent films, critically praised theatrical releases, Hollywood blockbusters, and fan-favorite scripted shows.
14. Butaca Tv
You can watch many famous Spanish language TV series and movies for free on Butaca Tv. Butaca is a Spanish word meaning "theater seat" whose streaming service is legal. You can stream your desired content with a few clicks without needing credit cards and subscription plans.
You can access this channel content anywhere and anytime with comparatively fewer advertisements than usual Tv.
Butaca Tv offers content for audiences of diverse ages, from classic shows to contemporary films.
15. Telemundo houston
Telemundo Houston has benefited the local Spanish community for over 25 years by broadcasting the first Spanish-language television news.
Currently, It's offering its viewers updated news on local happenings, sports, weather, entertainment, and more on Roku for free.
16. Telemundo 44
Telemundo 44 app updates its content daily, which you can access from Roku. Stay alert and updated with the live newscast, daily news, sports capital, and The Authority in Time. You can access the breaking news at your convenience.
17. Telemundo 31
Now, you can stay updated on Roku with the exclusive content offered by Telemundo 31 Orlando app. You can watch the essential live news, weather information news, and special reports in your comfort every day on Telemundo 31.
18. Telemundo 62
On Roku, you can easily download the Telemundo 62 app for free and access the latest live breaking news on local events, breaking news, investigations, and alert forecasts. They update their content every 24 hours.
19. Spanish Movies & Tv by Fawesome
This channel is entirely dedicated to the audience speaking Spanish worldwide. You can now access its content for 100% free and enjoy unlimited video streaming of high-quality television shows and movies.
You can binge-watch shows from diverse genres such as Thriller, drama, suspense, romance, etc. Non-Spanish speakers can watch their favorite Spanish shows with English dubbed subtitles.
20. Telemundo 39
On the Telemundo 39 app on Roku, you can watch the latest news, live happenings, advance weather forecasts, and special reports anytime and anywhere for free. They update their Spanish content daily to provide you with new information.
21. Telemundo Chicago
On this channel, you will discover the live and breaking local news about suburbs and Chicago. More precise tops for information include the latest updates on immigration and "El Tiempo Primera Alerta." You can get exclusive updates on investigations and consumer reports on Telemundo Chicago.
22. Telemundo 20 San Diego
Now, You can explore the latest news from Tijuana and San Diego. Communities in these areas can receive live broadcasts of special reports and news daily that impact them. It provides precise forecasts through Spanish-speaking meteorologists from these regions.
23. Telemundo 49 Tampa
By watching this app on Roku for free, You will get updated local happenings from Tampa Bay. You get daily updates on breaking news, weather conditions, special reports, and live Noticiero Telemundo 49 exclusively here.
24. Telemundo 48
watch live news on the latest events and weather forecasts from the Bay area on Telemundo 48 for free on Roku.