Apple TV and Roku are the two best streaming devices available in the market and are up against each other as strong rivals. However, deciding which one you should buy can be challenging, especially if you intend to replace your cable.
We'll compare Apple TV and Roku streaming devices in this article to help you decide which is best for you.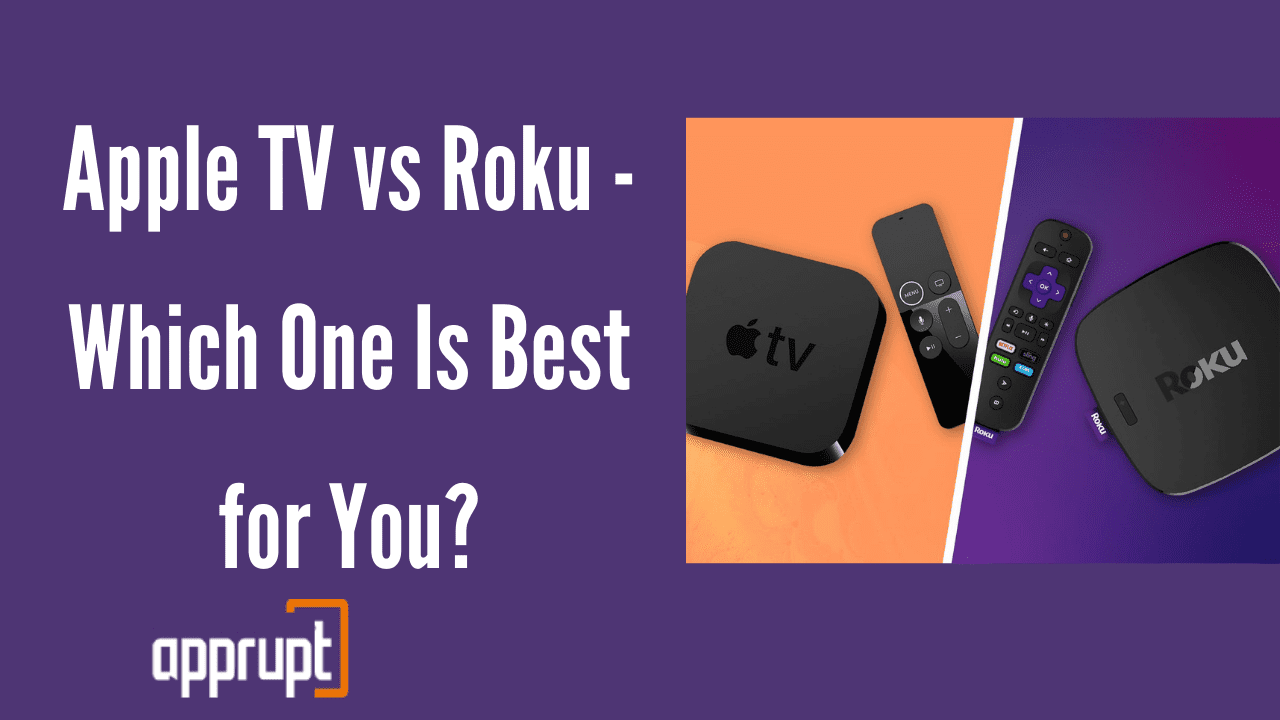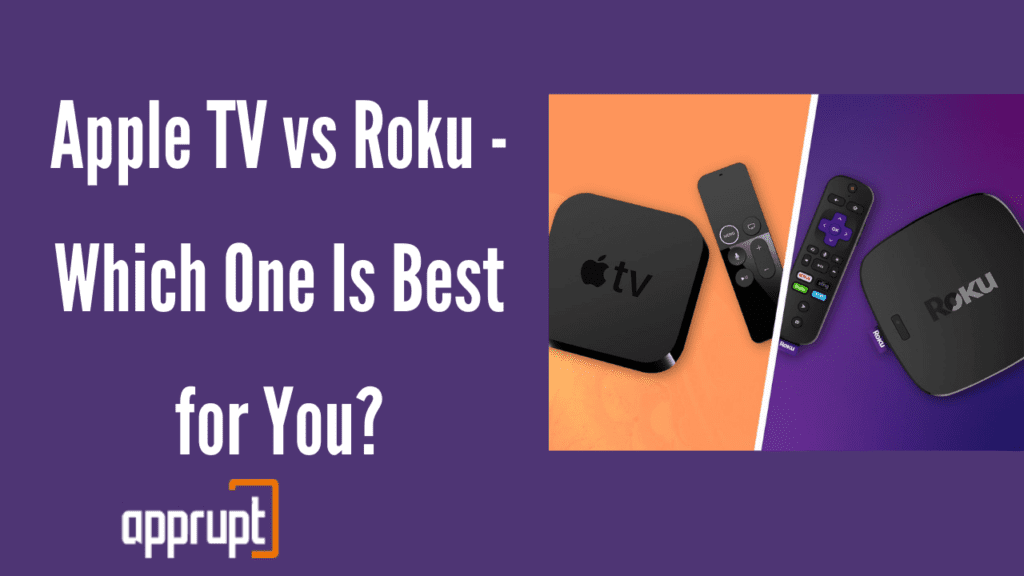 Which Roku device should you use?
---
All Six Roku devices come with various features that make them excellent for media streaming. Still, the Roku streaming stick or Roku Ultra, in particular, are the best devices you can use to compete against Apple TV.
There are many factors such as content, user interface, and more that differentiate as well as familiarize these devices that we'll discuss further.
Apple TV
---
Apple TV is a streaming media device by Apple. It is loaded with a faster processor and works on Apple's TV OS software. Apple TV also comes with a Siri Remote, to easily navigate through apps and programs to easily stream multiple apps.
Pros
Apple TV has a fast A12 Bionic processor
The software Apple TVOS works great with numerous app
New Siri remote with upgrades
Cons
Apple TV is very highly-priced
It is not compatible with Google Assistant and Alexa
Apple TV storage is not expandable
Roku
---
The Roku range of devices are one of the best streaming devices that comes loaded with amazing features and a variety of apps and channels to stream your favorite contents. With its best feature i.e. headphone jack, it enables private listening to the user.
Pros
Roku device is very easily affordable
Roku has an easy-to-use interface
Google Assistant is compatible, and it supports Apple AirPlay
Cons
Roku device has an old menu format
It Doesn't support Dolby vision
Out of all Roku devices, only Ultra has an Ethernet port
Apple TV vs. Roku: Cost
---
Cost is an essential factor for users when deciding between Apple TV and Roku devices, as there is a massive price gap between these devices. The Apple TV HD costs $149 and comes only in the 32 GB Model. The Apple TV 4K is the most expensive device on the market, costing $179 for the 32GB model and $199 for the 62GB model.
Roku Express, the most affordable model, costs $29.99 and includes HD streaming and a remote. You can buy the Roku Express+ for $39.99, with the voice search feature and the Roku Premiere for that very same price. The Roku Streaming Stick and Roku Streaming Stick + cost $49.99 each, while the Roku Ultra LT costs $79.99.
Apple TV vs. Roku: User Interface
---
When we talk about User-interface, both Apple TV and Roku devices provide a straightforward user interface. Apple's user interface is smooth, stylish, and free of ads, with a few apps highlighted in the top row. You may personalize this row by adding your favorite apps.
Roku devices also feature a clutter-free UI that is simple to explore, works very fast, and you can grasp right away. The apps are visible in a grid-style structure on the home screen, and you can freely navigate between areas on the left of the screen, including tabs for your feed, setting, and searching.
Apple TV vs. Roku: Connections
---
You can connect your Apple TV device to television with an HDMI cable. Apple TV features Bluetooth for wireless Apple keyboard and Wi-Fi with dual-band Wireless-N capability. An ethernet port and optical audio output port are also available.
In comparison, The Roku device plugs into the HDMI port on your television. Roku's USB-powered, eliminating the need to put it into a power outlet and making it more convenient. Roku devices also have a USB port and a MicroSD slot for attaching an external disc or local playback.
Apple TV vs. Roku: Picture Quality
---
Roku and Apple TV both provide the highest 4K High- Dynamic Range (HDR) picture quality and support Dolby Vision and Dolby Atmos.
The Roku device supports HDR10, whereas the Apple TV 4K supports HDR10 and Dolby Vision. When playing H.264-encoded videos, the Apple TV can support up to 1080p resolution; MPEG-4 videos in 480p resolution; and M-JPEG video content in 720p resolution.
However, the Apple TV 4K outperforms the Roku thanks to its A10X chip and synchronous dual-band Wi-Fi, making it more powerful. It can also upscale content to 4K resolution with amazing efficiency.
Apple TV vs. Roku: Controls
---
Roku devices come with a simple and premium remote control to control your Roku. While with a simple remote, you can manage your Roku, premium Roku Remote also has extra features such as Voice search. Roku also has an app available on ios and android that users can use to operate their devices.
In comparison, you can control your Apple TV device with your Apple TV Siri remote and perform tasks or search for apps and programs very efficiently.
Apple TV vs. Roku: Content library
---
Apple TV has fewer channels than Roku, but it does have the most important streaming services such as Netflix, Hulu, and HBO. Amazon, Google Play content, and Time Warner Cable TV are all missing, but Apple TV supports iTunes content and YouTube.
Apple TV's simple setup allows it to play local content from iTunes or content already saved on the phone or PC and make it easily accessible on Apple TV.
Including over 1,700 apps/channels, Roku provides much more channels than Apple TV, far more than most premium cable TV packs. Furthermore, the Roku device includes streaming services such as Netflix, YouTube, and Vudu. Roku also allows you to install private channels available in huge numbers.
Apple TV vs. Roku: Streaming Quality
---
The streaming quality in Apple TV 4K and the Roku devices are nearly similar. Both devices support 4K and HDR streaming, resulting in beautiful image quality when paired with a suitable display. They also include Dolby Vision support.
Both devices have powerful Wi-Fi to support high-quality streaming, as well as dual-band connectivity. Ethernet ports are also available to stream over a wired connection and enjoy continuous playback. The streaming quality varies between Roku devices.
However, Roku devices offer the same streaming quality as Apple TV for a much lower price.
Apple TV vs. Roku: Apps
---
Users can use the Roku mobile app to link Roku devices, and it acts like a Roku remote. You can use it for media and playback. With the help of the Roku app, you can search and navigate for channels or programs from your phone or Tablet. Roku mobile app is available to download and use on both android and ios devices.
In comparison, you can only use the Apple TV app for viewing content on your phone or PC. However, with the use of the AirPlay feature, you can mirror your iPad, iPhone, or iMac to Apple TV. Although according to viewers, mirrored content lags and lacks in quality.
Apple TV vs. Roku: Which one is Easiest to use
---
The Apple TV is quicker, more informative, and offers a better experience. On the other hand, Roku takes the lead at a much lower price. However, Apple TV and Roku devices outperform the competition in interface and user experience when talking about ease of use.
Both devices have a simple interface that is simple to explore and understand, even for inexperienced users.
Apple TV vs. Roku: Remote
---
The Apple TV 4K includes a Siri remote, allowing you to use voice control to carry out tasks or searches on your Apple TV. However, it is not Alexa or Google Assistant compatible and also does not support Apple TV HD model.
In contrast, the Roku remote is compatible with Google Assistant And Amazon Alexa. Its buttons have icons, and there are also shortcut buttons for Netflix and Hulu. There are premium remotes for expensive Roku's that you can use for your TVs. Roku's Enhanced Voice Remote has an earphone jack for private listening.
Apple TV vs. Roku: Gaming
---
Apple TV doesn't have gaming applications, but users can use AirPlay to play a game from any Apple device on their television.
Roku devices have a variety of gaming apps, including Poker, Angry Birds, and some traditional arcades. Games are installed and stored on Roku. Roku also includes a dedicated Gaming remote with gaming buttons, which gamers cherish.
Apple TV vs. Roku: Setup
---
Setting up the Apple TV is straightforward. Simply connect your Apple TV device to your TV's HDMI port and follow the on-screen instructions. You need to have an Apple ID to use Apple TV. There is no need to use a PC and a web browser, as you would with any other device.
Roku setup is simple as well. Connect the Roku device to your Television and the TV to the internet, set up a Roku account, and you're good to go. All Roku streaming devices are powered by a separate outlet and connected to the TV's HDMI port.
Apple TV vs. Roku: Additional Features
---
Apple TV and Roku devices have additional features that might be useful for you as per your needs. While the Apple TV comes with ethernet ports and USB ports, Roku streaming devices allow you to mirror the content using Miracast via third-party apps. Siri Remote control is one of the most significant features of Apple TV.
Does Apple TV have apps like Roku?
---
Apple TV has far fewer apps than Roku devices. It has around 30 entertainment apps and no gaming apps, and Roku has more than 1700 apps and games. However, Apple TV has a massive 4K HDR rental movies library.
What is better, a Roku or Apple TV? – Final Thoughts
---
Apple TV and Roku are remarkably similar in most ways, making it difficult to say which is better. These high-end devices offer the same streaming quality and wireless performance. The major difference is in price, with the Apple TV costing nearly twice that of the Roku.
Overall, the Roku is an excellent choice if you want a perfect streaming device without spending a lot of money. If you're an Apple fan and want to enjoy the Apple TVOS experience, go for Apple TV.
Conclusion
---
The article explains about Apple TV and Roku streaming devices to help you sort which one you want to choose. Both devices are very popular and attract hordes of customers. I hope you liked reading this.