Roku TVs are becoming more popular for gaming because they have a lot of features that are specifically designed for gamers. These features include a remote with gaming buttons, game-specific apps, and even built-in games.
The remote has gaming buttons that are designed to be easy to use for gamers. This includes the directional pad, A button, B button, and an X button. The remote also has a headphone jack so gamers can play without disturbing anyone else in the house.
The Roku TV app store contains many games that are specifically designed for Roku TVs.
The Roku TV is also compatible with many different gaming consoles and controllers, including PlayStation, Xbox One, and Nintendo Switch Pro Controller.
The screen size of Roku TVs ranges from 32″ to 55″, giving gamers more options for different styles and prices.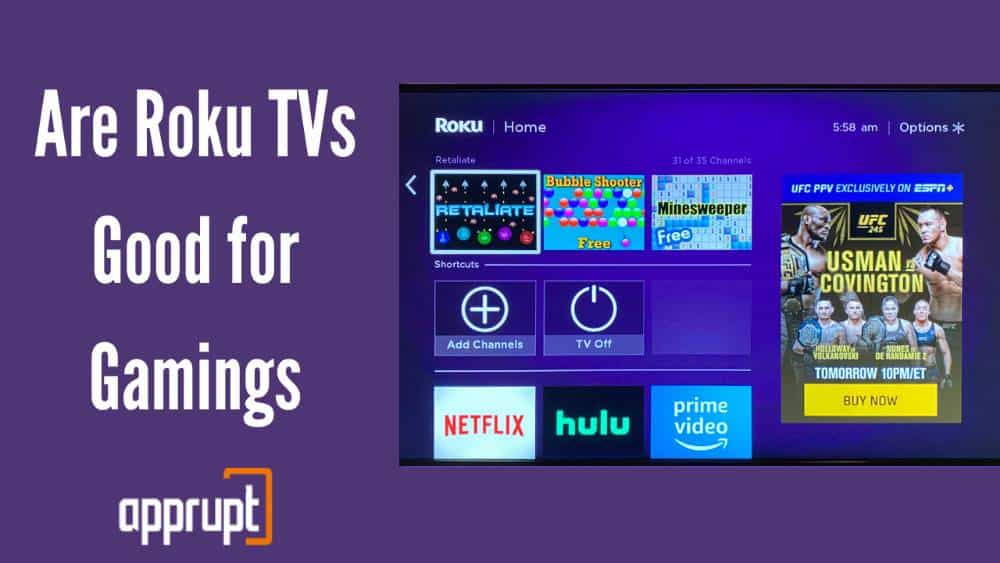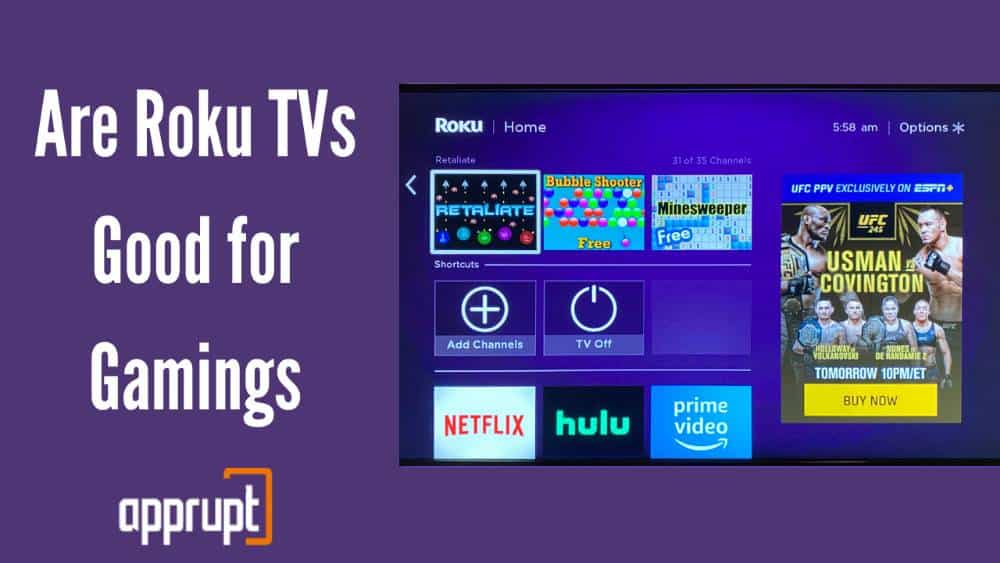 Roku TV has always been in the race of Gaming TVs. According to some Roku TV users, its features make it one of the best TVs for Gaming.
In this article, we'll find out: Are Roku TVs good for Gaming?
5 Roku TV Features that make it good for Gaming
---
HDMI inputs:
HDMI inputs are the essential feature for the gamers, apart from the size of the television. It makes perfect sense because one can't operate the gaming console without the need for an HDMI port on the TV.
Gamers use the TV for streaming almost as often, if not quite as, Gaming. Thus, ensure to have enough ports for the Cable box and audio devices.
Roku TVs include at least three ports – and some have four and switching input is simple. This is made exceedingly quick and straightforward using the Roku Voice Remote.
To switch to HDMI 1, click the microphone button and say "HDMI 1." You could even label the consoles with unique input labels.
Audio Quality:
Not every big-size TV comes with good sound quality, and audio quality is essential for gamers. Upgrading to excellent sound on Roku TVs is simple and inexpensive.
Roku TVs Wireless Speakers come with sharp and clean speech, strong bass, and optimum stereo distinction, which improves the streaming and gaming experience.
Begin with Roku TVs Wireless Speakers for a complete surround sound experience, then upgrade with Roku Wireless Subwoofer and Roku Smart Soundbar.
High Dynamic Range:
For Gaming, High Dynamic Range (HDR) is a more important feature in televisions. HDR emphasizes rich, brilliant colors that leap off the display.
Thanks to the improved HDR contrast, dark pictures are sharper, and bright situations are more realistic.
HDR in Roku TVs gives shows and movies a genuine boost while also bringing out the most refined in-game animations.
Refresh Rate:
Games, films, and shows all tell the television what images to display dozens to hundreds of times per second; this frequency is known as the "refresh rate."
Games, unlike films and tv shows, develop every animation frame as gamers play, and therefore refresh rate for games on the gaming console might change.
Roku TVs have a configurable refresh rate, and a 120Hz refresh rate is enough to eliminate flicker and decrease input lag, making it a next-generation gaming device for gamers to engage with.
Game Mode
Game Mode in Roku TVs assists in reducing input latency, or the time required for the TV to decode the high-resolution graphics from the game console.
Additionally, Game Mode in Roku TV improves the processing of data from the game system by lowering the visual quality. Game Mode is not necessary, particularly during streaming, but it's an excellent feature.
Conclusion
This article gives you detailed information about Roku TVs and their important features that make it suitable for Gaming. I hope you liked reading it.