We've compiled a list of the 6 best universal remotes for Roku to suit all your Roku streaming needs.
Whether you've lost your remote, need a replacement for a defective one, or if you just want to switch to one simple remote for all your Roku-related needs, we've got you covered.
This universal remotes list is curated considering several details like price, appearance, durability, features, versatility, and more.
While there are ways to stream content without using a remote, picking out the right universal remote has its benefits. For instance, with the right universal remote, one can control several devices – Roku speakers, soundbars, Roku TV, and other devices – all in one place simultaneously!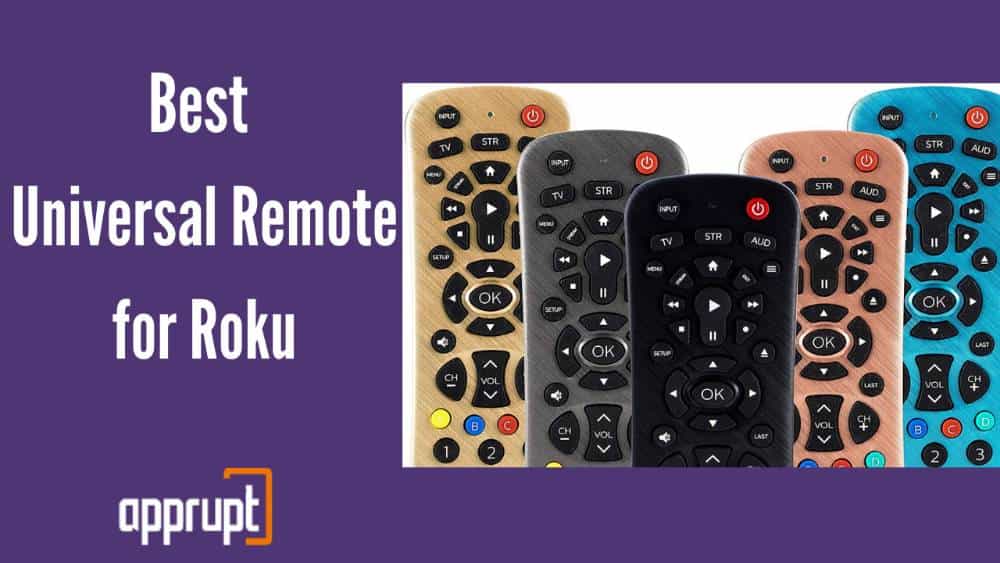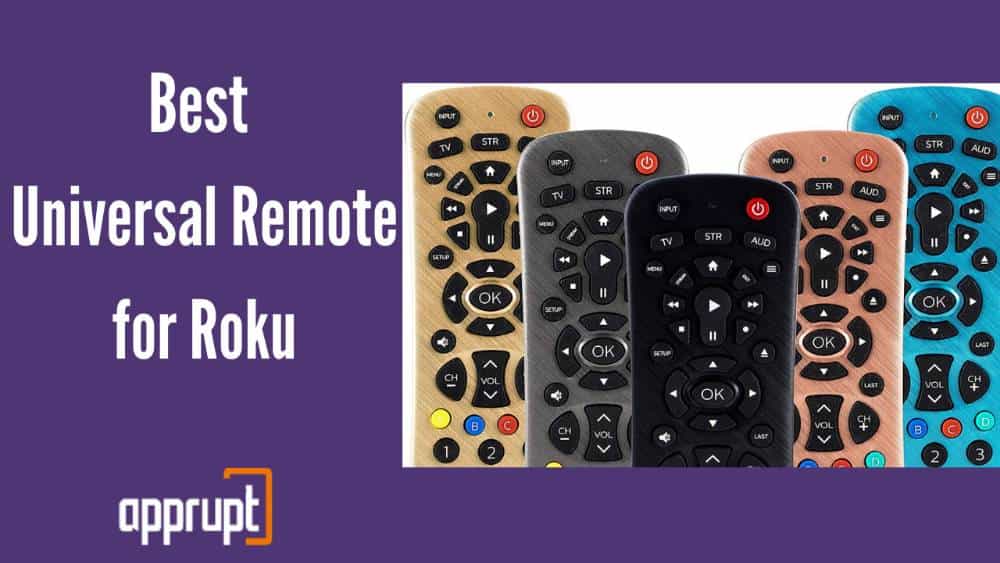 Can You Use a Universal Remote on a Roku Tv?
---
Yes, you can control your Roku Tv with vast majority of universal remote. But there handful of remote brands that are not compatible with Roku.
What is a Roku Replacement Remote?
---
A Roku replacement remote is a remote control that can be used in place of the original Roku remote to control your Roku streaming player. They are often used when the original Roku remote is lost or broken but can also be used as a backup or spare.
It can be used to navigate the menus, select content, and enter text. It can also be used to adjust the volume or mute the audio.
Roku Replacement remotes can be found for most major brands of Roku TVs. Many universal remotes can also be programmed to work with multiple devices. You can find a variety of Roku replacement remotes online or at your local electronics store.
Top 6 Universal Remotes that work with Roku
---
Logitech's Harmony Express is a widely popular universal remote. Although its price is a little steep, but works perfectly as the Best Roku remote. It is compatible with various smart devices like Roku Streaming Stick, 1, 2, 3, 4, Roku Ultra, Roku Express, and Premier.
With voice control and built-in Alexa, this works as a great replacement remote with Wi-Fi and Bluetooth-enabled extra services. It also has a great range and can function even from inside closed media cabinets.
Logitech Harmony Elite is the best universal remote control for Roku similar to Logitech Harmony Express with the voice control feature as an extra addition.
Pros
Touch screen
Sleek display
Charging contacts for comfortable charging
USB Port
Cons
Expensive
Setup is easy, but a bit tedious
SofaBaton's IR serves as a universal Roku remote and is incredibly easy to set up, packed with premium features, and supports up to 15 devices at a time.
Some notable features of this IR remote include a sleek, OLED screen, a scroll wheel at the top to switch between devices effectively, and a macro programmable button to help perform multiple actions at your convenience.
This remote control is fir for Roku 1, 2, 3, 4, Roku Premiere+, Roku Express+, Roku Ultra.
Pros
Easy setup
Maximum range of 50 meters
OLED Display
Scroll wheel design
Cons
Not compatible with Roku sticks, Roku Game and Roku TV
No back-lit buttons
These Roku universal remote support Roku 1,2,3,4, Premier/+, Express/+ Roku Ultra, RC12 RC80 RC81 RC108, Vizio TV. Its control includes 9 basic learnable buttons like power, volume control, mute, source, power, etc. as well as some DIY keys to help the user to choose their mode of streaming.
It is preprogrammed to be compatible with Roku and is super easy to set up and use.
Pros
Easy to use
Affordable
Compatible with a wide range of devices
Cons
Not suitable for Roku stick
Not suitable for built-in Roku systems
Needs line-of-sight vision with the Roku player to work
RC280 Replacement remote is essentially made for TCL Roku TV but is also found to support other Roku models. It's compatible with all models of TCL LED TVs and easily transmits its remote signal over long distances (more than 10 meters). It contains buttons to enjoy streaming services like Netflix, Hulu, etc. on its interface. It is incredibly easy to set up and requires no programming.
Pros
Easy to set up
Affordable
Response time of 0.2 seconds
Cons
Does not work with Roku players or Roku stick
Philips is a trusted company in the technology sector with their products being extremely popular and durable. Philips Universal Remote lives up to its name with its top-of-the-class technology and its extensive remote class library.
Its Find-it feature helps you locate your remote in case you misplace it by simply connecting it to the MyTouchSmart App.
It is fully back-lit, can operate up to 6 devices, and can have a maximum of 30 meters' range.
Pros
Find-it feature
Preprogrammed for Roku devices
Simple set up
Best remote code library
Cons
Does not work with Roku Streaming Sticks, Fire TV Sticks, or other RF streaming devices
It is an extremely affordable universal remote with a partially backlit keypad. Although the appearance of the remote control is a little substandard, this palm-sized model replaces and consolidates remotes from most major brands including Samsung, Vizio, TCL, LG, Sony, Hisense, and more.
Its simplified device setup with automatic, manual & direct code search methods make it a popular choice among many Roku users. This RCA universal remote is the best Roku remote with numbers.
Pros
Compatible with the Roku 1, 2, 3, 4, Ultra, Express, and Premier.
Includes streaming players' codes.
Affordable
Cons
Substandard appearance
Bulky
Will a Universal Remote Work on a Roku Tv?
---
Yes, Logitech Harmony Express and Elite are two of the most effortless and reliable models of universal remotes to pair with the TCL Roku TV. All the products mentioned above work well with the TCL brand TVs.
Some of these remotes, although working perfectly fine with the TCL's Roku TV, might not respond well to other devices like Soundbars, Roku Game, Roku stick, etc.
Conclusion
---
Overall, there are a variety of different types of universal remote that works with Roku TVs. Some are more universal and can be used with multiple Roku devices, while others are designed explicitly for TCL Roku TVs. Ultimately, it is up to the user to decide which type of remote will best suit their needs.