When we talk of streaming devices, there are a plethora of names that pop up in our minds. These services are unique on their own and divide our attention. Out of these various devices, Chromecast and Roku are immensely popular and face stiff competition from each other.
This article will discuss both devices, from features to their costs, along with their pros and cons, making it easy to decide which one is best for you.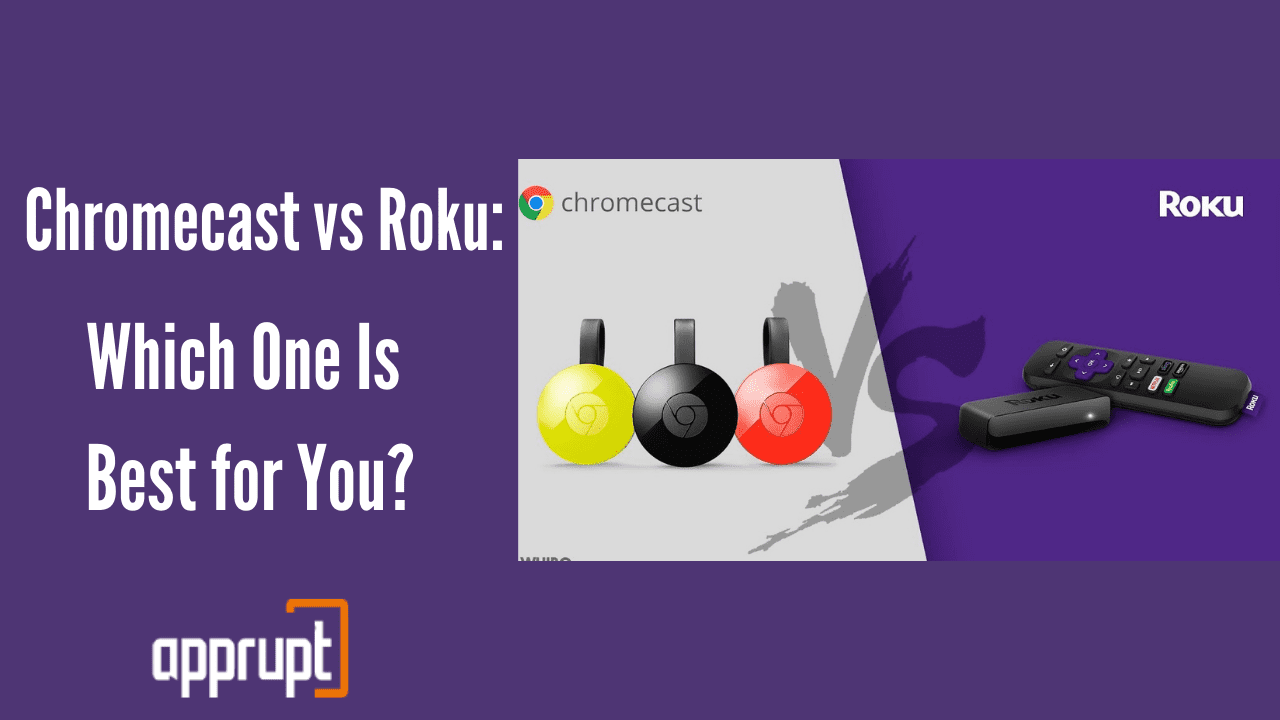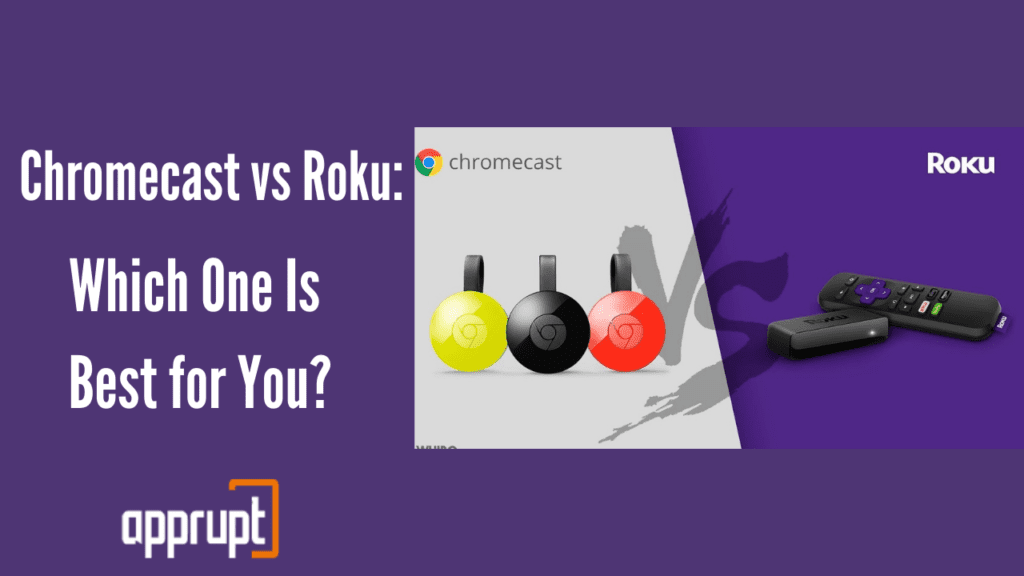 Which Roku Device Should You Use?
---
Roku regularly adds new features and updates to its various devices, making them one of the finest choices. Six Roku streaming devices are considered great competitors to Google Chromecast, namely the Roku Streaming Stick, Roku Streaming Stick +, Roku Express +, Roku Premiere, Roku Premiere +, but users can specifically go for the Roku streaming stick.
Roku streaming stick is economical in comparison to Chromecast and comes loaded with high-end features, from picture quality to content. Also, Setting up the Roku stick is very efficient.
Further in the article, we will discuss these Roku devices and compare them to the Chromecast in important sections.
Google Chromecast with Google TV
---
Google Chromecast with Google TV is a device that allows you to cast content from your smartphone, tablet, or computer. Google Chromecast includes Dolby Vision, an enhanced interface, and amazing assimilation with Google Assistant for voice search.
Pros
Google Chromecast supports Dolby Vision, Atmos, and 4K
It offers a vast collection of games
It is reasonably priced, which makes it easily affordable
Cons
Not all applications allow mirroring on Chromecast.
Not every TV will power Chromecast
Chromecast is reported to be slow sometimes when using voice control or while changing apps
Roku Streaming Stick
---
The Roku Streaming Stick is a popular and fantastic streaming device that plugs into the HDMI port on your TV. It has a very simple user interface and a large assortment of apps and online streaming services such as HBO Max, Hulu, among several others.
Pros
It is under $50, making it economical.
Roku comes loaded with an Easy-to-use interface
The Roku Remote also controls TV volume and power
Cons
Roku streaming stick has no ethernet port
It does not support Dolby Vision
It has the old format of the menu
Chromecast vs. Roku: Cost
---
Cost should not be a significant factor if you're trying to replace your cable with a streaming device, as both devices are relatively similarly priced. The standard Google Chromecast price is $35, which is less than the relaunched Roku premiere and similar to the Roku Express +. The Chromecast Ultra that supports 4K costs $69.
Out of all six Roku streaming devices, the Roku Express is the cheapest device that, costs $29, and the Roku Streaming Stick + is by far the most expensive one costing $59. This implies that the price gap is a small amount of $30 for all Roku streaming devices.
Chromecast vs. Roku: User Interface
---
User Interface is an essential difference between the Roku devices and the Chromecast. Roku devices work on Roku OS, and the on-screen interface is with channels or apps, Roku store, search function, and a settings menu. However, Chromecast doesn't offer any on-screen interface, but it enables its users to mirror their phone, tablet, or PC on the Television.
You need to set up and manage your Google Chromecast from the Google Home app available to download on Android and ios. You can customize the content that you cast with Chromecast by installing several applications on your mobile phones.
Roku users can also customize their viewing experience by downloading apps for their chosen streaming providers from the Roku Channel Store.
Chromecast vs. Roku: Connections
---
Each Roku device and Chromecast is connected to the TVs with an HDMI port, except Roku Express+. Roku Express + also provides A/V ports along with an HDMI connection. For instance, if you have an old television that does not have HDMI ports, Roku Express + is the perfect device for you.
Chromecast vs. Roku: Picture Quality
---
Picture quality is a significant concern that will influence the streaming device a customer purchases.
The standard Chromecast and three Roku devices, i.e., Roku Express, Roku Express +, and Roku streaming stick, provide 1080p High-Definition(HD) picture quality. The other three Roku devices, Roku premiere, Roku premiere +, Roku streaming stick +, and Chromecast Ultra, allow viewers to experience 4K and high dynamic range (HDR) viewing.
Choosing HDR and 4K video quality means users will pay more for the streaming devices.
Therefore, before you head out to pay extra for a 4K device, make sure your TV supports 4K as it is not very common and also think about whether you plan to watch 4K content or not as services like Netflix charge people more to watch 4K.
Chromecast vs. Roku: Controls
---
All of the Roku devices come with Remote control. The three cheapest and most basic devices include a simple remote to control your Roku. The more expensive models include voice compatibility, enabling users to search for content by just saying a few words.
Roku also has Android and iOS apps that allow users to operate their devices and switch between their Roku devices.
You can operate Chromecast devices only by phone, tablet, or PC, and as Chromecast mirrors the screen, anything you do on your local device will be shown on your Television.
Chromecast vs. Roku: Content library
---
When it comes to content, both Chromecast and Roku have many options to choose from, and both devices support popular services. However, Roku has a significantly more extensive assortment with over 500,000 channels on the Roku device. It also has a vast collection of private apps that you can install.
Chromecast vs. Roku: Streaming Quality
---
Both Chromecast and Roku offer dual-band a/b/g/n/ac WiFi, which means they can both stream up to 4K Ultra High-Def at 60 frames per second. You should have no difficulties with either device if your Television and connection can handle it. In terms of quality, both devices are HDR10 compatible; however, your HDMI input must have HDCP 2.2.
The primary difference is that Chromecast supports Dolby Vision, and Roku does not. Although with an HDMI connection, Roku supports DTS surround sound, Dolby Audio, and ATMOS.
Chromecast vs. Roku: Apps
---
Users can use Roku's mobile phone app as a second remote to link Roku devices and control features such as media, playback, and more. The Roku app enables users to search for content using the phone's keyboard and move between menus using the Roku trackpad and also acts as a mirroring tool.
Private listening is one of the most significant features of the Roku app. You can enable private listening and connect your headphones to the smartphone with or without a cable.
You can control Chromecast via the Google Home app, and it serves as both a streaming and casting device. You can use it as a casting device to cast content from your phone or computer to TV, enabling you to watch anything on your Television, not just streaming media.
As a streaming device, you can use your phone to access Hulu, Amazon Prime, or any other streaming platform and cast to your Chromecast.
However, while streaming, the app doesn't allow you to cast content on your smartphone to TV as doing so would consume too much bandwidth and battery power.
Chromecast vs. Roku: Which one is Easiest to use
---
Both Chromecast and Roku provide access to the same services, but the methods employed by each device are considerably different.
Chromecast allows you to control everything from your phone or tablet. Anything displayed on your mobile device can be "cast" to your TV screen, including audio, video, and even Google Chrome browser. This provides you with a tremendous degree of freedom while maintaining a user-friendly experience.
Roku works traditionally, with a remote, phone and complete user interface on the Television. Users can access Streaming apps from the interface, and for people who enjoy app-based systems, this is an excellent choice.
Chromecast vs. Roku: Remote
---
Chromecast uses the phone or tablet as a remote, which you're presumably already familiar with. However, Roku's dedicated remote is easy to use and has icons on the buttons. Some people may find the shortcuts to apps like Netflix and Hulu beneficial.
Users may also manage their TV's power and volume with the premium remote choices, eliminating the need for other remotes.
Roku separately also provides other Remotes. The Enhanced Voice Remote has an earphone jack that you can use for private listening and then the Roku Gaming Remote with gaming buttons.
Chromecast vs. Roku: Gaming
---
Chromecast offers a great collection of games because it allows you to cast any game from a mobile. However, most games are not built for casting, and users may experience some input lag.
In comparison, Games on Roku are installed on the device and controlled by the remote. Gamers may be put off by the restricted variety and lack of a specialized controller.
Chromecast vs. Roku: Setup
---
Roku setup is simple. Connect the Roku streaming device to your TV, connect the TV to the internet, create a Roku account, and you're ready to go. All Roku streaming devices are powered by a separate outlet and connected to the TV's HDMI port.
However, some older televisions do not give enough power, so you may need to connect the streaming device to a separate power outlet using the wall adapter and USB extension cable.
It's also effortless to set up Chromecast. If your Television has both an HDMI port and a USB port, you must connect the Chromecast to it. After you've connected the Chromecast to your TV and a power outlet, connect it to WiFi and download the Google Home app.
Since the Google Chromecast can only be controlled by your phone or computer, the Google Home app is essential.
Chromecast vs. Roku: Additional features
---
Roku and Chromecast both provide some additional features that may be useful to you.
The Chromecast Ultra is equipped with an ethernet connector, resulting in a faster streaming experience. The Ultra is the only Roku device featuring an ethernet connector. Roku devices are Miracast-enabled that are promoted frequently as an alternative for HDMI. Roku OS now also supports Google Assistant.
FAQ
---
Does Chromecast have apps like Roku?
Yes, Chromecast supports major apps that are also available on Roku, such as Netflix and Hulu. Users can cast Google Chromecast from Android devices and apps on iOS and other platforms that enable Chromecast.
What can Roku do that Chromecast can't?
Roku OS powers Roku devices and features an on-screen interface with channels, the Roku store, and search features. Chromecasts lack an on-screen interface. They will reflect the screen of your phone or PC on the TV.
Is there a monthly fee for Chromecast?
After you purchase the Chromecast, there is no monthly fee. However, other apps, such as Netflix, are not free and require a subscription.
Final Thoughts: What is better, a Roku or Chromecast?
---
Choosing between Roku and Chromecast depends on personal choice and necessity.
People like Roku because it is the most convenient alternative for those looking for a device solely for streaming. Chromecast is better suited for people who frequently need to cast their phones.
Furthermore, Chromecast includes Dolby Vision HDR support.
Conclusion
---
This article gives a detailed overview of Chromecast and Roku that explains both the devices are a good choice and it's all up to you and your needs. I hope you find us helpful in choosing the device you find best for you.