Looking for the perfect app that you can stream on your Roku TV with all your favorite movies and TV shows? Look no more because you can stream CyberFlix on Roku and watch thousands of movies and TV shows in it. With CyberFlix, you would never be bored.
Roku technically does not support Cyberflix and this app is not available on the Roku Channel Store either. But there are several alternative ways to stream CyberFlix TV on Roku so that you do not have to give up this brilliant streaming service.
This article will show you all the means to install CyberFlix TV on Roku for you to have the best times with top-notch entertainment.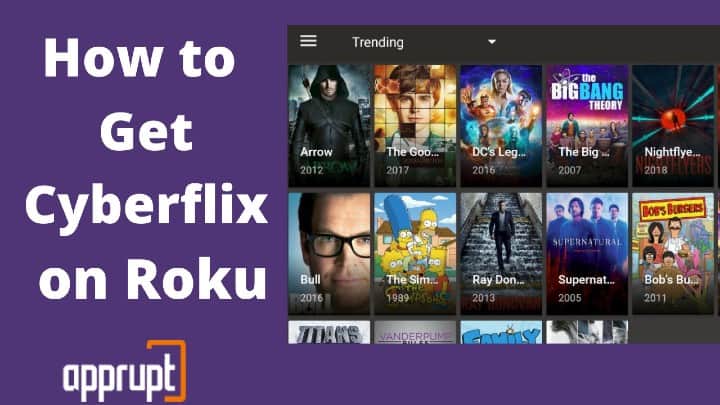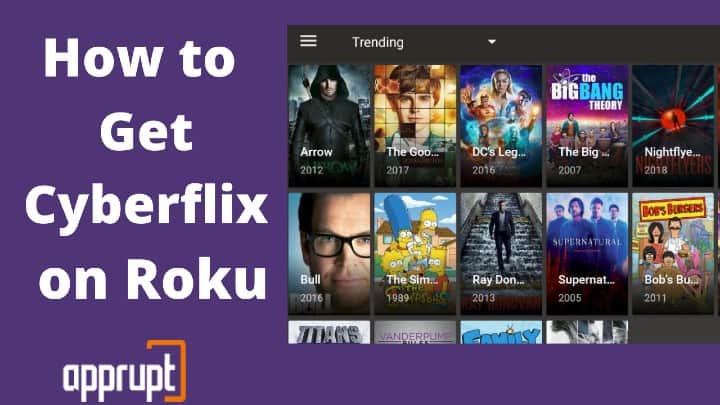 Things you need before You start to install CyberFlix TV
You would need a few things handy before you can start enjoying Cyberflix on Roku:
An Android device – a smartphone or Tablet
Your Roku Device
Download the CyberFlix TV APK app from any website of your choice. E.g., https://cyberflix.me/.
A screen-casting app or a similar feature on your Android phone.
A Wifi connection to connect both of your Roku and Android devices.
Step One: Downloading the Apps on Roku device and Android Phone
Unfortunately, the CyberFlix TV app is not available in the Roku Channel Store. You technically cannot "install" CyberFlix TV on Roku since CyberFlix is an Android app while Roku has a different operating system of its own that does not support Android's APK files. But you can stream the app on your Roku device by connecting your Android device with the Roku device using the compatible screen-casting apps available at first. This can be done by following these simple steps:
Step 1: Turn your Roku device on and navigate to the Roku Channel Store.
Step 2: In the store, search for "All Screen Receiver" and click on "Add Channel" to download the app to Roku.


Step 3: Pick up your Android phone or tablet and go to the Play Store.
Step 4: Now, search for "All Screen Receiver App" in the search box and install the app on your device.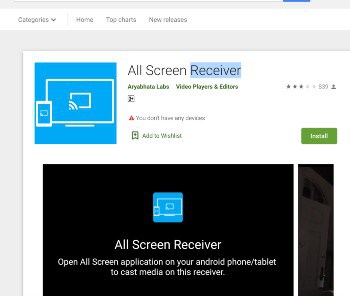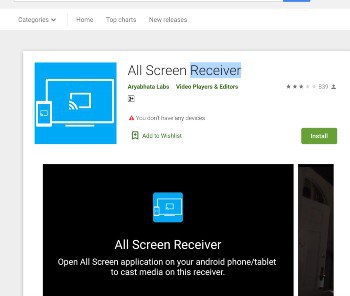 Step Two: Streaming CyberFlix TV app on Roku
Now that you have all your tools ready to stream CyberFlix TV on Roku, it's time to finally stream something to check if everything is working properly on not with these steps:
Step 1: Launch the "All Screen Receiver" app on your Roku.
Step 2: On your Android, open the CyberFlix TV app. You are not required to create an account here.
Step 3: Go to the Library and select the movie or TV show you wish to watch.
Pro Tip: Choose the HD links for high-quality streaming.
Step 4: Now, hold on to the link and make sure to tap on "Play with" and not "Play".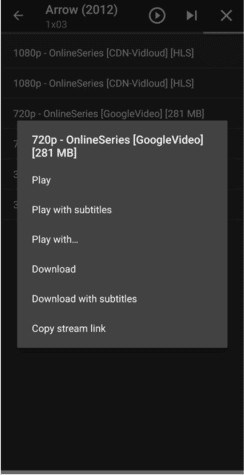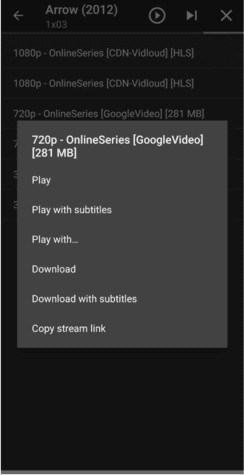 From the list that pops up, select "All Screen". Finally, the show or movie of your choice would start playing on your Roku through the "All screen Receiver" channel.
Streaming CyberFlix TV app on Roku Using Local Cast
An alternative to the previous method is using the Local Cast app to stream CyberFlix movies and TV shows on Roku. This can be done in a few easy steps:
Step 1: On your Android device, open the Google Play Store, search for the "Local Cast" app, and install it onto the device.
This app casts the movies or shows you want to watch on CyberFlix on the big screen of your Roku device. Note that this is very different from screen mirroring.
Step 2: Once the app is installed, you need to change a few settings. For that, open the app, and you will see a yellow cast icon on the app's Home Screen.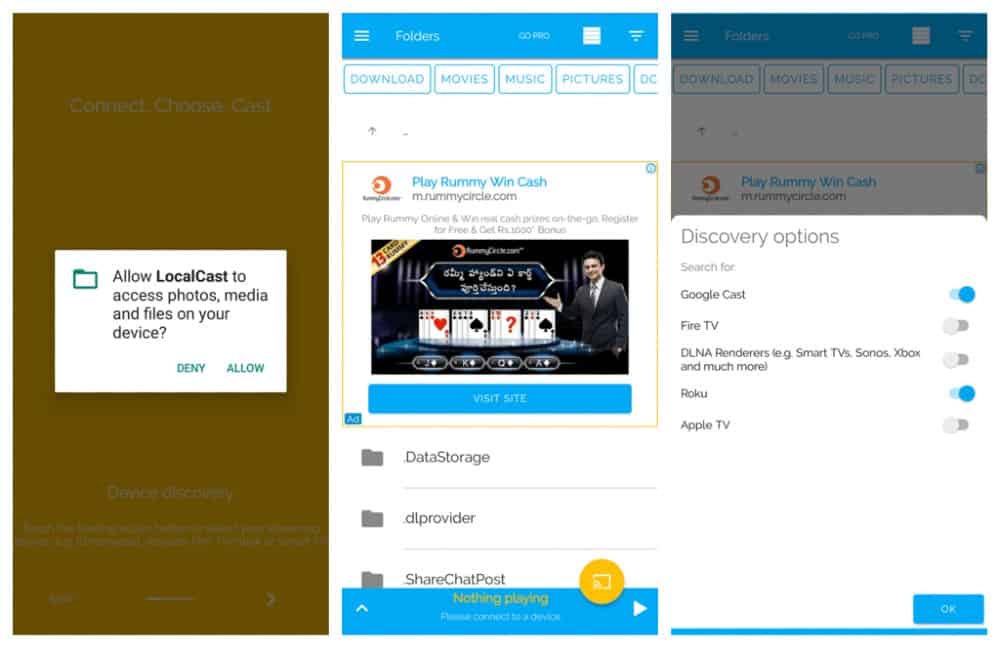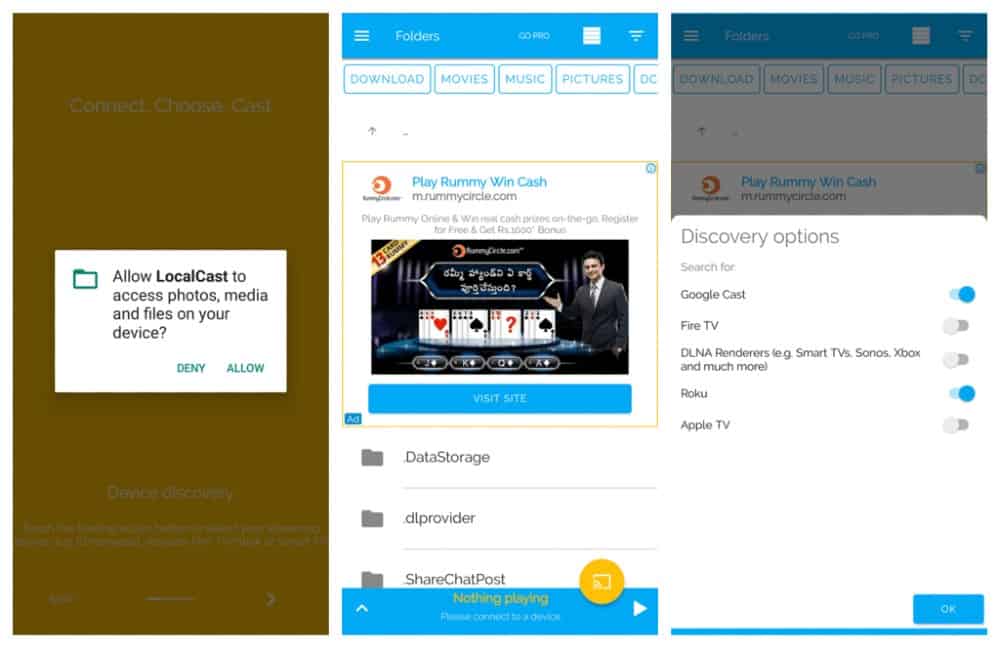 Select that icon and slide the bar beside "Roku" to the right to turn it on. You can turn on other video players too if you want.
Step 3: Now, launch the CyberFlix app, and from its library, choose the show or movie you wish to stream. 
Step 4: To watch in HD, select one of the HD links, provided you have a fast internet connection to which both the Roku and Android devices are connected. Also, make sure that the Miracast option is turned on, on Roku.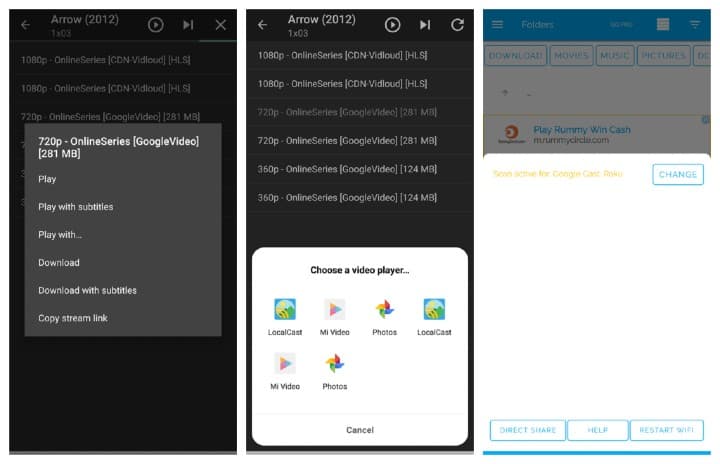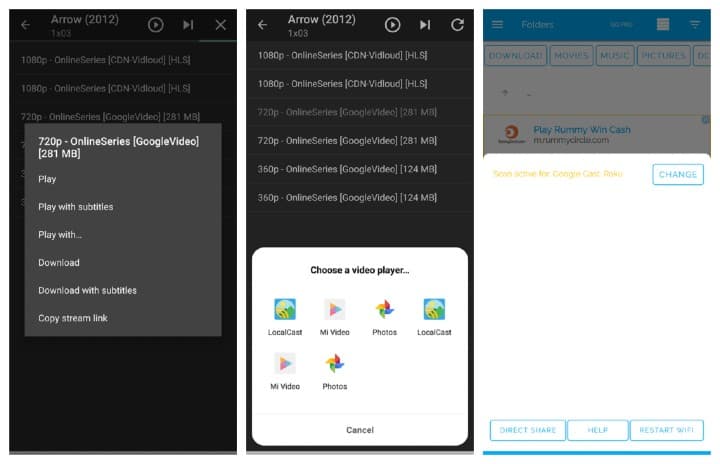 Step 5: Hold on to the link you chose to stream till a window pops up. On the window, select "Play with" instead of "Play" and then tap on "Local Cast". 
Step 6: The "Local Cast" app would now look for Roku devices under the same network and show you a list with the name of your Roku device on it. Select your Roku device from the list. This will start casting your chosen content on your Roku device's screen.
Can I Use an iPhone Instead of an Android Phone?
Unfortunately, the CyberFlix TV app is not available on iOS. So, no, you cannot use an iPhone instead of an Android to stream CyberFlix TV on Roku.
However, you may come across many pages that might state otherwise. The most chances are that those are scams, and you must not trust such sources.
Thankfully, the CyberFlix APK app works on many older versions of Android. So, dig up your old Android or try buying a second-hand one to make use of all the tricks and techniques mentioned in the article.
What If It Doesn't Work?
Things can always go sideways in these methods of alternatively streaming CyberFlix TV on Roku, as multiple aspects are in play here. Here are a few things to keep in mind:
Check that both of your Roku and Android devices are connected to the same wifi connection.
Make sure that "All Screen Receiver" on your Roku is toggled on.
Sometimes, it could be not your fault but CyberFlix's server is down instead, thus disabling you to watch on it.
You could try clearing the cache of your app, restarting your phone or tab or wait for 10-15 minutes for the load on the server to diminish.
Some other times, it may show "No Data" as Cyberflix TV stops fetching data. When that happens, take necessary steps that can Fix Cyberflix TV not Working issue.
Related: How to get lifetime on Roku
Conclude
So, there you go! Now we have provided you with all the necessary knowledge required to stream thousands of your favorite entertainment from CyberFlix TV on Roku. Since no direct approach is available, one might find the processes a little complicated as it involves installing extra apps and going through so many steps. But, if you are not feeling that lazy and wish to watch quality content for free on a big screen, then CyberFlix is your best bet!