A Roku device adds smart features to your TV. Due to the many televisions in a home, you feel like purchasing more Roku devices so all can enjoy multiple streaming services.
If you're a family with many members in a single house, This question may have come to mind: Do I Need a Roku for Each TV?
If you want a detailed answer to this question, keep reading till the end. We have provided answers to more similar queries like how you can connect multiple TVs to a single Roku Tv.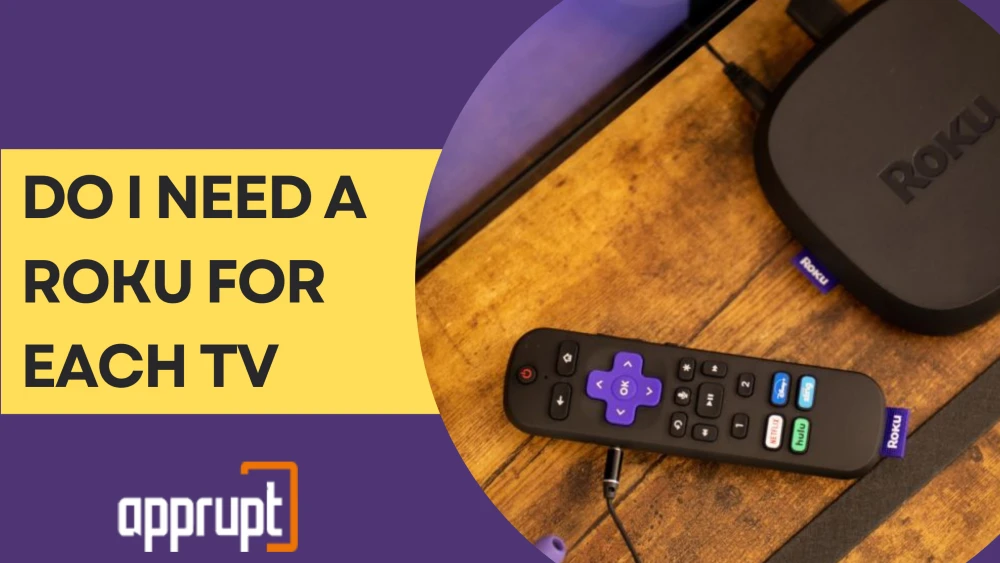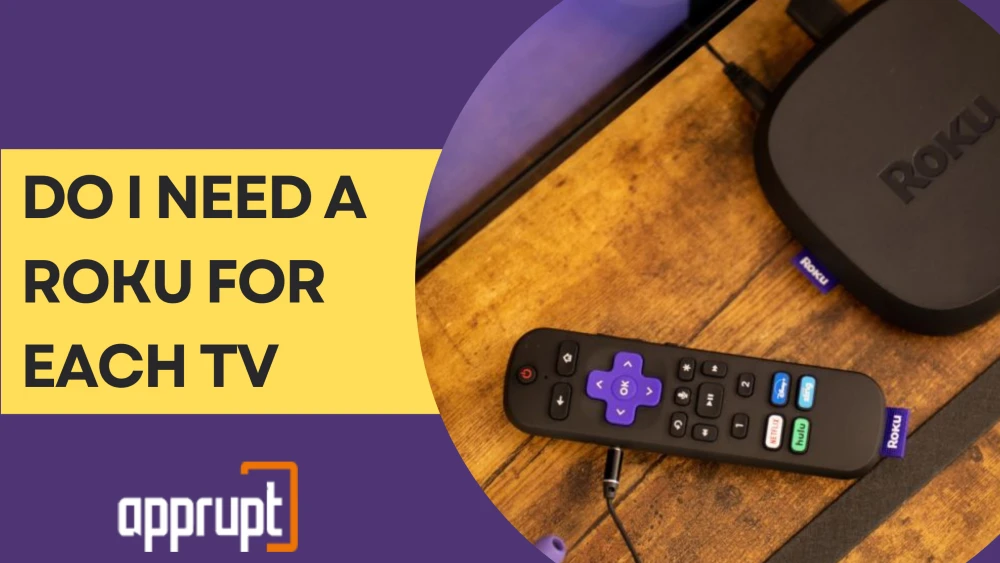 Can You Have 2 Roku Boxes in One House?
---
Yes, you can buy as many Roku devices as you want for your house. Remember that a single Roku device is designed to connect with one tv at a time.
If you are planning to buy multiple Roku devices, go ahead. Note the below three points before purchasing.
1. Internet Speed
If your internet broadband connection supports a speed of 50Mmbs, you can simultaneously face issues while streaming high-quality videos on multiple TVs.
Imagine if you purchase all two Roku boxes with different wifi-speed needs; chances are you may encounter issues with the speed. Therefore, ensure you have adequate internet bandwidth in one house.
2. Add up to more costs in your budget.
All Roku streaming devices, such as Roku express, Roku express 4K, Roku streaming stick, Roku streaming stick 4k, etc., have different purchasing costs depending on picture quality, wifi speed, and connectivity port.
You can purchase more if you have a budget that allows you to.
3. Limits on the number of streamers.
All streaming services like Netflix, Hulu, Amazon Prime, and YouTube Tv limit how many users can access them via a single subscription account.
So, if you have decided to purchase two Roku boxes, all your family members can watch videos on different tv simultaneously, and you may end up paying more.
Do I Need a Roku Device for Each Room with a TV?
---
A Roku stick or device connects with a single tv at once. If each room of your house has a tv, you must unplug the Roku device first to connect with another tv.
You will have to plug the Roku into the HDMI port of another tv. It's the only method to connect a Roku box to one tv.
Now, if many people are watching television simultaneously using Roku, you may have to purchase more Roku boxes. It also depends on your watching habit.
If you like to watch your online content only on weekends. Then single Roku device will suffice your needs.
But if there are several TVs in your house, you use them occasionally and one at a time. Then you will need one Roku device. It is because you can move around your Roku device to whichever smart TV you are planning to use on a particular night.
Can one Roku account be used on multiple TVs?
---
Yes, you can use one Roku account for multiple TVs. One account is sufficient for multiple devices. When you connect a new tv with the new Roku streaming device, it asks you to log in either with a new or existing account.
You can log in using the same Roku account whenever you connect with another device.
Connecting with the same account on different tv keeps your purchases and channels the same across all.
You only have to set more channels on the device. Using a single account is cheaper than using many accounts because you buy subscriptions for one account.
Can I Have Multiple Roku Accounts on the Same Roku Device?
---
No, this is not possible on one Roku device. If you want to use multiple accounts, you need more than one Roku box or streaming device. You cannot connect multiple accounts with the same Roku device. A Roku tv accepts only one account at a time.
But, On the other part, if you want to use your second account on your only Roku device. Then you must log out from your first account and sign in to your second account on the Roku device.
To log out from the first account, you need to follow the below-given steps: –
Press the reset button and hold it for 20 seconds.
Now, the LED on your Roku will start to blink.
Now, release the button.
Is it Possible to Move a Roku Device from One Device to Another?
---
It is possible to move a Roku device from one device to another. This way, there is flexibility for you so that you can watch your shows on your favorite TV without disruption.
The only disadvantage is that you will need to disconnect and connect your Roku frequently. You may feel irritated. If you use multiple smart TVs frequently, having more than one Roku device is your best bet.
Does One Roku Device Work on Two TVs?
---
Yes, one Roku device can work on two TVs but not at the same time. To connect with another tv, You will have to unplug the Roku stick from the first one. Second, you will have to connect the Roku to your internet connection.
Then, Create a new Roku account or use the existing one. Then, finally, you can activate the Roku stick. You will have to repeat this procedure to make Roku work.
For example, if you are using a Roku stick in your drawing room. Due to some reasons, You will have to shift to another room. You can take it.
Also read: Does a Roku Stick Work on Any TV?
How To Connect Roku to Multiple TVs
---
You can use the following two methods to connect Roku to multiple TVs.
Method 1: Through a wired connection
You will use an HDMI splitter for sending signals from one Roku to Multiple TVs. Ensure to buy long HDMI cables. Here are the steps.
Connect the HDMI cable to the Roku HDMI outlet.
Plug in the other end of the HDMI Splitter.
Connect the Two HDMI cables separately to each Tv.
Connect the remaining HDMI cable to the HDMI screen.
Method 2: Wireless connection
We will use a device known as an HDMI extender for making a wireless connection between two devices. For the best experience, buy an HDM extender with 5GHz of bandwidth. Here are the steps.
Use the HDMI cable to connect Roku with a wireless transmitter.
Connect the wireless transmitter to multiple televisions.
After the successful connection, all your Roku content will be displayed on the other televisions.
Are There Device Limits on Roku Accounts?
---
No, there are no device limits on the Roku accounts. But the popular streaming giant Netflix allows connecting the subscriber account with a limited number of devices simultaneously.
Next time, you can access Netflix on multiple TVs and check its terms and conditions.
What About If I Have a Smart TV? Can Roku Devices be Used on Smart TVs?
---
The smart TVs of today's time are advanced and come with in-built features to support streaming devices. Most of them support the feature of connecting Roku devices.
The best advantage of using Roku devices is that they provide endless access to regional and international watching content that normal TVs don't have.
Note that a Roku tv doesn't charge for monthly subscriptions. You can pay once. You can select channels like Amazon Prime and Disney+ that ask you to buy their monthly subscriptions.
FAQ's
---
Here are the answers to more diverse questions you may think about.
How Many Roku Devices Do I Need for 3 TVs
It's your choice totally whether you want to use single or multiple Roku devices for 3TVs. If you're not ok with plugging and unplugging a Roku frequently, buy two more. All three 3tvs are not used at one time; use the single Roku.
Can I Use My Roku at Another House
Yes, you can use your Roku at another house; for that, you need to unplug it from your current house and then connect it to the other TV present on another device.
Does Roku Charge for Multiple Devices
No, Roku doesn't charge for multiple devices because it only needs one account to access its service. You can link multiple devices to the same account. Roku doesn't charge for creating a new account.
Also read: How Much Does Roku Cost Per Month/Year
Can One Roku Remote Work on Multiple TV
No, you can use one Roku remote for one tv only. Roku remotes connect to a single Roku TV. Therefore, you cannot carry the Roku remove you are using for your bedroom to your living room.
Conclusion
---
We have cleared all your suspicions regarding the Roku connection on multiple devices. We advise that if you want to stream high-quality videos on multiple TVs, use more than one Roku for a hassle-free experience.
You won't have to worry about spending your money every month. Roku devices are adaptable in terms of using them on many devices. People with a tight budget can use the above two methods to connect a Roku device to many TVs.