If you are someone who's keen to watch sports content or one of the die-hard sports fans, you must be aware of the popular sports channel owned by Walt Disney I.e., ESPN Plus.
This sports streaming service is highly known for sports like UFC, NFL, Soccer, Basketball, Baseball, etc., with films, documentary series, tv shows, sports series, game replays and is available to stream in HD on ESPN. Additionally, you'll be able to watch live sporting events, such as the golf's PGA Tour, top-tier boxing matches, and a myriad of international soccer
Also, Cable TV can be expensive if you just want to watch ESPN Plus and not other channels, the free trial will give you a great idea about the platforms.
Therefore, if you want to know more about the ESPN Plus free trial then, you are at the right place. As in this article, I am going to tell you all about ESPN Plus, how to get its free trial and why you must get its subscription.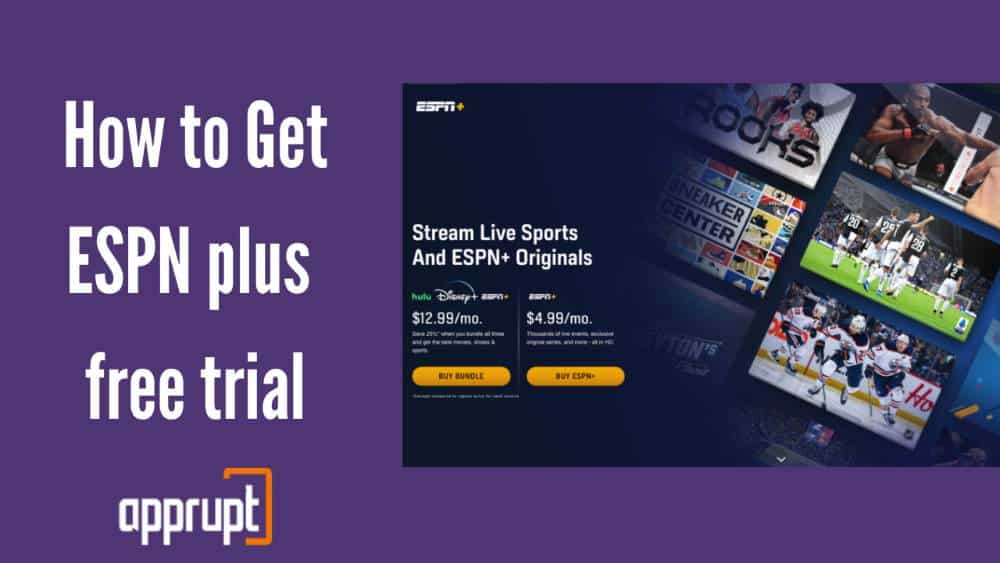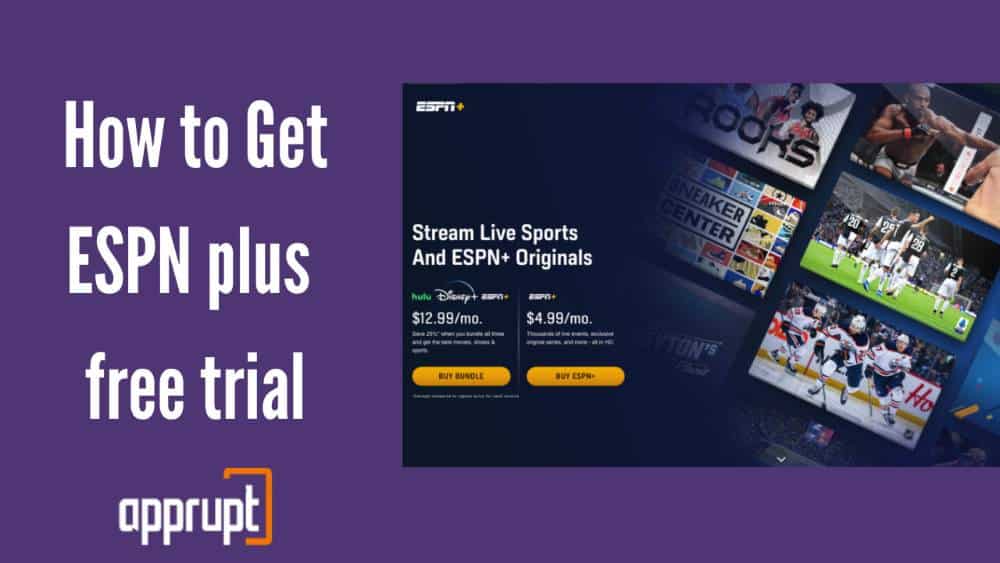 What does ESPN Plus have?
---
ESPN Plus is popular for Live sports events such as National Hockey League, Major League Soccer, Major League Baseball, and so much more.
With ESPN Plus subscription, users get the ability to stream all kinds of matches, and also a collection of original shows including Detail, Stephen A's World, The Fantasy Show, Peyton's Places a docuseries hosted by NFL quarterback Peyton Manning, and much more. It has a wide collection of Documentaries that are preferred by a lot of people and the option to live stream.   
You can watch ESPN Plus on almost all devices including Android devices, iPhone/iPad, Apple TV, Fire TV & Tablet, Android TV, Roku devices, Samsung Smart TV, PlayStation 4 & 5, Xbox One, Oculus, and Google Chromecast.  
Does ESPN Plus have a free trial?
---
Unfortunately, ESPN Plus is not currently offering a free trial. However, it used to provide free trials back when it was launched and still occasionally does but at the moment, there is no free trial available on their website.
It used to provide its new users with a 7-day free trial, but don't get disappointed too fast as there are other ways of getting the ESPN Plus seven-day free and more day trial so, keep reading!  
Verizon's Free ESPN+, Disney+, Hulu Bundle
---
If you want to get ESPN+ for free then, this is one of your best options to consider. If you don't know already, Verizon is an American Wireless network operator and it offers a bundle of Disney channels that includes subscriptions for various streaming platforms including ESPN Plus.   
You are eligible to get this bundle and a free subscription for ESPN if you have one of Verizon's Unlimited plans then, you can get a free trial of not just ESPN Plus but also of Disney + and Hulu.
With the ESPN Plus bundle, you also get National Geographic, Stars Wars library.
You can have a look here for Verizon's FAQ on how to sign up for the ESPN Plus free subscription via a Verizon account.
You simply have to choose the 'Disney Bundle' while selecting the Verizon Unlimited plan, it includes Disney plus and two other streaming services i.e., Hulu live tv and ESPN Plus, and also get Sports Fix in the bundle.
Users are eligible for one bundle subscription per Verizon mobile account.
You can sign up for the Bundle through your add-ons page in 'My Verizon' and you will have the ability to cancel anytime.  
How to sign up for ESPN Plus free trial
---
Let's see how you can sign up for the ESPN Plus Premium plan, the process is quite simple.
You can either subscribe to the ESPN Plus plan alone, or you can the Disney Bundle direct from the ESPN+ website, it will include two more streaming platforms i.e., Disney Plus and Hulu at a discounted price.
And you must know that you can cancel your subscription at any given time:
Go to the official website of ESPN Plus by clicking here.  
Then, tap on the 'Subscribe to ESPN+' or 'Get the Disney Bundle' button that is displayed on the screen as soon as you enter.   
You will have to create an account and choose a plan that you prefer monthly or annually.
Then, you will be asked to enter your payment details. That's it, enjoy watching ESPN Plus.  
How much does ESPN Plus cost?
---
There are not many plans offered by ESPN Plus, users can either choose to pay monthly or as a lump sum yearly amount. The monthly subscription costs of ESPN Plus is $6.99 per month and it costs $69.99 for a whole year saving up to 15 percent from the monthly subscription cost.  
As mentioned earlier, ESPN also offers a Disney Bundle on their website that includes Disney + and Hulu as well, they are one of the most popular streaming services.
The whole bundle costs $13.99 per month that will save you up to $8 per month when you subscribe individually to these services. 
Also, not many people are aware of this but ESPN also offers an exclusive UFC pay-per-view matches deal that costs only $70/year or $5.9 per month for its existing ESPN Plus subscribers.
The streaming service also offers a similar discounted deal for its new customers.