Last Updated on January 8, 2022 by Mark Roberts
FuboTV is a very well-known online streaming platform for live sports, movies, TV shows, etc. However, a lot of Roku users have been complaining that FuboTV is unable to run smoothly on Roku.
And fubotv roku problems can happen due to a lot of reasons that we will discuss in this article along with solutions for how to fix FuboTV not working on Roku.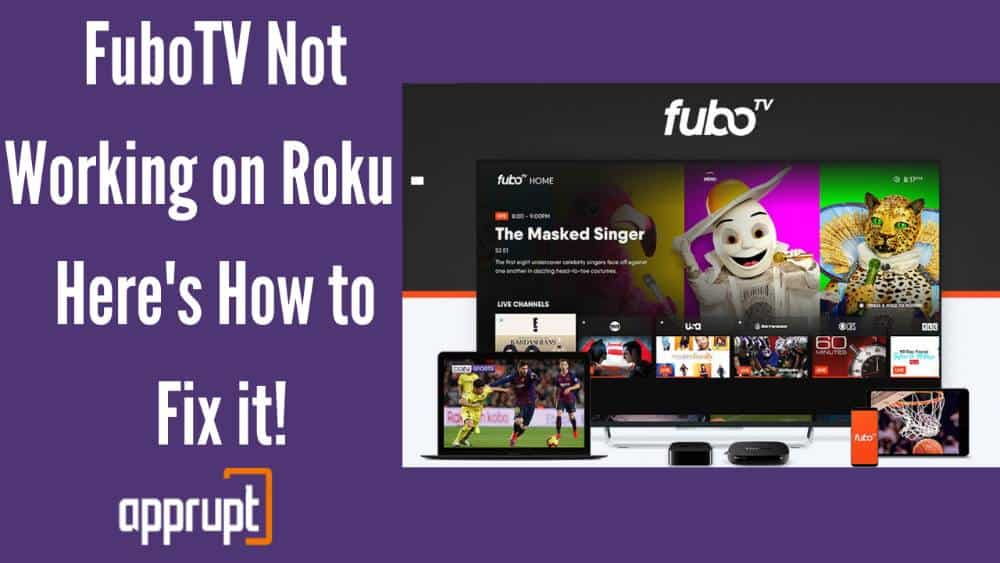 Why is FuboTV Not Working On Roku?
---
Well, there are several reasons why FuboTV is not working on Roku and we will be telling you about each one of them. Also, later we will provide you with enough solutions to help fix this fubo streaming issues.
All the possible reasons for why is fubo not working can be narrowed down to the following:  
Server issue on FuboTV's end 
Unstable Network connection 
Minor Bugs  
Hardware issues in the streaming device hence fubotv wont load
Use of the wrong VPN 
7 Ways To Fix FuboTV Not Working On Roku TV Issue 
---
In this article, we are going to provide you with 7 methods that can help you fix the FuboTV not working on the Roku issue.
However, we would like to recommend that if one method doesn't work towards fixing the issue, you must try the next method. Let's have a look at these methods:  
1. Removing and Adding The FuboTV Again 
When an application goes through certain glitches and shows errors frequently then reinstalling can save the day. Reinstalling any app will erase the built-in cache and fix minor bugs and also, resets the memory.
Here's How you can Add and Activate FuboTV on Roku again.
2. Clear Cache
When you experience errors like 'something went wrong while trying to access FuboTV on your Roku then, clearing cache and cookies is worth a try. Clearing the cache of any device clears up minor glitches, restarts the device, and will ensure smooth operation.
3. Restart Your Modem Or WiFi Router 
There is a high possibility that you are experiencing this issue due to your WiFi router or modem. FuboTV requires a stable internet connection to work on any TV, and therefore, we would recommend you restart your WiFi router.
All you need to do is unplug your WiFi router or modem and then, wait for a few minutes before plugging them in. Then, reconnect the connection to your TV and check if the issue still persists. 
4. Reach Out To FuboTV Help Center 
When nothing seems to be fixing the issue, the last resort is to report the issue with the FuboTV help center.
You can either use their official FuboTV Help Center website to report the issue or you can contact them directly through their customer care service number.
Some issues are best handled by the experts, so you must leave it to them.  
5. Sign Out and Sign In To Your FuboTV Account
Signing out of your FuboTV account and then, signing back in can re-sync the device and the data. This might fix the issue so, here's how to fix FuboTV not working on the Roku issue by signing out of your account:
Open the FuboTV channel on your TV.
Click on your profile name located on the top right corner of the screen.
You will see a few options, scroll down and click on the 'Sign Out' option.
And once you are signed out of your account, you can restart your TV and open the application and sign back in and check if the issue still persists.
6. Restart your Device 
Restarting the Roku streaming device can help fix a lot of errors. It will prevent any background apps from running and will prevent the platform from consuming internet traffic. Here's how you can power cycle Roku streaming device:
7. Check If Your Location Is Right 
You need to ensure that the region in your Roku TV is similar to the region of your IP address. The country needs to be the same in the Roku streaming device, and the FuboTV, and your router. So, ensure that your location is set right, this could also be the hindrance causing this issue.
Here more related content to FuboTv:
Conclusion
The article included a detailed guide on how you can fix is FuboTV not working on the Roku TV. We have included several ways that have proven to be effective to many users. I hope you liked reading this article.