You must be aware that Roku is one of the leading streaming platforms along with Amazon Prime, Netflix, and Hotstar. However, these platforms face technical issues as well. A lot of Roku users have complained that they face the Roku error 009 Can't Connect To The Internet while they are streaming a TV show online.
This error arises due to network issues i.e., Roku is not getting a stable internet connection to stream flawlessly. So, you need to ensure that your home network is working properly and if it is, then, other causes are leading to this issue. In this article, I am going to help you fix the Roku error code 009.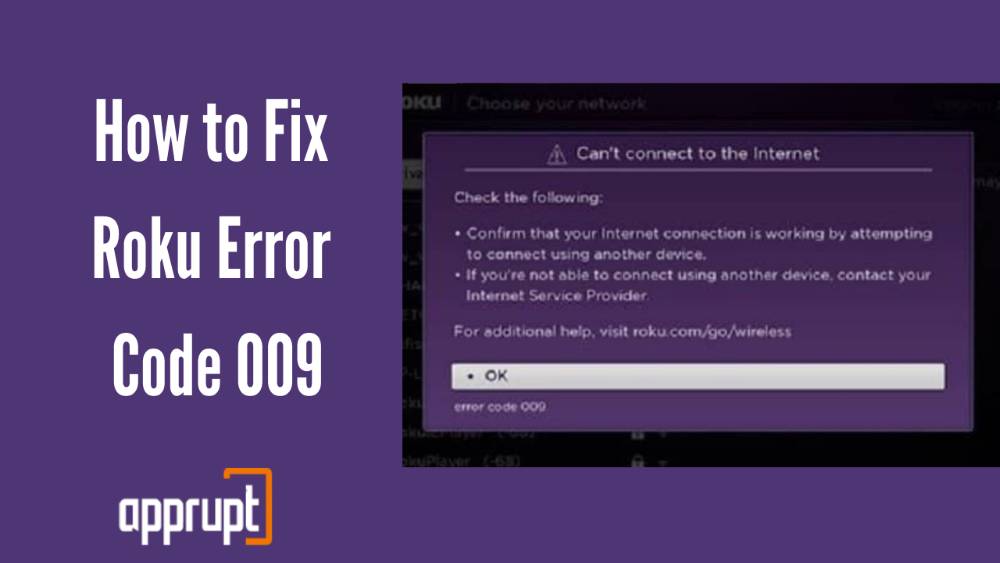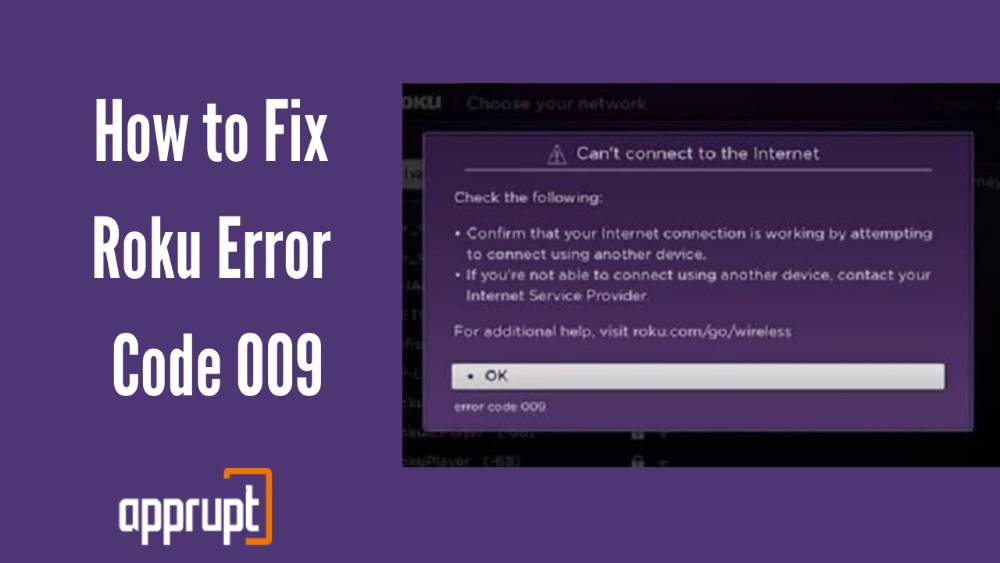 What is Roku Error Code 009?
---
The Roku Error Code 009 is caused by an unstable internet connection, this is the only root cause that leads to this error code. There could have been an issue with your internet router or modem, the corrupted user or DNS data, hardware issues, etc.
To fix this error code, you need to ensure that the internet connection is stable and connected to your Roku device.   
Why Does Roku Error Code 009 Occur?
---
There are multiple causes connected to the one root cause, i.e., unstable network connection that triggers the error code 009 in Roku devices. Have a look at some of the causes listed below:
1. Internet Connection – to stream on Roku, you must have a stable and fast internet connection. There is a possibility that your Wi-Fi may be facing disconnections from its source or some issue in the router or modem.
2. DNS cache – there are chances that the DNS configurations cached by your router are corrupted thus, causing an interruption in connectivity.
3. Loose Cables – There are chances that the wires connecting the devices are either loose, unattached, or damaged.
4. Hardware Issues or Device configuration – High possibility that there is an internal issue with the device that is disrupting the network connection.
How to Fix Roku Error Code 009 –
---
1. Restart your device, Router/Modem and check if Error 009 resolve  
The first thing to try to fix the Roku error 009 is restarting your Internet device or Wi-Fi router. You need to restart your Internet modem or router; this will help reconnect the network connection between the Roku Device and modem, and also, remove any disruptions that might be hindering the connection. Simply unplug your modem/router from the wall socket and then re-plug it after 10-15 seconds. Now, check if the error 009 gets resolved or not.
2. Reset the Network Settings or Completely disconnect your Wi-Fi and add it again  
As mentioned earlier, one of the causes for this error warning could be corrupted network configurations in the Roku device that is limiting the device's functions. Here's how you can reset network settings in your Roku device:
Open the Roku device on your TV and then, head to Settings.
Once the Settings open up, click on the "System" option.
Then, you are supposed to click on the "System Restart" option and select the "Network Connection Reset" option.
The device will automatically restart after the above step and when the device turns back on, follow the below steps.
Head to the Settings again, and then, click on the "Network" option.
Choose the "WiFi" option and then, you have to click on the "Setup a New WiFi Connection Option".
Now, choose your Wi-Fi from the list that appears, and then, click on the "I am at home" option.
Select the "Automatic" option and then, enter the password of your Wi-Fi connection.
Once the network has been reset and Wi-Fi reconnected, check if the error persists.
3. Try improving the wireless signal strength  
You can try improving the signal strength of your Wi-Fi by removing all the obstacles between the Roku device and the router. Try moving the router/modem near to your TV to ensure better connectivity. Things like doors, walls, etc. can block the Wi-Fi signal from reaching the device.   
We have tried this Dual Band WiFi Extender with 4 Antennas which 360° coverage in 4000 Sq.ft area for up to 1200 Mbps.
4. Try streaming other Roku channels if you are facing it on one channel  
You need to check if you are facing a network error on one specific channel or the whole Roku device. Open other Roku channels to see if you can stream content there or not, if you are able then, there is a possibility that services for that particular app or channel are down.
In such cases, you can check if platforms like Disney+ Hotstar or Paramount Plus, or Netflix are down. And there is nothing you can do if this is the cause; wait until their services are back on.
5. Talk with your Internet service provider  
If none of the methods seems to be working then, you can give a call to your service provider to check if any of your streaming services have been restricted or limited.
This can happen in places with a free public network like hotels, institutes, etc. Such limitations on streaming platforms can affect your Roku's internet connectivity.   
6. Use a Wired connection  
If you continue to face issues with your Wi-Fi connection then, try switching to a wired connection. Connect your Roku device and Wi-Fi router/modem with an ethernet cable.
This will provide you with a faster and more stable internet connection. After connecting, check if the error 009 still persists.  
7. Clear cache  
You must clear the cache on your Roku device once a month to ensure the smooth functioning of the device and to improve its efficiency. Click the "Home" button available on your remote 5 times, the "Up" button once, the "Rewind" button twice, and the "Fast Forward" button two times. Press these buttons in the same sequence as given to clear the cache on Roku.
It will take between fifteen minutes to half-an-hour for completing the process.  
8. Contact Roku Support if all fails  
If all of the given ways fail to help you fix the error code 009 in the Roku device then, I'd advise you to contact Roku Support directly, they will either help you direct the way to fix it or will send their technicians for help.   
Conclusion
The article includes all the relevant methods that can help you fix the Roku error code 009 Can't Connect To The Internet. I tried to include every possible method so make sure you try all of them until you find the solution that fixes the error. If none of the methods works you can also try resetting the Roku device but this way your device will be set to factory settings.