Roku provides online streaming content like movies, TV shows, and other digital content via their streaming devices. First introduced in 2002, this company makes its profit from hardware sales of Roku devices for streaming, licensing, and advertisements. They also collaborate with various OTT platforms like Netflix, Hotstar, Hulu, etc., and provide their premium subscriptions.
Currently, Roku is one of the highest-ranked and most successful manufacturers and distributors in the industry. According to the most recent statistics, Roku Inc. generates more than $1.7 billion annual revenue.
In 2017, Roku Inc. became a publicly-traded and owned entity. Despite having many competitors like Amazon Fire TV, Google Chromecast, AT&T Inc., etc., Roku managed to earn itself a $37 billion market cap.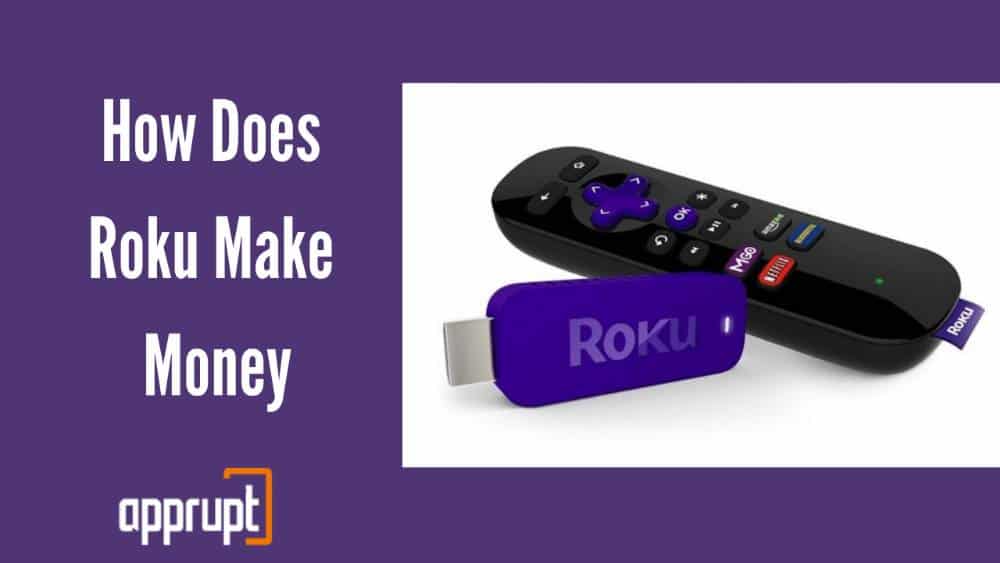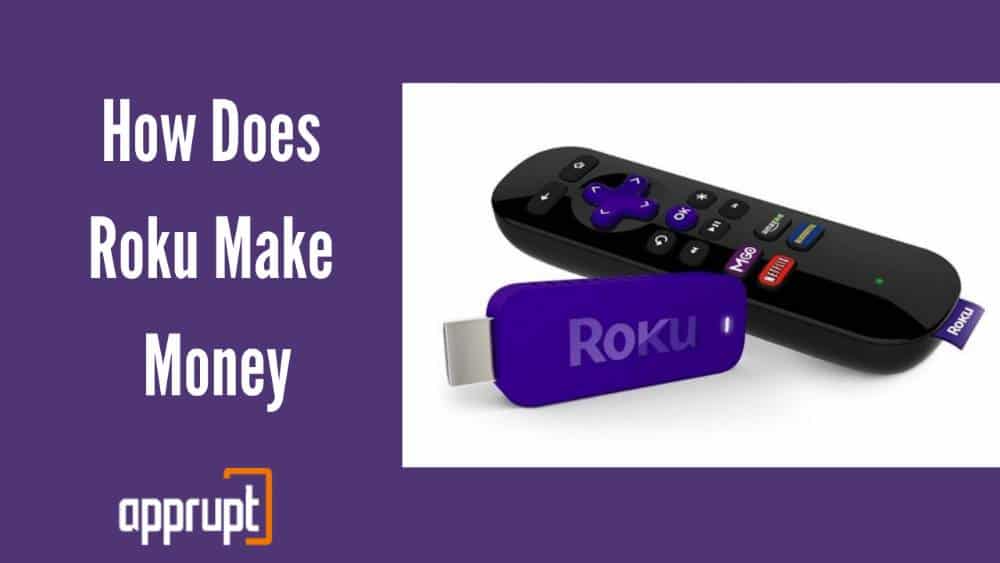 How Roku Started: Company History
Roku was founded in October 2002 by Anthony Woods in San Jose, California. Roku means "six" in Japanese, which symbolizes that this is the 6th company started by Anthony Wood.
After his 5th company – SONICblue declared bankruptcy, Wood did not give up. He started working relentlessly on his 6th company – Roku Inc. – which became a grand success! In May 2008, Roku collaborated with Netflix launching the Netflix Media Player by Roku.
From that point onwards, Roku's successes were riding high. Roku Inc. grew rapidly by expanding its services, adding several more channels, introducing new devices in its inventory, and expanding to other countries.
With giant competitors like Amazon and Apple going all out to expand their sales and services, Roku partnered with various electronics companies like Hisense, TCL, Coby, etc. to have Roku as an application on their smart TVs. This move made Roku gain control over 8% of the US Smart TV market.
How Does Roku Make Money?
In a nutshell, Roku makes money by selling its products, through advertisements, promoting other OTT platforms, etc.
Roku adopted a razor and blade approach to selling their hardware devices. They sold these hardware products at a significant discount and built a strong base of active users. Owing to this strong base, Roku started earning more revenue via advertising and licensing.
Currently, Roku's advertising and commission segment earns it an annual revenue of approximately $1178.8 million. This accounts for 74% of total revenues as of 2020. Their hardware device and accessories sales make up $407.6 million, i.e. 26% of the total revenues.
Let's take a closer look at a few of Roku's means of income –
From Hardware Sales
Roku earns a significant chunk of its revenue from hardware and accessories sales through consumer retail distribution channels such as Best Buy, Walmart, etc. as well as online retailers like Amazon.
Hardware and accessories include products like Roku's HDMI-enabled streaming devices (RokuExpress, RokuPremiere), streaming sticks, the Roku Streambar, etc.
These accounted for 26% of the total revenue. Sales increased from $287.4 million to $388.1 million from the years 2017 to 2020.
From Licensing
Since 2013, Roku has been collaborating with various brands like Hitachi, JVC, Philips, etc. to license its operating system and embed it on their Smart TVs. Currently, Roku's operating system runs on over 100+ TV brands.
In simpler terms, Roku earns a commission whenever a TV model licensed by Roku is sold. Fair commission is earned on every traded piece.
From Ads
Advertising makes up for a large chunk of annual revenue generated by Roku. In 2020, advertising was the biggest revenue driver with $1178.8 million. This makes up 74% of the total revenue generated in 2020.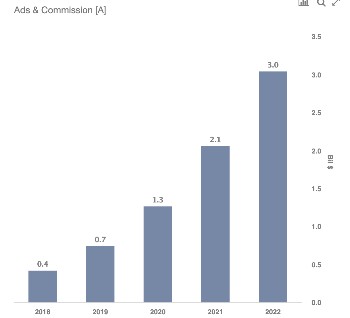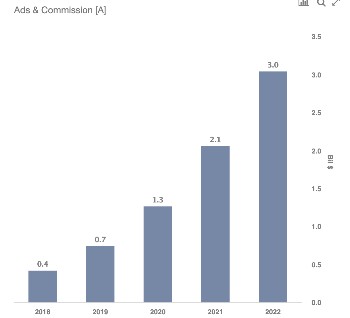 The Roku Channel – Roku's independent channel – is one of the main revenue drivers of Roku. Advertisements by the investors are pushed between the content and when it's paused. Moreover, Roku allows for personalized, target-based ads considering various factors like the users' personal preferences, location, metadata, etc.
Personalizing advertisements help the investors maximize their returns, which serves well for Roku's total revenue.
Subscriptions
Roku offers subscriptions to prime streaming services like Paramount+, HBO Max, Netflix, etc. These subscription packages are available within the Roku platform. Users can select packages as per their preferences.
In exchange for giving lucrative subscriptions at affordable prices, marketing these subscriptions, and providing a safe and easy mode of transaction and payment, Roku takes a percentage share from these streaming services.
It earns roughly 20% of its revenue from these subscriptions.
Branded Content
Roku collaborates with various brands and provides ads and other personalized advertising content to promote their products and sales. These ad partners in return, pay a fee depending on the type and other factors of the content produced.
A great example of this is Roku Recommends – sponsored by Walmart – which highlights the best content available on Roku.
In 2021, Roku created the Roku Brand Studio, a platform to help advertisers create creative ad formats and experiences. You can also use the free advertisement maker from adobe express.
Lexus, Microsoft, Baskin & Robbins, TurboTax, etc. are some of the marketers that have turned to Roku for their creative brand ad experiences.
From Streaming
Streaming is one of the fastest-growing industries in the world today. Providing over 10,000 channels, Roku earns a significant chunk of its annual income from streaming and providing other premium subscriptions to its 51 million subscribers.
The Roku platform and streaming services are two independent entities. Various plans and subscriptions provided by Roku ensure a good balance of both these services to give the users the best streaming experience out there!
Roku Funding, Valuation, and Revenue
---


Roku raised a grand total of $208.6 million across 11 rounds of equity funding. Its prime investors include Fox Networks Group, Viacom, Sky UK, News Corp, etc.
News Corp is in fact one of the lead investors in Roku.
When Roku went public, it was valued at $1.3 billion. Today, Roku has seen a 45-fold increase with a market capitalization of around $45 billion. You can see Roku's Valuation analysis in full
Does Roku Channels Make Any Money
---
Yes, many video publishers and media companies sign up and monetize their Roku channels. There are two ways in which these Roku channels make money –
1. Ad-based(AVOD)
Ad-based Video On Demand channels are similar to traditional cable TV wherein ads are shown before, in-between, and after content. This model is employed by giants like YouTube to earn revenue. These channels sell ads, sponsored content, infomercials, etc. to make money
2. Subscription-based(SVOD)
Subscription Video On Demand charges the users a monthly or annual fee to access their content. Netflix, Hulu, Hotstar, etc. provide the users with this subscription model of streaming.
Depending on the kind of audience you have, Roku channels are mainly monetized through these two methods. Roku Direct Publisher, Video Advertising Networks(VANs), Custom Ad Servers, etc. are some tools that help these Roku channels in advertising by taking a cut of the revenue earned.
How much does Roku make per user?
---
Roku is making $32.14 per user according to the most recent statistics. Roku's annual revenue per user in the first quarter of 2021($32.14) was up 32% YoY.
Revenues are soaring on an absolute basis as well as on a per-user basis due to its multifaceted modes of ad-supported and subscription-supported services. To top it off, Roku's average revenue per user is 40% more than Netflix's most expensive streaming plan.
With 32.3 million active users, the annual revenue per user totals $633 million in a 12-month platform subscription.
How much money does Roku make a year?
---
Roku Inc.'s Ads and Commissions segment is responsible for the company's $1586.4 million in the year 2020. This accounts for 74% of the total revenues that year. Roku places these ads on the smaller channels and splits the ad revenue with the content provider.
Advertising sales, revenue generated from subscriptions and other branded channels, sponsored ad content, infomercials, etc. serve as the building blocks which make Ads and Commissions a major revenue-generating segment.
Hardware devices and accessories make up for a significant chunk of revenue. Streaming players, smart TVs, various audio devices, etc. make up for approximately 26% of the recent yearly revenue.
Does Roku have a competitive advantage?
---
The stay-at-home dynamic caused by the pandemic gave the company a boost, but the momentum was already building before 2020. Moreover, Roku offers a wide variety of plans at reasonable prices.
Compared to its competitors, Roku's overall subscription combination and plans have been considered more user-friendly and economical.
Roku's something-for-everyone approach was a key factor in having a strong competitive advantage. It's basically a one-stop destination for all your streaming-related needs.
Roku's premium subscription, access to various streaming services, ad-based channels, transaction video on demand – where the users can rent or buy media content to watch, etc. have made it a very popular choice among users.
Another big advantage is that about a third of the Smart TVs available in the market already have the Roku operating system pre-installed in them.
See also: How Much Does Roku device Cost?
Roku has also worked significantly on making its platform extremely ad-friendly. To serve this purpose, Roku Inc. acquired DataXu in 2019. DataXu helps in monitoring the effectiveness of the ad campaigns, which in turn help to retain its active users as well as acquire new ones thus putting it at a competitive advantage over its competitors.