Are you looking for ways to stream Fifa World Cup 2022 matches on Roku? Worry not! We have discussed different streaming channels and Live TV services you can use to enjoy live Fifa matches and replays anywhere.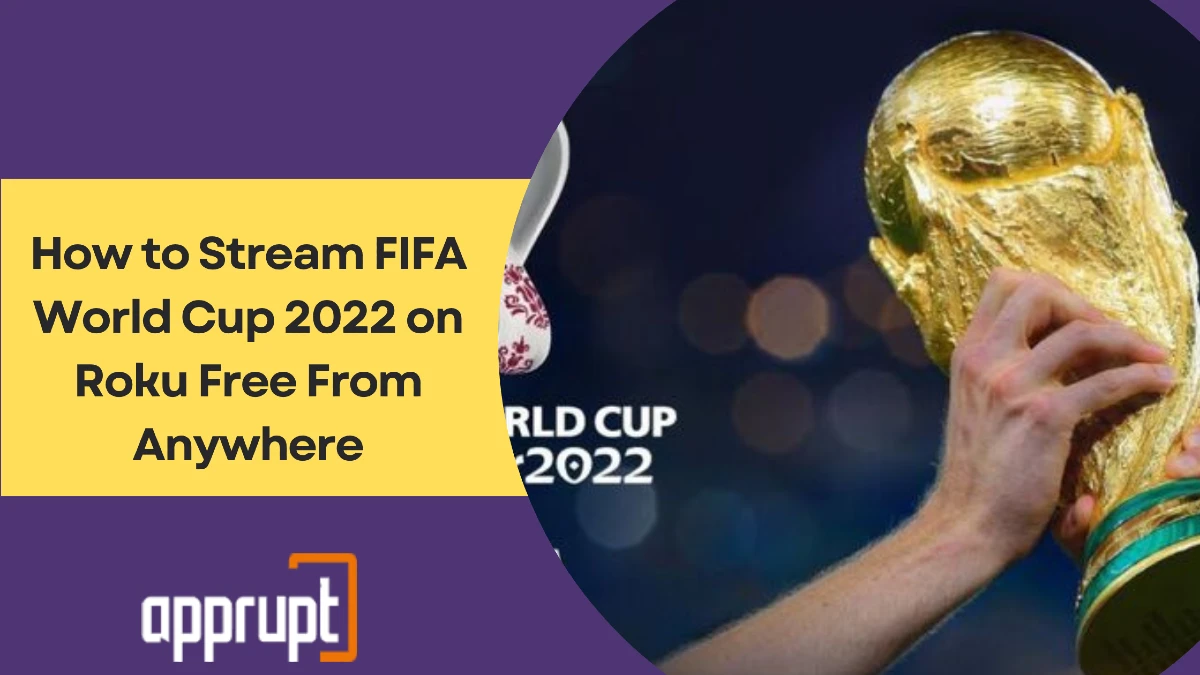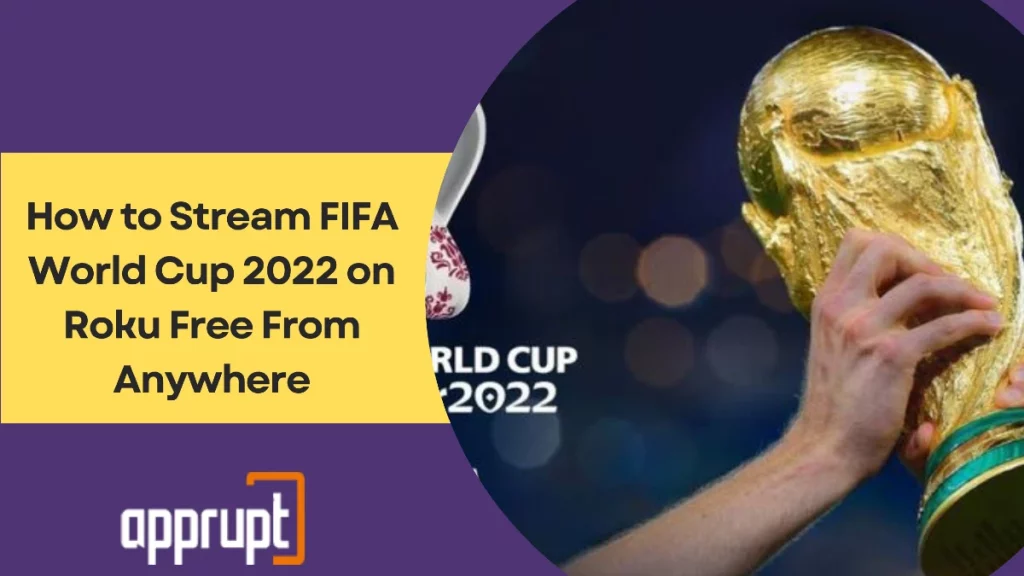 How to Stream Fifa World Cup 2022 on Roku Devices 
All 64 Football matches of Fifa World Cup 2022 will stream on Roku on its diverse channels.
Fox Sports and Fox Now:
FOX Sports also delivers exclusive live sports content on its platform and Roku devices. It will telecast all the matches in the English language. To access Fox sports, you must sign up for its service. It's available on Roku's channel store.
If you live outside the US, you need a reliable VPN service to watch Fifa on Fox Sports and its subscription.
You can also use a subscription to Live Tv services such as Fubo TV, DIRECTV STREAM, Sling TV, Hulu + Live TV, Vidgo, and YouTube TV to stream live matches on Fox Sports on Roku.
Steps to enable Fox Sports on Roku.
Switch on your Roku/ Roku TV
From the left menu, select "Streaming channels."
Select the option "Search Channels."
Search for "FOX Sports." Select the first search result.
Select "Add Channel."
On the Home screen, select the installed FOX Sports app.
Type the code displayed on the Roku channel on activate.foxsports.com
Pick the Live Tv service or pay tv provider whosever subscription you have.
You can start streaming live football matches.
Fox Now is available on the Roku channel store. Install Fox Now on Roku using the same methods for Fox sports. You must have purchased any TV provider service to activate Fox now.
Steps to Stream Fox Now on Roku.
Open the Fox Now app.
The activation code will appear on the screen. If it doesn't, choose the "Sign In" button to obtain the activation code.
Open a browser, and enter the following URL: http://activate.fox.com/
Submit the activation code and select "Submit."
Select your cable TV provider from the list. Sign in to your account.
You have activated the Fox Now app. Open this app and stream the live Football match.
To activate Fox Now, you can use the subscription plan for Live TV services such as Sling Tv, Youtube tv, Hulu, Directv stream, and Fubo tv.
Live Tv Services
You can also stream Fox Sports and Fox Now on these Live tv services such as DirecTV Stream, Fubotv, Hulu With Live Tv, Sling, Vidgo, and Youtube. You must have premium plans for these services to stream live Fifa matches. Without a cable tv subscription, you can watch matches of your favorite teams on these Live Tv services. You can install their apps from the Roku Channel store. 
Replays and Highlights on Tubi Tv
Tubi is a 100% unlimited streaming service that requires no subscription plan. You can install the Tubi tv app from the Roku channel store. It will telecast the replays or highlights of the word cup 2022 matches.
Watch on Peacock in Spanish
Peacock will broadcast all Fifa live matches only in Spanish (excluding English) with HD quality. The initial four days of football matches will stream on Peacock for free. From Nov 24, you must have Peacock Premium to watch the upcoming matches. You can access the replays of the entire matches after they end for a limited duration on Peacock on Roku.
Steps to get Peacock on Roku.
Add the Peacock channel from the Roku channel store.
First-time users will need to Login into their Peacock account. Select any plan.
Non-US users must have a Peacock subscription.
If you already have an account, start streaming the matches.
Watch Fifa World Cup 2022 on Roku Free With Bbc Iplayer and ITV Hub
Both Bbc iPlayer and ITV are UK-based streaming services. Both have exclusive broadcasting rights to stream Live Fifa World Cup matches for football enthusiasts for free in the UK. Hence, you can stream live Fifa matches on Bbc iplayer and ITV hub for free on Roku.
If you live outside the UK, you must need a reliable VPN service to hide your location from these streaming giants. They have installed advanced blocking techniques to ban VPNs. UK users can easily access live matches after adding Bbc iplayer and ITV apps from the Roku Channel store.
We recommend Expressvpn because it's the most reliable VPN with all the essential security features (kill switch, 256-Bit AES encryption, split tunneling )to mask the actual location. It offers a 30-day money-back guarantee, which means you can enjoy free matches for a month. Here are the detailed steps for the same.
Sign Up to Expressvpn
Open the Expressvpn official websites on any browser.
Click on the button "Get Expressvpn" at the top.
Select any plan depending on your budget.
Enter your email address and pick any payment method. Complete the payment procedure to activate your Expressvpn account.
Create Roku Account
If your Roku account is not made for the UK country, you must do it now to prevent streaming services from detecting your current location. First, factory reset to remove all the previous data related to this account.
From the Roku remote, press the Home button.
Select the "Settings" menu.
Scroll and select "Advanced System Settings." Choose the option "Factory Reset." Once again, select "Factory reset."
Enter the unique code mentioned beneath.
The Factory Reset process will start immediately.
You will create a UK-based Roku account.
Sign up for your new Roku account.
Enter all the information asked on the screen – Email, name, and password.
Select your preferred payment method and complete the details.
Open the Expressvpn App and Choose Uk' for Bbc and ITV.
The Expressvpn app is directly not available on Roku. But Expressvpn provides three alternate methods to use its VPN service on Roku devices.
Those three methods involve – Physical router, virtual router, or casting. Visit this link to find the detailed steps.
Once you have successfully established the Expressvpn service on your Roku, open it.
From the servers list, choose the "UK" server.
Download ITV Hub or Bbc Iplayer App and log in
 Press the "Home button" on your Roku remote.
From the left side, Select "Streaming Channels." 
Click on "Search Channels."
First, search for ITV hub or Bbc iplayer. Click "Add channel" to install the app. 
Open the ITV Hub app or Bbc iplayer. Login into your ITV or Bbc iplayer account.
Start Streaming
Once you access your ITV and Bbc iplayer accounts, start streaming the live Fifa World cup matches per the schedule discussed above.
Where is the FIFA World Cup 2022 Being Held?
Qatar, a Middle East country the first time, is hosting the Football's Biggest event from Nov 20 to Dec 18, 2022. It's the first time that the Fifa World Cup is taking place in solely one country. 
This prominent event will be held in 8 various stadiums in the middle-eastern country of Qatar: Al Bayt Stadium, Lusail Iconic Stadium, Ahmad Bin Ali Stadium, Stadium 974, Khalifa International Stadium, Al Thumama Stadium, Al Wakrah Sports Complex, and Education City Stadium.
What is the Fifa World Cup 2022 Schedule?
FIFA world cup 2022 will be played from Nov 20, 2022, to Dec 18, 2022. The 32 qualified countries have been divided into 8 Groups (including 4 in each). The first phase match was played between Qatar and Ecuador on Nov 20, 2022. 
Conclusion
Using ExpressVPN, geo-restriction won't be a barrier in streaming fifa world cup 2022 matches on Roku. You can select any streaming service, channel, or Live Tv service to watch Fifa World Cup 2022 Live for the whole month for free. You won't miss any matches, even if you're traveling abroad or sitting anywhere.