Roku is a brand that produces a range of mainstream devices that are all powered by the Roku software. The goal of the Roku media streaming player has always been to make accessing streaming video and music material on a TV as simple as possible.
Roku Stick comes with a pocket-sized HDMI dongle that is simple and convenient to use with any device such as a laptop/TV. However, using a Roku stick on a laptop is a bit more difficult and unique.
Although if you do have an HDMI port in your laptop/PC, you can just directly plug your Roku stick into it. If you don't, you'll need to follow a few steps, which we'll outline below.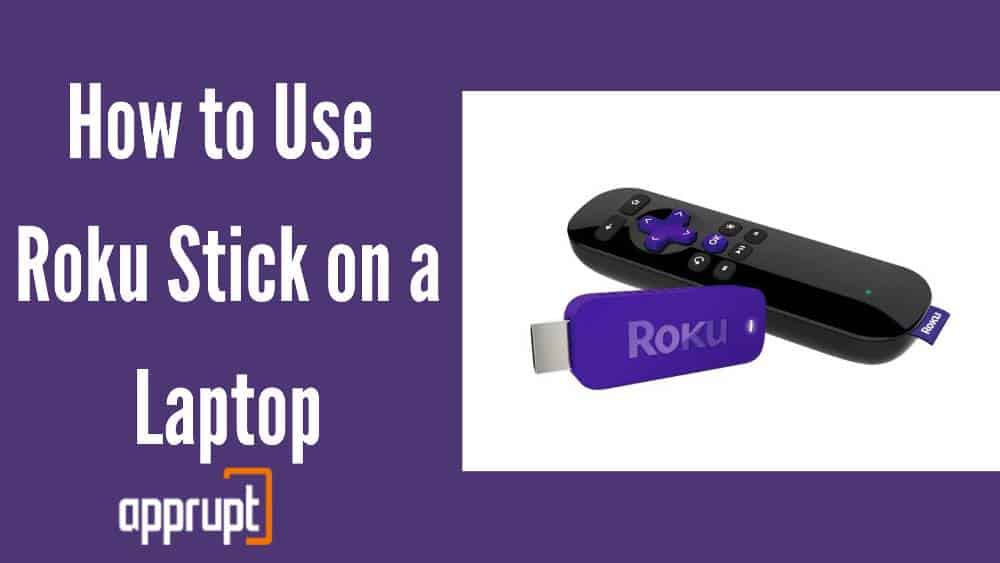 How does Roku connect and work actually?
---
Before getting too eager to discover how to utilize a Roku stick on your laptop, you need first to understand how it works. Roku provides you with access to a world of interesting and infinite content that supports HDMI connectivity.
Roku's plug-and-play feature works with any device that has an HDMI connector.
The remote control on a Roku stick is also one of its best features. With the Roku stick's remote, you can effortlessly control it. Another interesting aspect of the Roku stick is that it can be controlled with your smartphone.
You'll need to download the Roku app to use your content with a smartphone.
Setting up Roku stick on a Laptop or Computer
---
Because HDMI connects on a laptop's output rather than input material, you won't be able to connect Roku to your laptop directly.
Follow these simple steps to connect the Roku Stick to your laptop.
Step 1: Open any browser you have on your Laptop and go to this website – https://www.plex.tv/
Step 2: Look for a Download option on the top right. Select 'For Desktop' using the drop-down menu in the Download option.
Step 3: Download the option that best fits your Computer's operating system. And let the installation be complete.
Step 4: Go to the Roku Channel Site, after logging into your Roku account.
Step 5: Search for 'Plex App' and subscribe to it through your Roku Channel Site.
Step 6: Connect your laptop to reliable Wi-Fi. And also connect the Roku stick with the same Wi-Fi connection.
Step 7: Your Laptop will now be connected indirectly to the Roku stick, by utilizing the same Wi-Fi connection with the assistance of the Plex app that you've downloaded. Enjoy the content!
Does using a Roku stick on a laptop worth it?
---
Using a Roku stick on a laptop or a computer is completely dependent on whether the user is willing to take some extra steps to connect it. Hardware streaming gadgets appear to be out of date these days.
Hence you can choose to view your content almost entirely on an online platform, including the Roku online services, where some of the channels are free as well.
But people still utilize the hardware services as they have no forced ads or any kind of disruptions. Furthermore, using a Roku stick is more portable and reliable for streaming your favorite content wherever you want to.
A Roku stick allows customers to enjoy unlimited streaming of their favorite shows. There is no doubt that using a Roku stick on a laptop is worth it.
Frequently Asked Questions
---
Can you use a Roku stick on a computer monitor?
Yes. All of Roku's streaming devices, according to the company, works with any HDMI-enabled display device, which includes most modern computer monitors. If you want to use an older monitor that does not support HDMI, you can connect the Roku device to it through composite video cables or a composite to HDMI converter.
Can you connect a Roku box to a laptop?
Although you won't be able to connect the Roku box directly to a laptop, there are ways by which you can indirectly connect them. With the help of a few extensions, one can easily enjoy their streams on their Roku box.
What happens if you plug a Roku into a laptop?
The HDMI port on a laptop is HDMI output only, which makes having a direct connection rare. Most laptops don't have an HDMI connection, to begin with.
However, to counter this, we can use screencasting to the laptop/PC, from your TV to watch any stream on your laptop.
Conclusion
---
The only thing that matters for setting up a Roku streaming stick on a laptop is the HDMI port connectivity, so be sure your laptop has one before you start streaming your favorite show.
However, that's not always the case, as you can still connect them using a third-party app as mentioned above.
It's not difficult to connect a Roku stick to a laptop. But not having an HDMI port makes one take a few extra steps, which in the long run, is worth it. Moreover, the Roku stick does have a reasonable price.
Also read:
Hope you found this article helpful by connecting your Hardware streaming service to your Laptop or Computer successfully.