In this article, I will tell you how you can subscribe to Pandora premium free trial. You will not have to pay anything, and you will still get all the benefits that their plans offer.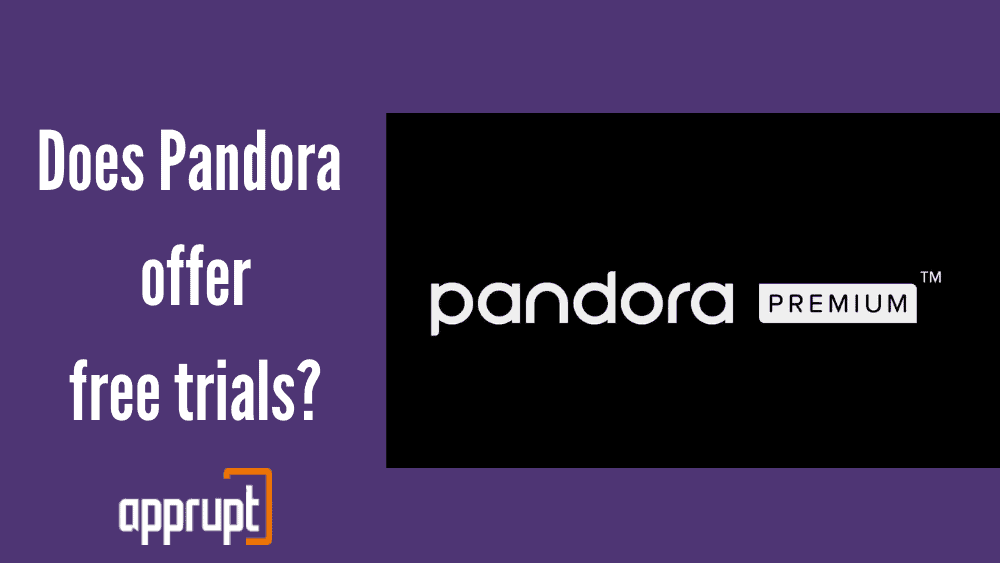 You must have heard about the popular music streaming application Pandora that offers you 7 days, 30 days 60 days free trial. It is a huge competitor of Spotify and YouTube Music. You can listen to millions of songs from different artists, podcasts, etc.
It has millions of subscribers from around the world; however, there are ads between the playbacks. But Pandora offers two plans to its users that are paid subscriptions where they can get rid of the ads.  
How to Get Pandora 30 Day Free Trial
---
As mentioned earlier, Pandora has two plans, one being the Pandora Plus plan and the other being Pandora Premium. Pandora is currently offering a free trial on both of its plans, and if you are looking for a 30-day trial of Pandora, you can sign up for the Pandora Plus plan.
With Pandora Plus, you will get a 30-day free trial, and here are some of the benefits that will convince you that you need Pandora Plus as it is much better than the free Pandora version:
It's ad-free, you can listen to music uninterrupted by ads.
You'll have the ability to search songs and also skip songs as many times as you like.
You will be able to listen offline; however, for a limited period
The regular price of Pandora Plus is $4.99/month, which you will have to pay once the trial ends. The only limitation of this plan is that you will be unable to create and share playlists. Here's how you can get the Pandora Plus free trial from Pandora directly; the process is the same for getting Pandora Premium as well:
Head to Pandora's website or click here.
Then, tap on the 'View Plans' button. Choose a free trial of whichever plan you want.
You will have to create an account; you'll require an email ID to do so.
You will be asked to enter your payment information; your credit card details. However, you will not be billed until your trial ends.
Choose between monthly or yearly subscription and then, tap on the 'Start Trial' button.
How to Get Pandora 60 Day Free Trial
---
Now, let's talk about Pandora's other plan, which is Pandora Premium. It's one of the highest range Pandora plans with many features and an extended trial period.
If you're looking for a longer free trial then, you should consider Pandora Premium as it has more features than Pandora Plus, and you will have access to a 60-days free trial.  
The regular subscription cost of Pandora Premium is $9.99/month. You will have to pay if you plan to continue after the Pandora free trial ends. If you haven't been an existing user of Pandora then, you are eligible for the Pandora Premium plan.
It has all the benefits that Pandora Plus provides, but with this plan, you will also be able to create playlists, share playlists on social media apps and also, stream music offline.  
How to Get Pandora 7 Day Free Trial
---
Well, Pandora is not currently offering a 7-day free trial as it is already giving its new users a 30-days and 60-days free trial. Seven days is way too low compared to what it is currently offering.
So, we recommend you must get those trials as they are a great opportunity, you will get a month and more to experience the app and stream music for free without ads.  
What are Pandora Premium Benefits?
---
Now, a lot of people ask me about the benefits that Pandora Premium provides, so; I decided to give you a gist of all the Pandora Premium features that you will get if you decide to upgrade from Pandora Plus to Premium:
It's ad-free, you can listen to music uninterrupted by ads.
You'll have the ability to search songs on the application.
You can also skip songs unlimited times.
Access to Offline listening; however, for a limited time.
Also, you can create playlists, add songs that you prefer to listen to every day, and also share the playlists with your friends.
How much does Pandora cost after free trial?
---
When the Pandora free trial ends, both plans cost differently. After the trial, Pandora Plus will cost you $4.99/month, and Pandora Premium will cost you $9.99.
There are many other Pandora plans that you can sign up for, but you can't get a free trial for them.  
There's a family plan available as well, and the Pandora Premium Family plan costs $14.99/month. If you are a student, you can get Pandora Premium at a much lower price as it only costs $4.99/month.
There's also a plan for Military people that costs them $7.99/month for the Pandora Premium plan.  
Does Pandora automatically charge after the free trial ends?
---
Yes, Pandora has an auto-renewal feature that will automatically bill you for your subsequent subscription as soon as the trial ends. So, you will have to cancel your Pandora free trial before it ends if you don't want to continue.
Pandora asks for payment details while users subscribe for its free trial, as it will automatically bill you for the monthly or yearly Pandora subscription depending on what you choose.
Canceling Pandora's free trial is not difficult; simply go on the app and sign in to your account, click on your Profile icon and then look for your current subscriptions.