Nowadays, it's hard to watch any movie or show with family as most of them include sex, violence, and extensive crimes. This makes it harder to find a film that teaches valuable lessons and doesn't involve sex or violence. Pureflix is a Christian entertainment streaming service where users can access thousands of family-friendly, moral–based shows and engaging documentaries.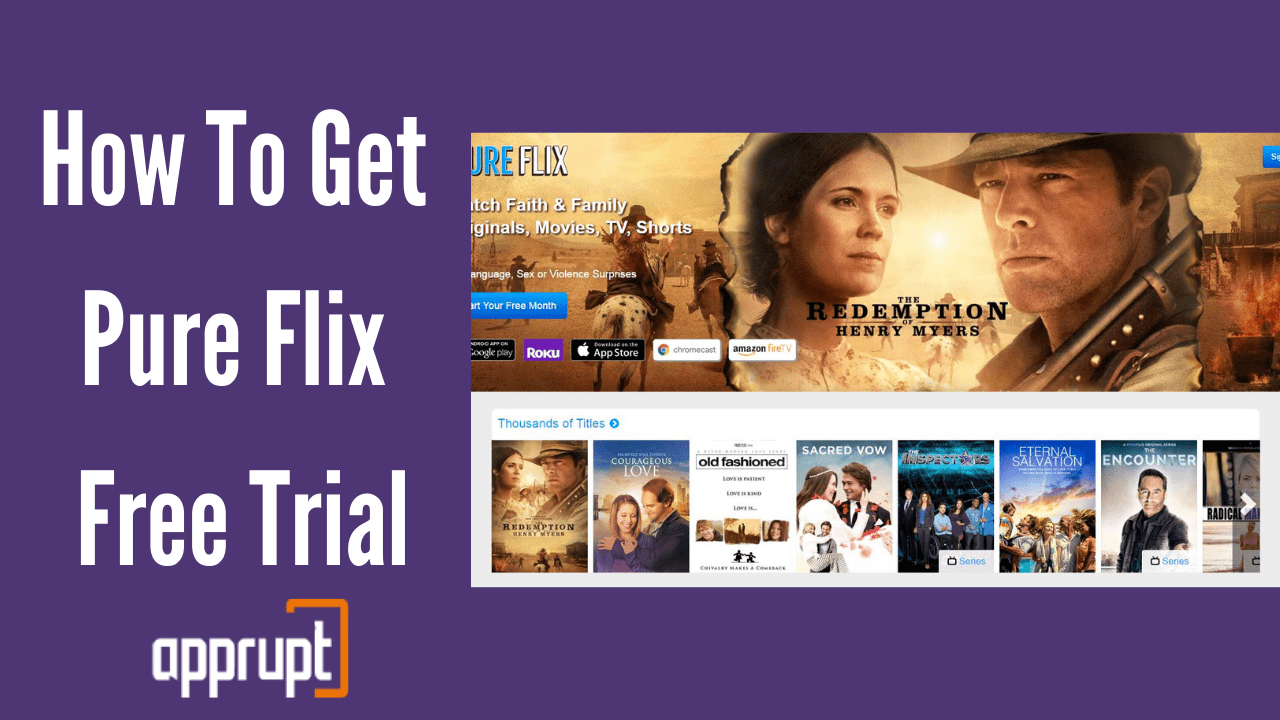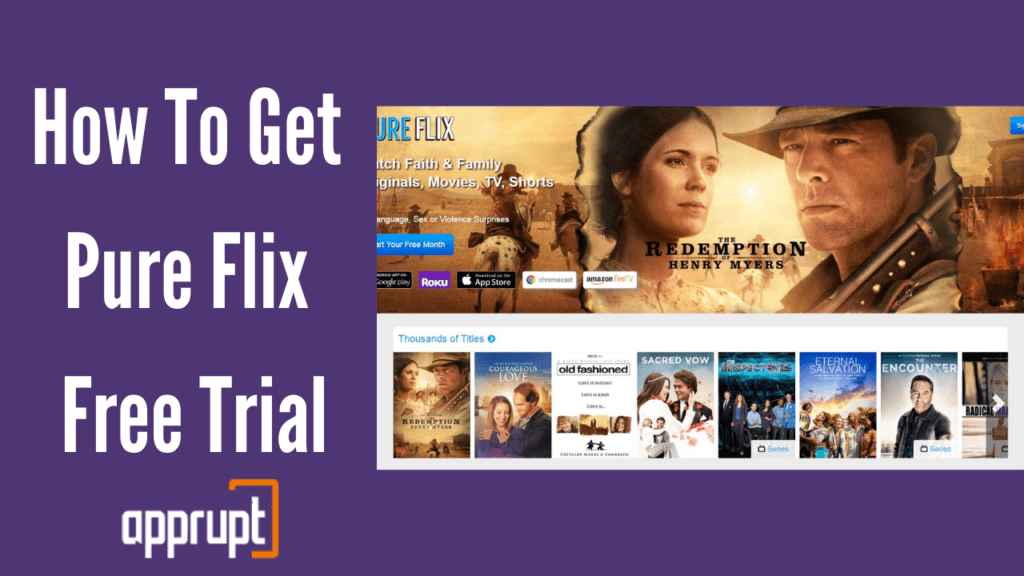 Pureflix claims to provide faith in your entertainment by adding caution and parental controls on mature-themed movies/shows and delivering content that families can stream together. Many people are considering trying Pure Flix as one of their daily streaming services.
And hence, are looking to see if Pure Flix provides a free trial. A free trial can help you test the platform without paying for it initially. In this article, I will tell you how you can get a Pureflix free trial.
Does Pureflix have a free trial in 2022?
---
Yes, Pureflix is currently providing a free trial of seven days to all of its new users who want to become a Pureflix member. You can stream on Pureflix for free for seven days, and when the trial is over, you will have to pay its monthly subscription to continue streaming.
You can stream from its most-watched collection that includes, Never Heard, 90 Minutes in Heaven, God's Compass, Love Again, and many more.
In 7 days, you'll have enough experience of the streaming platform and all the content that it features, and if you decide to continue its paid subscription, you are eligible to get its annual subscription at 55% off.
How Long Is Pureflix Free Trial
---
The current Pureflix free trial is seven days long. However, it also used to provide a month-long free trial, but for now, it's a 7-day free trial only. You can get its 7-day free trial directly from its website. We will provide you with the step-by-step guide of how you can sign up for its trial later in this article, keep reading.
How to get Pureflix Free Trial?
---
Here's how you can sign up for Pure Flix 7-day free trial from its official website directly; the process is quite simple and includes very few steps:
Head to the Pureflix official website by clicking here.
Then, tap on the blue 'Start Your Free Trial' button displayed on the web page as it opens.
You will have to select a plan between monthly or annual subscriptions.
Then, click on the 'Choose Plan & Continue' option.
You will be required to enter some of your personal information like your first and last name, email address, and password.
Now, select the 'Create Account' button.
You will be asked to enter your payment details preferably your credit card details for later. However, you will not be charged until the free trial ends.
Then, tap on the 'Start Your Free Trial' button to complete the sign-up process and enjoy streaming for seven days.
Can I cancel the Pure Flix during my Free Trial?
---
Yes, you can cancel your free trial anytime. However, you must know that Pureflix auto-renews its subscription as soon as the free trial ends, which means users are billed for the subsequent monthly subscription.
Pure flix will automatically charge you with a monthly or yearly plan, whichever you would have chosen. So, you can cancel your free trial, and if you don't want to be auto-billed, we have provided the cancellation process in this article later.
Why do I need to enter my payment information for a Free Trial?
---
Pureflix requires your payment information while signing up for a free trial to verify your information for security reasons. Also, Pureflix guarantees no interruptions in streaming content on their platform. Thus, they auto-charge the monthly subscription cost from your account instead of the users having to do it manually. However, they will not charge you until the free trial is over, and users can cancel their trial or subscriptions at any time.
Is Pure Flix free with Amazon Prime?
---
Unfortunately, Pureflix is not available with Amazon Prime, as you must be aware that it is an on-demand streaming service that releases, produces, and markets its streaming content. The website contains Pureflix original movies and morale-based shows and has a pure storyline with meaning. Therefore, you can't get a Pureflix free trial with Amazon Prime Video.
What is Pure Flix 30 Day Free Trial?
---
Pureflix used to provide a 30-day free trial a while ago. However, it has now been discontinued and changed to a 7-day free trial that you can easily get directly on their website. We are unaware that the 30 days free trial will return on their website in the near future, but you can take advantage of the currently active seven-day free trial.
Pureflix Plans & Price after Free Trial
---
There are two different membership plans available on the Pure Flix website. New subscribers can get a free trial for either of these plans; they have an option to choose between the two while signing up for the trial.
Pureflix offers a monthly plan where you will be billed monthly after your 7-day free trial. And the plan will cost you $12.99/month; you will have the ability to cancel your subscription whenever you like.
And the other plan is the annual subscription, where users are billed for an entire year at once and get a huge discount. This is the most popular and preferred plan on Pureflix by other subscribers as it costs $83.99/year, which means you'll be charged $6.94 monthly, saving you around $6 every month. I'd recommend that you choose the annual subscription plan as you can save a huge chunk of money there.
How to Cancel Pureflix Free Trial
---
The cancellation process on Pureflix is quite easy, and users can cancel their free trial and subscription at any time, and they can do so from the website directly.
Click on the link here to open the official website of Pureflix.
Then, you will have to sign in to your account using your credentials like email address and password.
Once you are into your account, click on your character icon and a drop-down menu will appear on the screen. Click on the 'My Account' option from the menu.
Now, select the "Membership" option.
Then, tap on the 'Cancel My Membership' option and then confirm the cancellation.
Remember that doing so will automatically set your trial to cancel at the end of your current billing or trial period.