Most users face several issues with their Roku devices and one such issue is the Roku app won't connect to a TV.
Roku has a dedicated remote control app for Android and iOS users. Roku owners can download and use this app to control their Roku. But sadly, in the case of some users, the app simply fails to connect?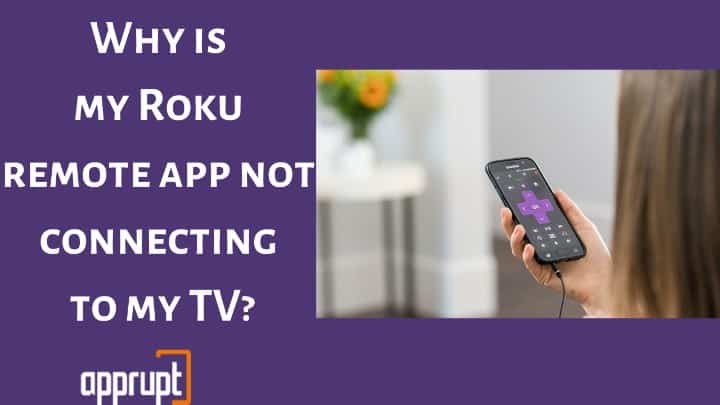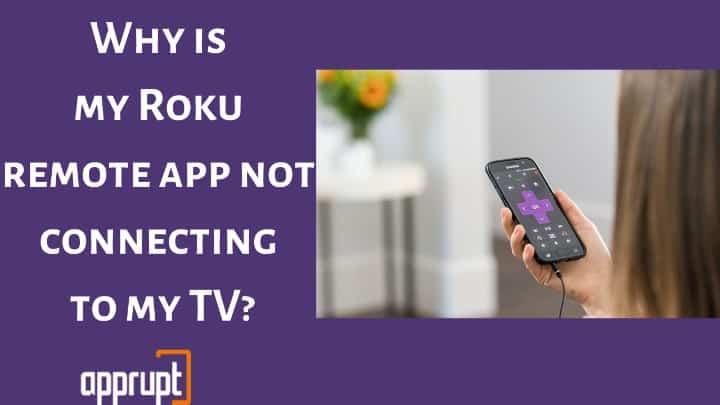 If you have downloaded the Roku remote app on your phone and are having trouble connecting it to your Roku TV, this guide is for you! We have covered the common reasons behind this issue and shared their solutions.
Reasons Why Roku App on your Phone Not Connecting to Roku TV?
---
Before talking about the cures, it is best to know the reasons behind the issues. So, let's first look at the reasons behind the Roku App not connecting to Roku TV.
The network connection is different – If you want to use the Roku app to control your Roku device, connecting both the Roku device and remote to the same Network is mandatory. If they are using different wireless network connections, they won't link.
You are using a VPN – VPN sometimes hinders the connection between the mobile and Roku. If your mobile phone is connected to VPN, you might not be able to access the Roku using the remote app.
Your Roku is not using a private network – Roku devices need to be connected to a private network. If your Roku uses a public IP, it will prevent the connection between the Roku and the remote app.
How to Connect Roku App to Tv
---
Having seen the causes, it is time to find the remedies. Your Roku might not successfully connect with the mobile Roku app, but you can still connect it using various techniques.
Below is the list of solutions you can use to fix your Roku TV not connecting to the Roku app problem.
1. Control Your Roku TV with Mobile App
---
On some Roku devices, the feature to use the mobile app is not enabled by default. So, you should first check if this feature is disabled on your device. If so, enable it using the following method:
Step 1: Navigate to Roku settings from the Roku home screen.
Step 2: Go to System.
Step 3: Go to Advanced System Settings.
Step 4: Select Control by Mobile Apps.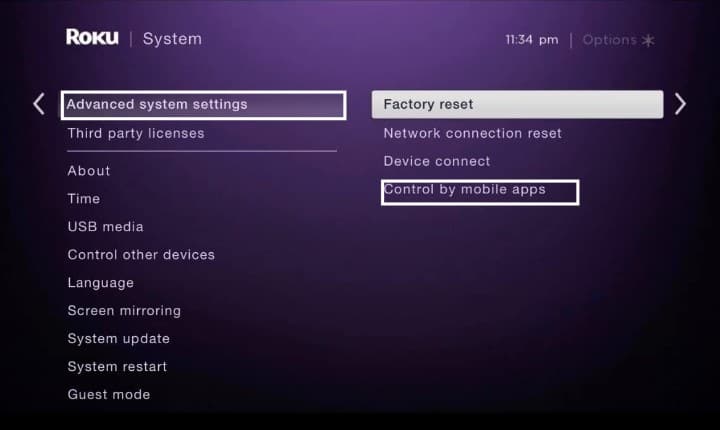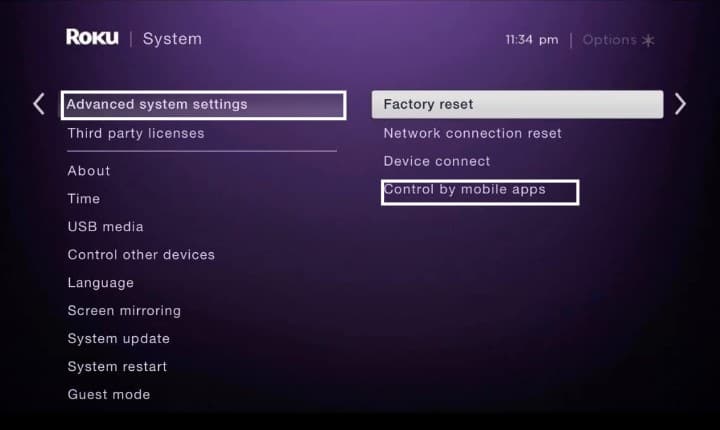 Step 5: Click Network Access.
Step 6: Change the option to default if it is not done yet.
You should now be able to connect your Roku app to Roku TV.
2. Both Roku TV and Mobile Phone should be on the Same Network and the Same Band
---
If your Roku TV and mobile phone are not using the same Network or same band, you need to configure them. You can check that using the following method:
Step 1: Go to your Roku Settings.
Step 2: Click Network.
Step 3: Click About.
Step 4: Check the wireless network name and verify if you are using the same Network on your mobile phone.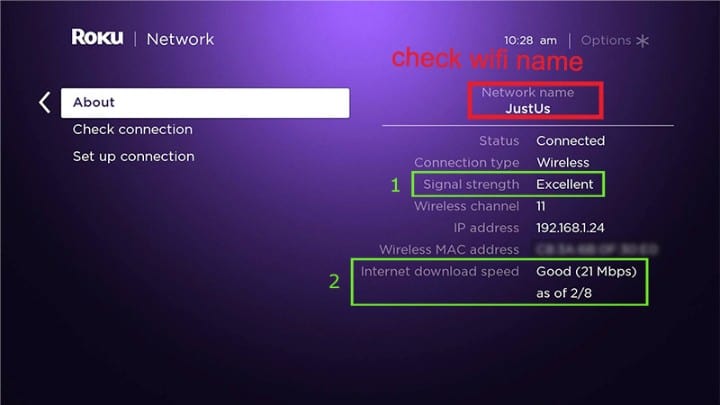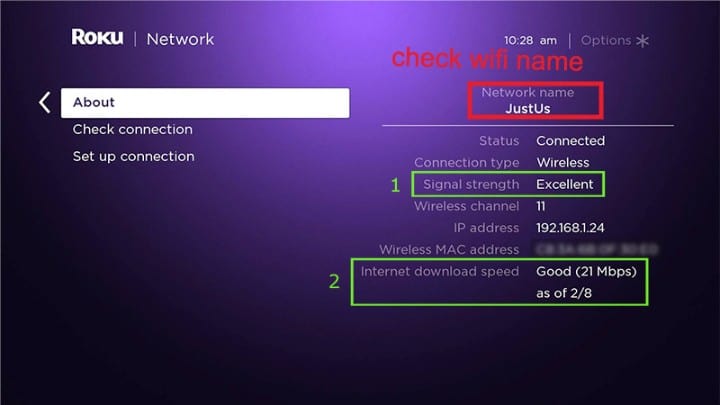 Step 5: If not, change it and try reconnecting the remote app again.
3. Give permission to your Android or Iphone to connect with Roku TV
---
Sometimes your Android or iOS device won't have the permission to connect or access Roku TV. In such cases, you will have to permit the mobile device to access Roku.
For that, you will have to navigate to the Local network option under Roku settings and enable it.
After enabling the option, you can reconnect Roku app to the Roku device. If that was the problem, it should work now.
4. Use a Private IP Address for your Roku TV
---
If your Roku TV is connected to a public IP address, it won't let you connect to the remote app. This mostly happens if you are not using a router for internet connectivity.
So, you need to verify if the Roku is connected to a private IP or not. You can do that by clicking the Network> About option under Roku settings.
If your Roku uses a public IP, ask an internet service provider to install a router at your home. Then, you can connect Roku to a private network and use it.
5. Disconnect Your Phone VPN While Using a Remote
---
Before using the remote app on your mobile to control Roku, disconnect your phone from the VPN. VPN services hide your IP address which prevents your phone from connecting to Roku.
Once you disconnect VPN, you should see your Roku device available for connections. Select the device and use your mobile as a remote.
6. Restart App and TV
---
Sometimes cache memory or minor software issues prevent you from connecting your mobile device and Roku TV. One of the best ways to solve this issue is to restart the TV and mobile app.
All you need to do is to exit the app and shut down the TV. Then relaunch the app on your phone and switch on your TV. This should fix the issue.
This simple approach can do wonders most of the time, and you can use your Roku app to control the TV.
7. You Can Also Connect Roku Remote App Manually? Let's See How You Can
---
Another method to get your Roku app back to work is by connecting the app manually. For that, you will have to begin by noting the Roku device IP and then manually connect the app to your Roku. Here is the detailed process:
Step 1: On your mobile device, launch the Roku app.
Step 2: Navigate to Devices.
Step 3: Click the three dots on the upper left corner.
Step 4: Click Connect Manually.
Step 5: Type the Roku device's IP address and click Connect.
Your remote app will now be connected to your Roku TV.
Here's How to Find Your Roku IP Address
8. Connect with Roku Customer Support
---
If nothing works, the last option is to contact Roku support. Roku has a dedicated support team that is ready for your help 24×7. You can always contact them via call or email, and they'll get your issue fixed!
FAQ's
---
Why Does My Android Roku Remote App Keep "Closing"?
If your Android remote app is not functioning correctly or keeps closing, check if it requires an update. You can go to the Google Play Store and check for updates by clicking the My Apps and Games option. If an update is available, update the app and try using it again. The issue will no longer persist. You can also uninstall and reinstall the app to fix this issue.
Why Does My Android Roku App Take So Long to Load?
Sometimes the Roku remote app will take a longer time to connect to Roku TV or load features. That could be due to a slow internet connection or an update in the app. You can check the internet connection speed and if it is good, check for an app update. If both seem to be perfect, uninstall and reinstall the app. This will eliminate cache and establish a faster connection.
Why Can't I Use Iphone Keypad on Roku Remote App?
Some channels do not let you use the keyboard on the remote app. So, if you cannot use the keyboard while browsing a particular channel, this might be the reason.
Conclusion
---
Did you find the solution to connect your Roku app with Roku TV? The remote app not connecting issue is common to most Roku users, and you can solve it by yourself, using the troubleshooting tricks given above. Still, if you fail to get it sorted, the Roku support team will help you!
You can comment your issues below and we will try to fix them.