Last Updated on November 17, 2022 by Mark Roberts
You must have heard about Vidgo, which is one of the popular Live TV streaming service providers offering more than 90 live TV channels of news, entertainment, and sports that, includes some of the commonly known like ESPN, ABC, ACC Network, SEC Network, NFL Network, Big Ten Network, FOX, and many more. 
Well, if you're someone who has always wanted to use this streaming service, here's your lucky chance to give it a try, as Vidgo is offering a free 7 days trial.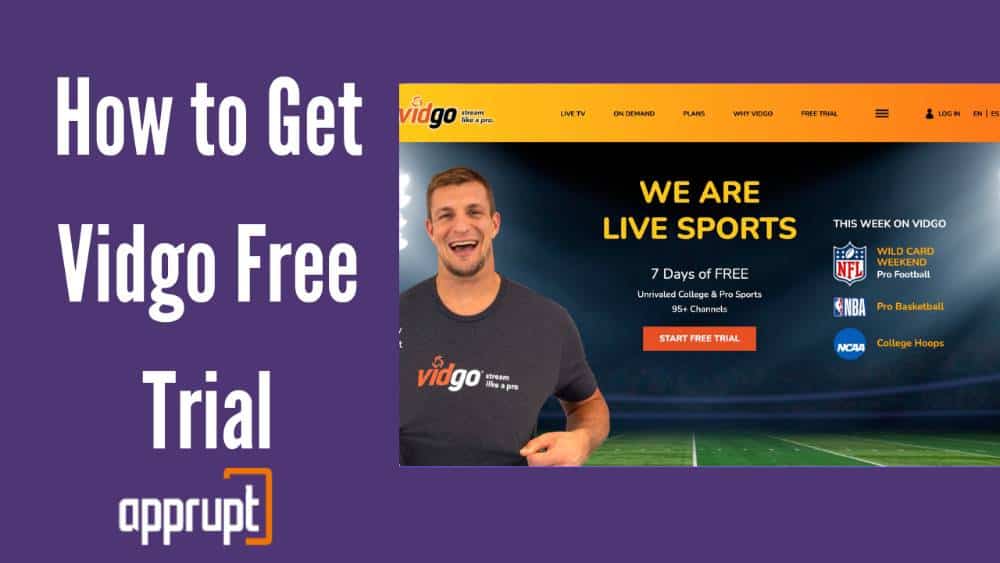 But a lot of people are unaware of how you can get the Vidgo trial so, in this article, I'm going to clear all your doubts regarding Vidgo and tell you how you can get its trial version.
Does Vidgo offer Free Trial in 2022?   
---
Yes, Vidgo does offer a free trial. You can avail the Vidgo's 7-day free trial and have to pay nothing until your trial ends. 
But if you are looking for the popular Vidgo 2-month deal, then you will be disappointed as this deal is not live at their site currently. 
However, a 7-day free trial is more than enough for users to get to experience Vidgo, and trust me, this streaming platform is worth every penny. You will get to stream 95+ live TV channels that include most of the popular live sports, news, shows, etc.    
How Long is the Vidgo free trial?   
---
The free trial of Vidgo lasts for 7-days in all its packages i.e., English Plus, English Premium, and Spanish Mas. With the English Plus free trial, users will get access to stream 95+ channels, and with its Premium version, you'll get access to 112+ channels in its free trial.  
How to Get the Vidgo Free Trial?   
---
The process of getting the Vidgo TV free trial is quite easy and can be performed on any device such as Android, iOS, Roku, Apple TV, and Fire TV. 
Vidgo is compatible with almost every device; you can install the app on your mobile phone, or laptop or use it on your TV.
You need to know that you cannot get the offer after the 7-day trial ends and the free trial is limited to only once per user. Here's how you can get a free trial: 
1. Visit the official page of Vidgo, or click here.    
2. When the website opens up on the browser, you will see a "Start Free Trial" button, click on it.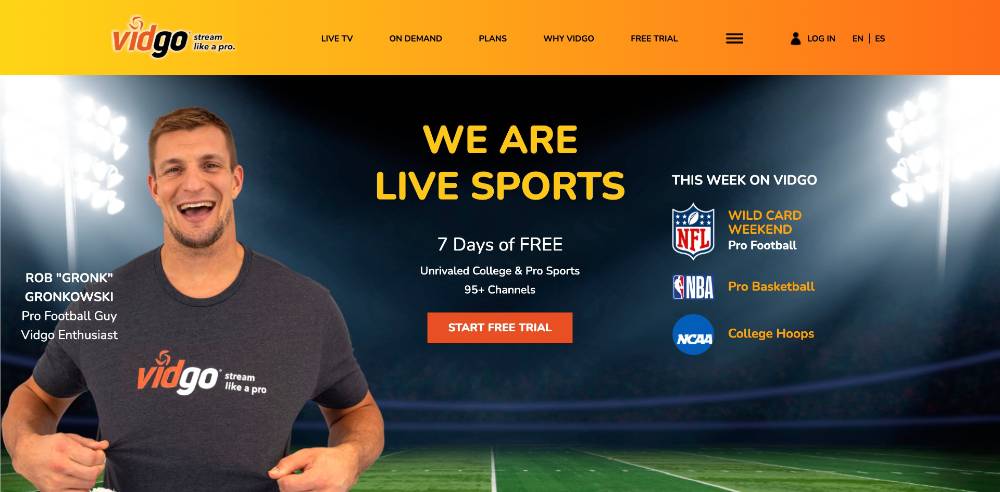 3. You will be taken to create a new account and then to the Payment page. You are supposed to enter your payment details for accessing the free trial. However, you will not be charged any amount for the first 7 days.
After the trial ends, you'll be charged monthly.   
What is Vidgo 3 Day Free Trial   
---
Well, many people ask this question, so Vidgo, one of the Internet-based services, provides its users with a 3-day free trial as well.
In this trial, the users used to get access to popular live TV channels like ESPN and Fox news. 
Vidgo is highly famous for its Sports packages and is increasingly becoming a growing streaming platform in the US. However, the 3-day trial has now been updated to a 7-day free trial and thus, it is no longer available for users.  
Does Vidgo Provide Free Trial on Roku?
---
Getting a Vidgo Free trial on Roku has the same process. You just need to create an account and signup for a free trial with this link. Once you have done that, you will have login details. Go to Roku, install the Vidgo app, open it and sign up with the same login credentials.
Vidgo Plans & Price after Free Trial   
---
Now let us discuss all the different plans that Vidgo offers. Users can have a free trial of 7-days of any packages they choose. It's free for the first 7 days, but users will have to pay for the streaming service after the trial ends. 
Many people get confused between the different packages and the price they will have to pay when the free trial is over. No doubt, Vidgo is quite expensive but definitely worth the number of channels it offers.    
Vidgo English Plus Package – in this package, you will have access to English-speaking live channels up to 95+ live TV channels including Live sports, news, local shows, etc. This package will cost you $55/month after the free trial ends, this is the best price package and the most preferable. 
Vidgo English Premium Package – Under this page, users will have access to 112+ English speaking live TV channels including, exclusive live sport, Nat Geo, Fox channels, ACC network, entertainment, news, etc. This pack will cost you $79.95/month when your 7-day free trial ends.    
Spanish Mas Package – Now this package is for Spanish people, the pack will include several Spanish-speaking Live channels such as ESPN, Fox Deportes, history, Discovery, Nat Geo and much more. This package will cost you $30/month and new customers can attain its free trial for a week.    
Do check out other streaming services free trials:  
So if you're looking for more free tv channels or streaming services, be sure to check out more Free trial guides today!
Related: You can also get Philo 7 Days free trial