HelloFresh may promise you good-quality home-cooked meals, but if you find that you are not satisfied with your Hellofresh subscription, then we advise you to cancel it so you can save some money.
We will not only show you how to cancel HelloFresh but also how to change and skip your HelloFresh subscription service.
In addition, I'm sure that you may be having other queries about how to cancel HelloFresh subscriptions, so we hope to answer most of your commonly asked doubts in this article. So, stick around until the very end to learn more!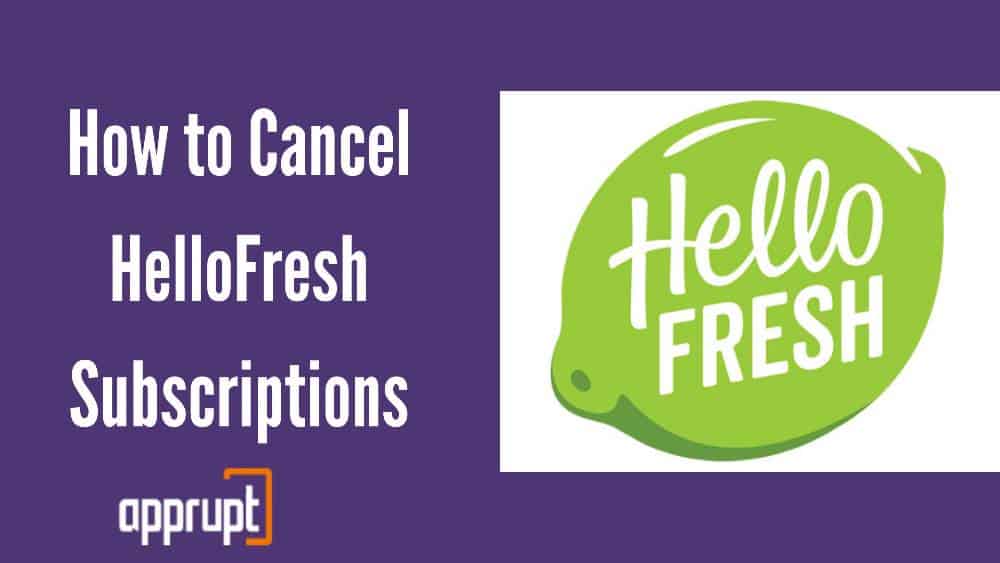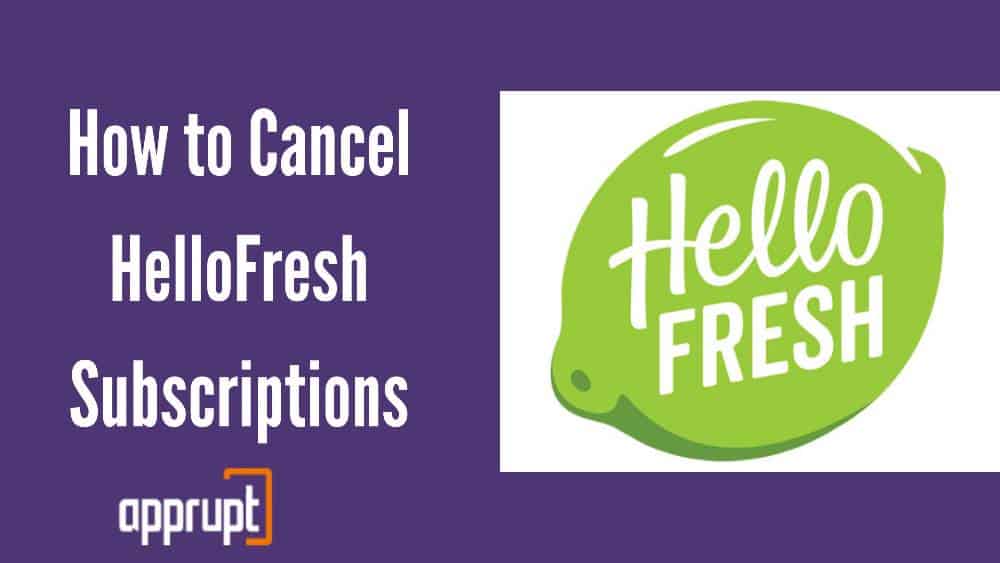 Can you completely cancel HelloFresh?
---
Yes, you have the option to cancel your HelloFresh subscription completely. You will learn how to do so later in this article. If you regret your decision to cancel your HelloFresh subscription, then you can always reactivate your account easily.
Can you cancel HelloFresh anytime?
---
No, there is a time restriction that you need to keep in mind while trying to cancel your HelloFresh membership. You have to cancel or pause your Hellofresh subscription by 11:59 pm PT, at least five days prior to your next delivery. This is to avoid paying for your next scheduled delivery.
If you happen to cancel or pause your HelloFresh membership after this time, you will be required to pay for the next order, else your cancellation will not be successful. So, you will have to wait until the next cut-off time to try again.
Is HelloFresh easy to cancel?
---
Yes! You can definitely cancel a HelloFresh subscription with ease! And with our help, the process will become much easier than before.
In order to cancel a HelloFresh subscription, you will only have to go through a small number of steps that you can easily carry out on any device you own. It will take less than five minutes if you follow the steps that we will explain below.
HelloFresh Cancellation Policy
---
Unlike other subscriptions, the cancellation policy for HelloFresh is quite simple. The only thing to remember when you cancel the HelloFresh subscription is that you need to do it before 11:59 pm PT. For at least five days before your next HelloFresh order is supposed to deliver.
If you do so, then you will not have to pay for the upcoming order, and your subscription will get canceled successfully. But if you do not, then you will have to pay for the next delivery and your cancellation will not approve.
So, track your delivery schedule before you cancel your HelloFresh membership service.
How to Change Your HelloFresh Subscription
---
Diets are bound to change over time, so you do not have to stick to one single meal plan on HelloFresh. Your HelloFresh account allows you to change your meal plan settings whenever you want to.
You can even change the number of servings for every recipe, the number of food deliveries you get every week, and the kind of recipes and meal plans you want to eat.
To change your subscription, all you need to do is go to your HelloFresh account and sign in to your customer account page.
Here, you will see the option to change any detail you want.
Pick whatever is suitable for you and confirm your decision.
From the next order, you will receive the updated meal plans, which will suit your dietary needs.
How to Skip a HelloFresh Order
---
Won't be there to receive your next order? No worries, the food will not go to waste if you just skip your next delivery. Simply follow the steps below to do so.
STEP 1– Navigate to your customer account page on the HelloFresh website.
STEP 2– Tap on the My Menu button.
STEP 3– Select the day for which you want to skip your delivery.
STEP 4– After picking the delivery day, you need to choose the Edit Delivery option, which can be found in the menu at the top. This will open a list of options.
STEP 5– Lastly, click on the Skip this week button to skip your order.
How to Cancel HelloFresh Subscriptions
---
Here is what you have all been waiting for. Let us finally dive into how you can cancel your HelloFresh membership. Just follow the instructions below.
How do I cancel HelloFresh Online via the website?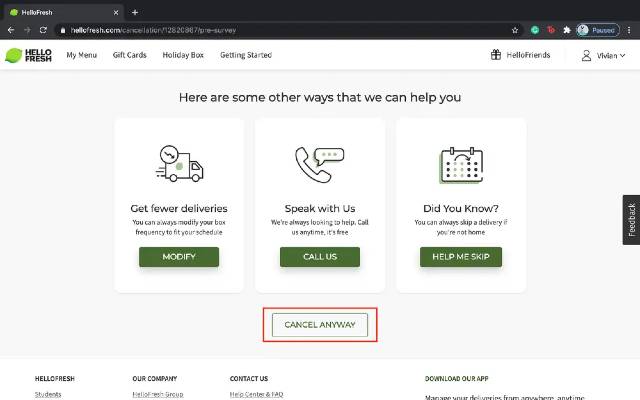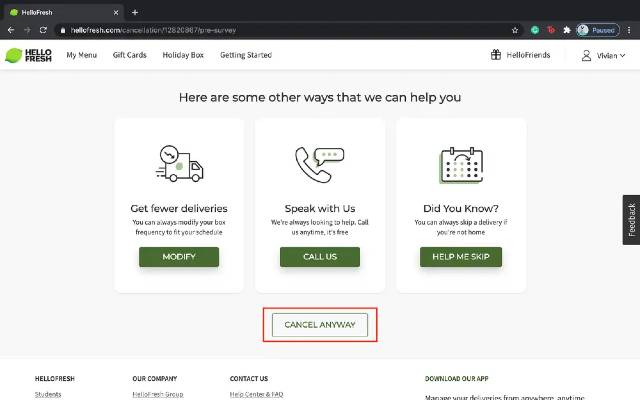 You can easily cancel your membership through the HelloFresh website online. Here is how to do it.
STEP 1– First, open a web browser and go to https://www.hellofresh.com/login. You need to log in to your Hellofresh account. 
STEP 2– In the upper right-hand corner of the page, you will see your name. Tap on it.
STEP 3– Then, select the Account settings option. 
STEP 4– Go all the way down to the bottom of the screen, where you will notice the Cancel Plan button. Click on it. 
STEP 5– The website will try to persuade you to stay by offering workarounds to your situation, but you have to hit Cancel Anyway.
STEP 6– Next, choose a reason for your cancellation.
STEP 7– Continue with the next few prompts after which you need to tap on the Cancel Anyway button again.
After this, a message will appear, which will inform you that you have successfully canceled your membership. It will also show you your last delivery date. 
FAQ's
---
Now, let us move on to the most commonly asked queries regarding the cancellation of HelloFresh.
Can I cancel HelloFresh after the free box?
Yes, if you are one of those people who were not satisfied with HelloFresh after getting your free box, then you can definitely cancel it immediately. But be careful, because you will have to cancel it by 11:59 pm PST, at least five days before your next delivery.
This is a nice way to determine whether HelloFresh is worth it or not, without spending any money.
Can I cancel HelloFresh after the first order?
Yep! You can cancel your membership after the first order, but make sure to do it within the time frame that we have explained before.
In fact, you can cancel your HelloFresh service whenever you want, as long as you stick to the time restriction.
Can I cancel HelloFresh after payment?
Yes, you can cancel your HelloFresh service even after paying for it. Like I said before, you can cancel it at any time, but HelloFresh will not process cancellations after their cut-off time passes.
That is why you need to track your delivery schedule and cancel it within that time frame.
Conclusion
---
We understand if you are disappointed with your meals, or if you want to try out other food delivery services. HelloFresh may not be the one for you, so let us help you say goodbye to it.
With the help of the step-by-step guide above, you have learned how to cancel, change, and skip your HelloFresh membership. Aside from this, we have answered some of your frequently answered questions such as can you cancel HelloFresh after a free box, first order, and payment.
Your doubts will have surely been cleared after reading this article, so go on! Try canceling your HelloFresh subscription!