This blog post will show you two different ways to cancel and manage Roku subscriptions. So whether you've decided that a certain channel is no longer for you or your subscription has just expired, keep reading for the information you need!
There are so many Roku channels available for free, but Roku charges the money from your account monthly, quarterly, or yearly only if you are subscribed to paid Roku channels.
Sometimes, you want to cancel your channel subscription as you might not be watching the channel anymore or for other reasons. You can do this with your Roku media player or on the Roku website's account page, where you can see the renewal date.
This article will tell you how if you want to cancel your premium subscription to any Roku channel in 2 different ways from a Roku device.
Quick tip: Tracking all your subscriptions can be a pain if you signed up in different places. The easiest way to manage your subscriptions is by purchasing them through the same platform, such as with your Roku device!
How do I view my Roku subscriptions List?
---
You can view the list of all the subscribed channels either using your remote control through Roku device or using Roku's official website. The steps to see the same using your controller are:
1. Press the 'star or *' button on your Roku remote. It will open the options menu.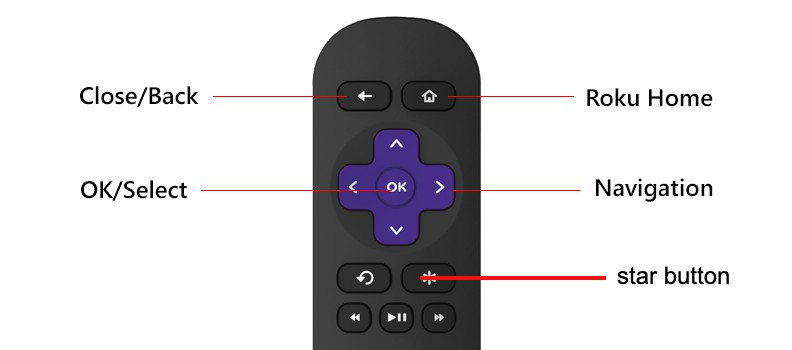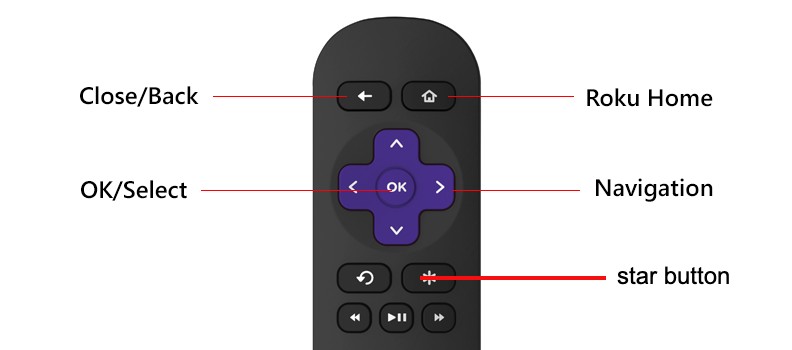 2. On your Roku remote, you will then see an option for Partner's subscription Roku channel. Select Manage subscription on your Roku TV screen.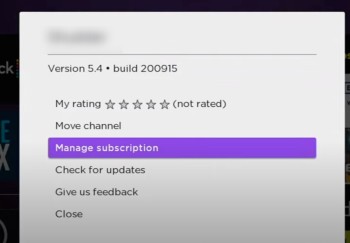 3. Now, you can see a whole list of channels you have subscribed to on your Roku account page for all time.
The procedure to view the list using Roku's website is:
Open the Roku website, i.e., www.roku.com.
Sign in using your Roku account.
Click on the 'My account' option. You will then see an alternative of 'manage your subscriptions' clicking on, which will show you the whole list of your subscribed channels to your Roku account.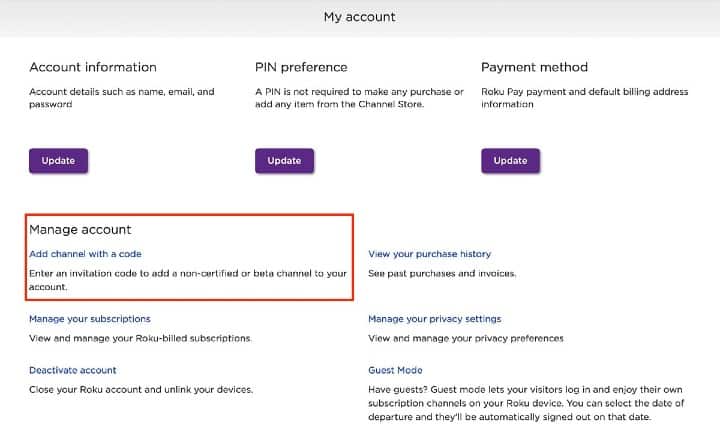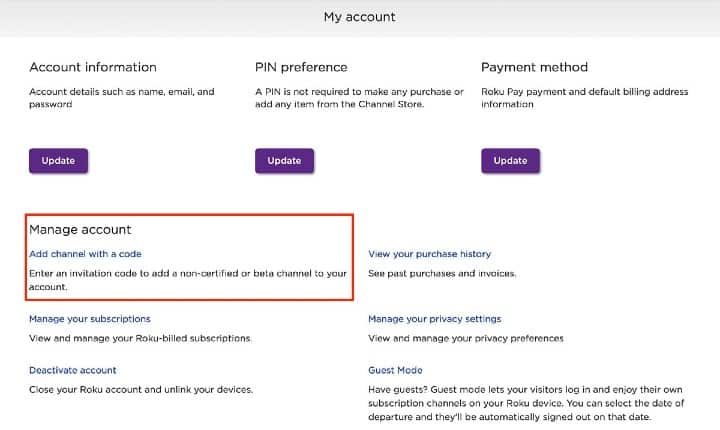 How to Cancel Subscriptions on Roku
---
You can cancel your subscription using your Roku player through your Roku account in two ways. It includes:
A) Canceling your subscription by navigating through the channels:
1. Press the home button on your roku remote control.
2. Then, surf the channel whose subscription you wish to cancel.
3. Go to that channel and press the 'star *' button on your remote. It will open up the options menu.
4. Once you access options, Select the manage subscription choice from that.
5. Now, there will be a list of options in front of you on the manage subscription page. Go to cancel your subscription.
6. After pressing on the alternative of canceling the subscription, Roku will ask you whether your decision is confirmed or not. Press the OK button from your controller if it is approved.
If you change your mind and do not wish to unsubscribe from any specific channel, there will also be an option of 'Keep subscription, exit' on your TV screen.
7. If you press the confirm button, then that is it. Your subscription is canceled now.
B) Cancelling your subscription from Roku's channel store.
---
1. You can unsubscribe to certain channels by going to the channel store of Roku. To do that, you will have to:
2. Start by pressing the home button on your remote.
3. From your channel store, scroll down and Select the 'streaming channels' option, which you will be able to see on your TV screen.
4. All the apps available on your Roku device, free, subscribed, and unsubscribed by you, will be there in the store.
5. Go to the channel you want to unsubscribe from the store.
6. There, you will see an option of 'Manage subscriptions.'
7. Click on that and Select cancel subscription and confirm it.
How to cancel a Roku subscription from the Roku website?
---
Follow the steps mentioned below if you wish to unsubscribe from your paid channels using Roku's website.
1. Go to the official Roku website, i.e., www.roku.com.
2. Sign in to your Roku account using your user id and password.
3. On the top right of your TV screen, you will see an option of 'My Account. To cancel a channel or service, use the arrow buttons to highlight it.
4. Press on that and then go to the alternative of 'Manage subscriptions.' you will be accessing the renewal date and additional options.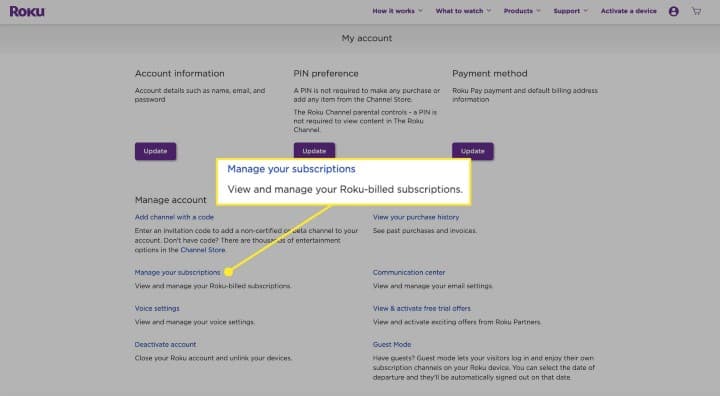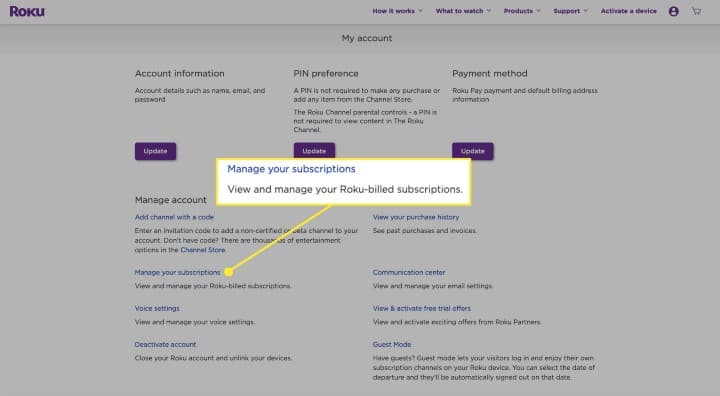 5. There, you will see a complete list of all your subscribed channels.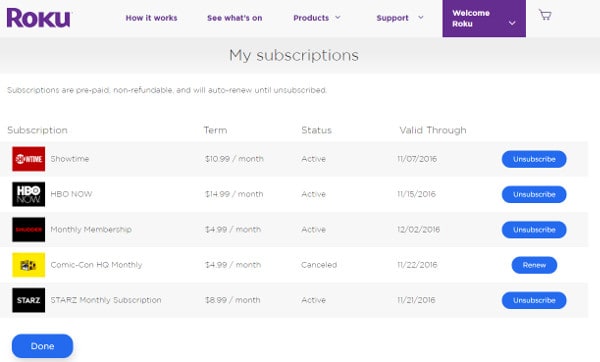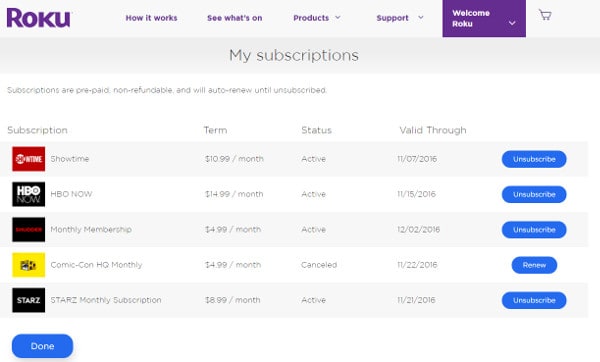 6. Select the channel to which you wish to unsubscribe. Select Cancel subscription. Click on that, and your work will be done.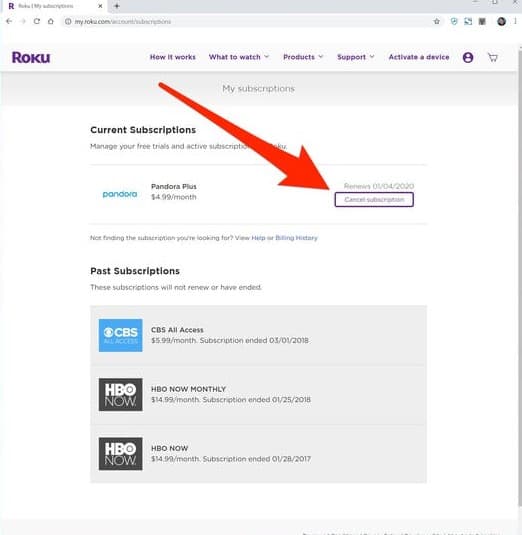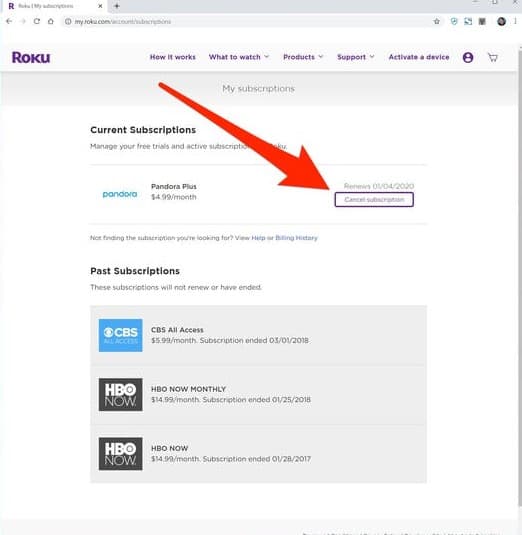 Learn to Cancel the CBS All Access Subscription via Roku
Do I get a refund after canceling the Roku subscription?
---
No, all the channels you have subscribed to using your Roku account are prepaid. They are non-refundable as well.
So, when you cancel subscriptions to any channel, there will not be any further deduction of money from your Roku account.
But, the money which you have already paid for viewing that content will not be refunded to you.
Hope you find the article helpful.