If you are amongst those, who turned on the voice on Roku but didn't know how to turn it off, we are here to guide you.
But first, let's see how this feature is enabled. When you press the (*) star button /asterisk button four times in a row on Roku remote, a popup will appear on the screen that reads (Roku descriptive audio/voice narration) and turn Audio Guide gets activated.
(So, be careful the next time you press the asterisk/star button on your Roku remote.)
That was easy, right?
So, How to Stop Roku TV From Talking or turn off the voice narration?
That's equally simple. And you can do that using the two methods mentioned in this guide.
Like most smart devices, Roku also offers an audio guide feature. Upon enabling this feature, it reads aloud the text appearing on the screen.
While this feature benefits those with vision issues, most users don't prefer using it.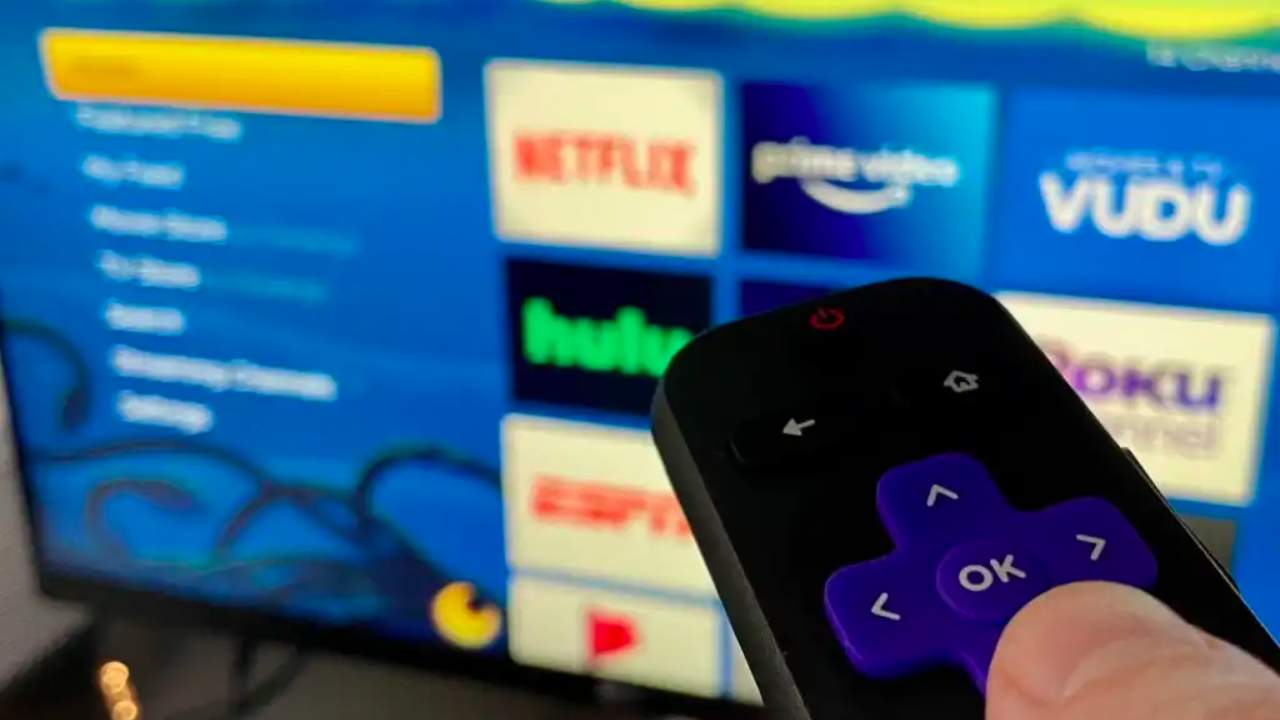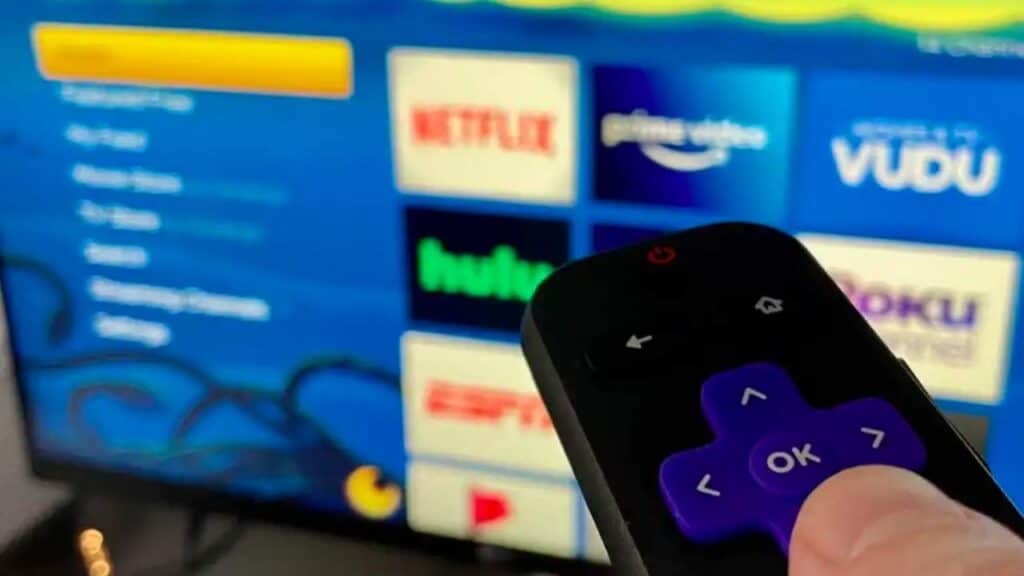 How to Stop Roku From Talking using Remote
---
Roku lets you turn the audio description off using your Roku remote control. It is the simplest and quickest method on how to turn off audio description on Roku.
You need to quickly press the asterisk/star button (*) four times in a row. And the voice guide will turn off in a few seconds.
However, if you have disabled this easiest way method on Roku players, you can use the second method described in the next section.
How to Stop Roku From Talking Via Settings Menu
---
Although the shortcut method is quick, sometimes it may fail to respond. In that case, you can take a long way and turn on and off the audio description through the Roku Settings. Because it's related to audio track selection on a per-app basis, the functionality is usually turned off by default. This turns off the audio tracks.
Here's how you can do that:
1. Press the home button on your Roku remote to access the Roku home screen.
2. Select the Roku Settings option from the left-hand side menu on the screen.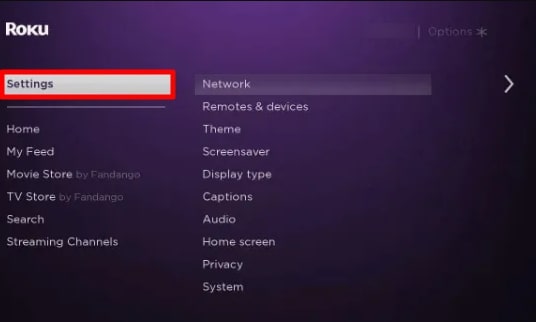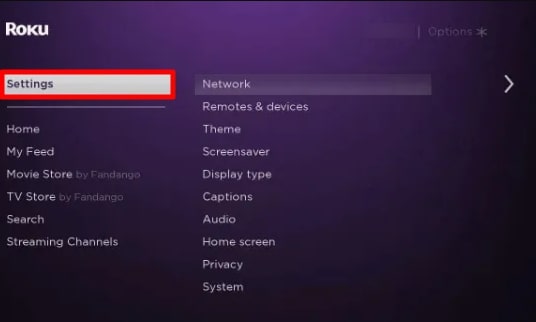 3. Navigate to the Accessibility option on the next screen.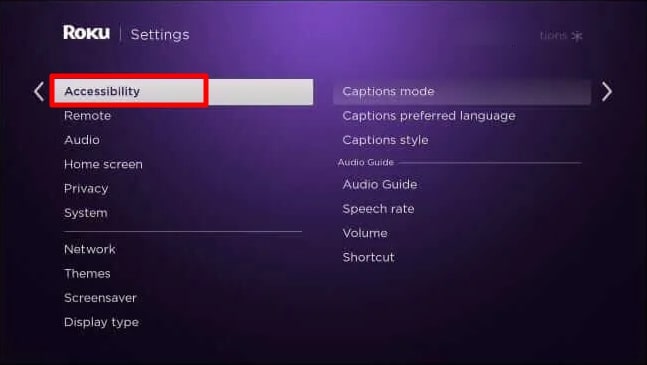 4. Under the Accessibility tab, choose Audio Guide.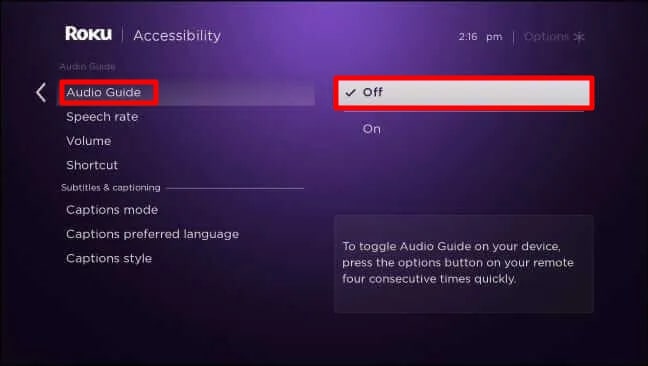 5. Select off to disable the option.
6. You can follow similar steps whenever you wish to turn it back on.
Why is My Roku Talking to Me – Narrating Movies and Everything
---
As we've told you above, Roku TV has descriptive audio controls and an accessibility feature that reads the Roku interface. The accessibility feature is helpful for users who require audible help navigating the Roku menu through the Roku remote.
If you are streaming a movie or TV show on Roku and your Roku starts narrating everything, there is no need to panic. That's because the descriptive audio options on Roku have been activated. And you can get rid of it in a few steps only. You can also learn How to reset roku pin if you forgot it.
How to Turn Off Descriptive Audio
---
Descriptive audio is a text-to-speech screen reader that narrates the text appearing on your Roku interface. The screen reader reads the Roku Menus option and all on-screen items to help you move from one option to another on the Roku streaming device.
You can enable or disable the screen reader feature using the Roku remote effortlessly. You can customize the screen reader to speak at your preferred speech rate and volume. By using the methods mentioned above, you can learn how to turn off screen reader on Roku.
There are so many streaming apps on Roku, but every app has its different descriptive audio control. We have mentioned below some of the most popular streaming apps.
Hulu
Open any program on Hulu and Press Up button on Roku remote
Go to settings
Click on audio and change to the original language without the audio description.
Prime Video:
Press Up button on Roku remote while watching any program
Go to Audio & Languages and change to the available language without the audio description.
Netflix:
Press Up button and you will see the various language options.
Now you can Change from English – Audio Description to language without audio description.
HBO Max:
While playing any video, press * Star button on remote.
Select Accessibility & Captions and choose "Captioning or Audio Track."
Now Select a language option without descriptive audio or "audio descriptions" next to it.
Apple TV:
On the Apple TV home screen, find the Settings icon.
Then go to Accessibility > Audio Descriptions, > and Select Off.
The descriptive audio feature is available language on most Roku devices, including Roku streaming stick, Roku Express, Roku Express+, Roku Premiere, Roku Premiere+, and Roku Ultra.
What To Do If Roku Audio Guide Won't Turn Off?
---
Sometimes, even after disabling the audio guide, the narration won't just stop!
This issue occurs due to the Audio Descriptions available for the movie or TV show you are playing back. So, you need to disable it using the following steps:
1. Go to the subtitles and audio tab of the channel.
2. Choose the Audio description option and disable it. The narrations will now stop.