Kodi is open-source software that streams videos for free. Unlike Roku, Kodi is not a media streaming device. It is an app that contains several entertainment programs. The best part about Kodi is that it is compatible with most OS like Android, Linux, Windows, and iOS. So, you can easily stream Kodi content on these platforms.
Now, I know you must be wondering – "What about Roku? Can you stream content from Kodi on Roku?"
Well, the simple answer is – YES, you can stream Kodi on Roku.
But, here is the catch – The Kodi app is not officially available for Roku users, so you cannot directly stream Kodi on Roku. So, keep reading this post till the end to find your solution! But there are alternative techniques to stream Kodi programs on Roku devices, which will be discussed below.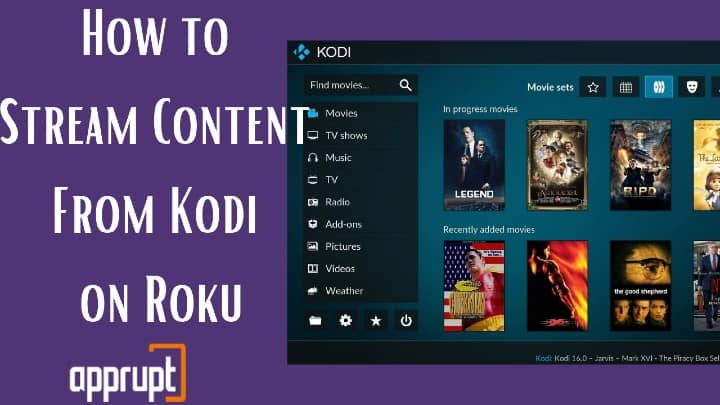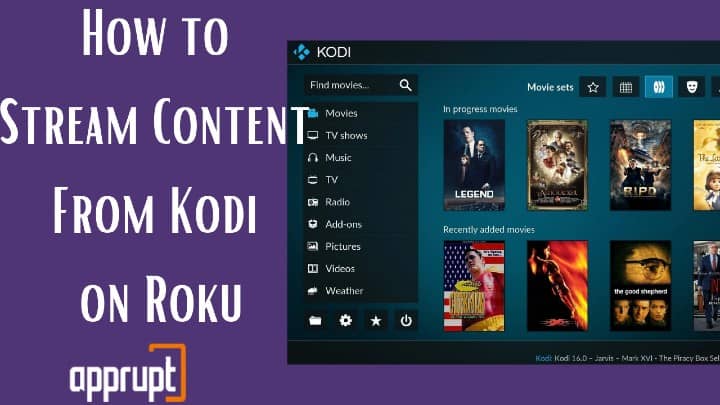 Is Kodi Available on Roku?
---
No, Roku does not support Kodi officially. Plus, you cannot jailbreak Roku since it uses Linux OS.
However, you can go with the alternatives given below to stream Kodi on Roku.
Mirror your mobile or PC screen.
Cast your mobile, tablet, PC screen.
Use the Roku Media Player App to stream content via a USB or local network.
Use the Play on Roku option from the Roku Mobile App.
If you don't know how to use any of these methods, read till the end. We have explained them below.
Why Should You Use Kodi on Roku?
---
Kodi is a popular name in the media streaming industry. The platform is compatible with most OS. That means you can access its contents across your Android devices, iOS devices, or Windows devices.
Kodi also supports numerous add ons that make media streaming more exciting. Best of all – Kodi offers top-notch content at no cost. For those who seek excellent shows for free, Kodi is the answer.
Besides, by installing Kodi on Roku, you can jailbreak Roku. All you need is a device that has Kodi and an HDMI cable.
In a nutshell, by pairing up your Roku with Kodi, you get access to unlimited media content without paying anything! The free features of Kodi and Roku combine to give you a world-class streaming experience. What can be better than that?
Word of Caution: Why Do You Need a VPN for Kodi on Roku?
---
Before heading to the Kodi installation process, let's talk about VPN. To stream Kodi on Roku, you need to use a VPN service.
Though some countries claim that this is illegal, you don't need to worry. Since you will be streaming Kodi on Roku unofficially, it is best to use a VPN service. Apart from these, there are several advantages of using a VPN for streaming Kodi content. Let's have a look at them below.
It keeps you out of the radar of authorities.
You can stream Geo-restricted content and any channel from anywhere.
It hides your details, browsing history, and identity.
It monitors the speed limitations.
No bandwidth throttling.
It hides your IP address.
Some Kodi add-ons stream PPV matches and live shows for free, which is illegal. If you are caught while accessing such content, you can be fined. A VPN can protect you from such issues.
How to Install Kodi on Roku Streaming Stick?
---
As mentioned earlier, you cannot install Kodi on Roku Streaming Stick or other Roku streaming devices. That's because Roku doesn't support pirated content streaming.
The only option left now is to mirror the screen of your Android, iOS, Linux, or Windows device and stream Kodi on Roku. But for that, you need to be ready with Kodi installed on any of your devices.
With the Kodi app installed on your device, you can quickly use the screen mirroring technique to watch Kodi on Roku.
How to Mirror Kodi on Roku From an Android Device
---
You can mirror Kodi from your Android device if you own a Roku device that supports screen mirroring. But you first have to enable screen mirroring on your Roku device.
Step 1: Switch on your Roku device and go to the Roku home screen.
Step 2: Using your Roku remote, navigate to the Roku Settings menu and go to System.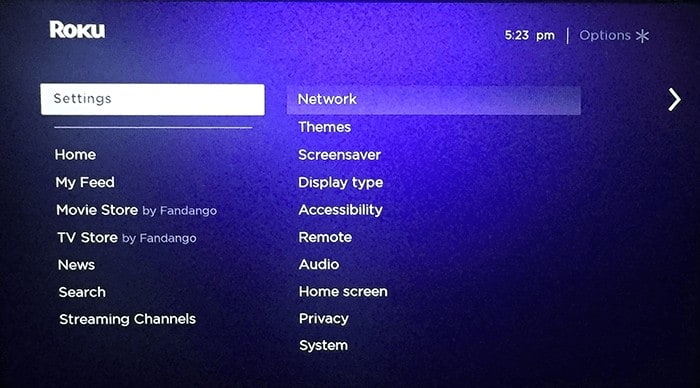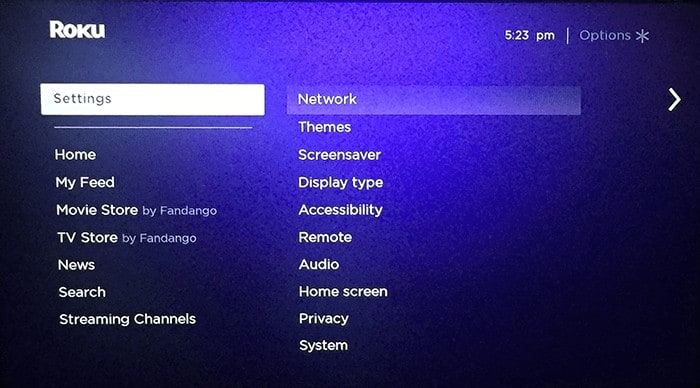 Step 3: Select Screen Mirroring >> Screen Mirroring Mode >> Always Allow/ Prompt and click OK.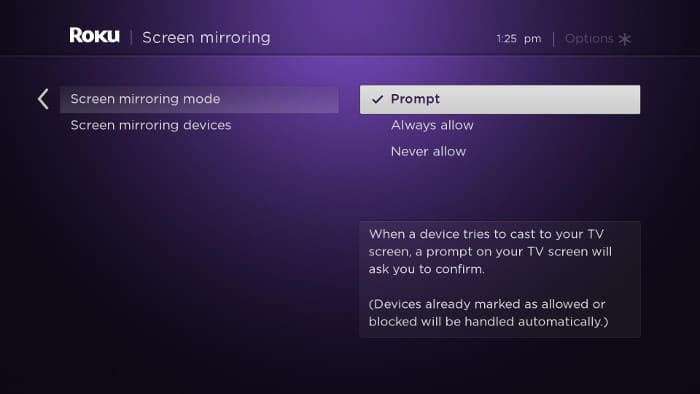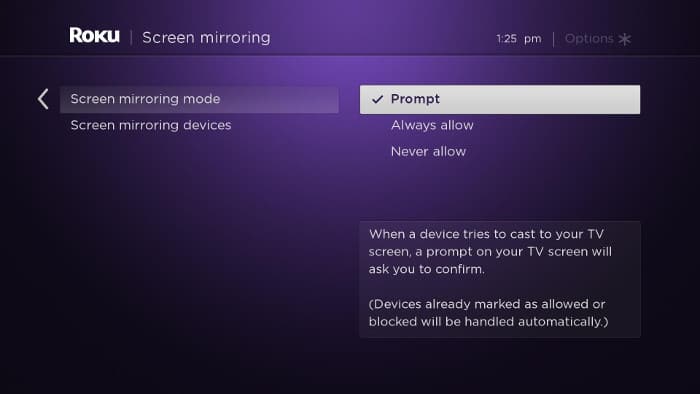 Once you activate screen mirroring on Roku, you need to install Kodi on your Android device. The screen mirroring option is available on Android devices of version 4.4.2 and above. Follow these steps to screen mirror Kodi on Roku.
Step 1: Open the Settings app on your mobile phone.
Step 2: Look for the option: Display/ Cast/ Connection/ Smart View/ Screen Casting/ HTC Connect/ Network. (Depending on the mobile phone you are using, the name of the screen mirroring function will differ.)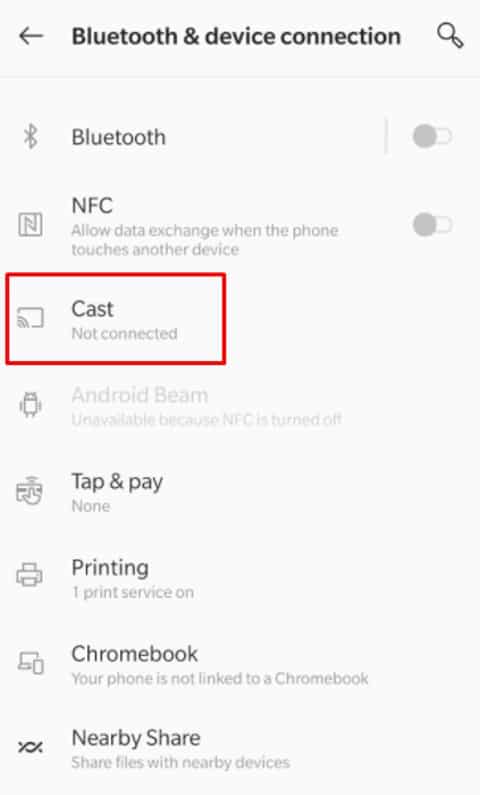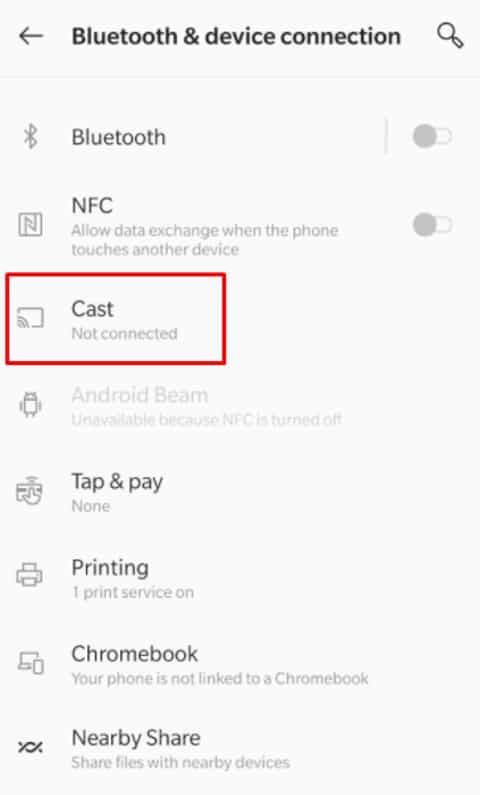 Step 3: Click on the screen mirroring feature and select your Roku device from the list of suggestions. (Keep in mind to connect your Roku and Android device to the same WiFi connection).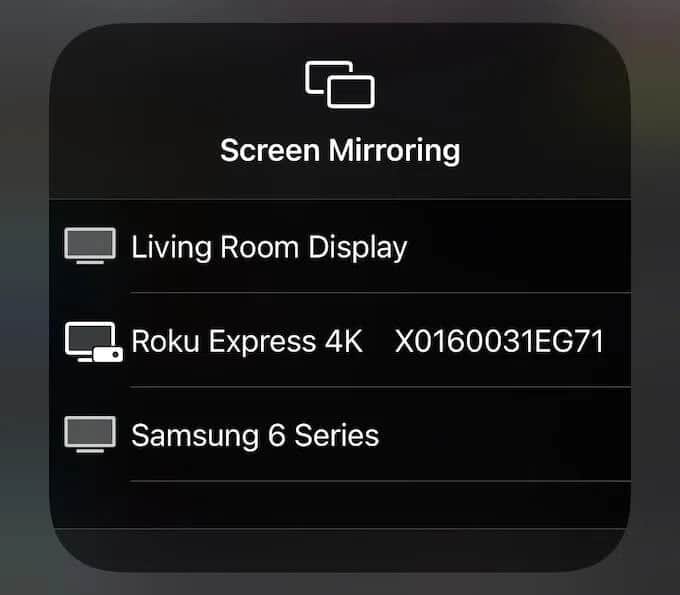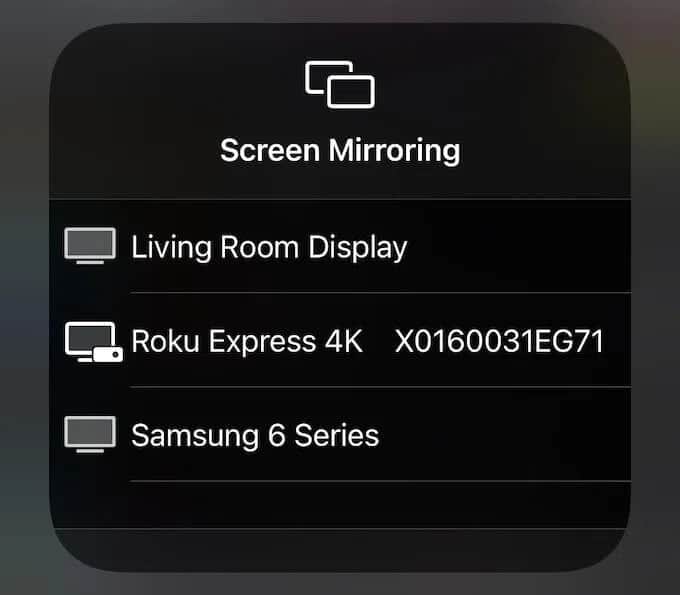 Step 4: Launch the Kodi app on your mobile/ Android device.
Step 5: You should now see the Kodi on the Roku TV screen.
---
Installing Kodi on Roku Using Windows PC
Another method to stream Kodi on Roku is using the screencasting/ screen mirroring functionality on your Windows PC. Windows devices come with a built-in casting feature. So, you don't need to use any third-party app or software to mirror your Windows screen to Roku. Read below for step-wise instructions.
Step 1: Navigate to the Roku settings page from your Roku home page.
Step 2: Click System and select Screen Mirroring.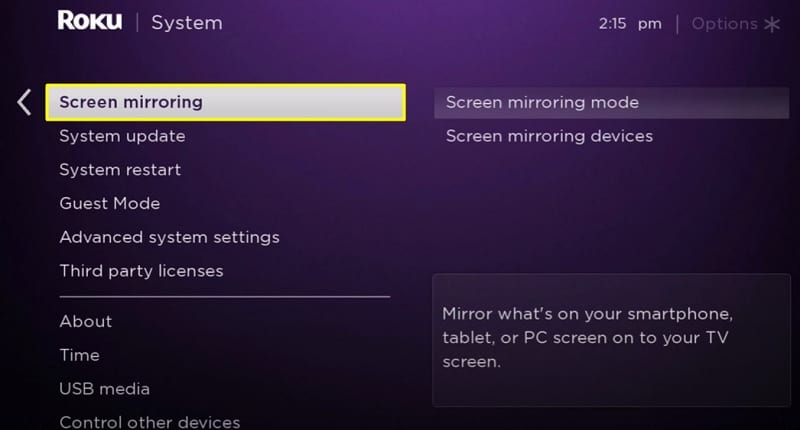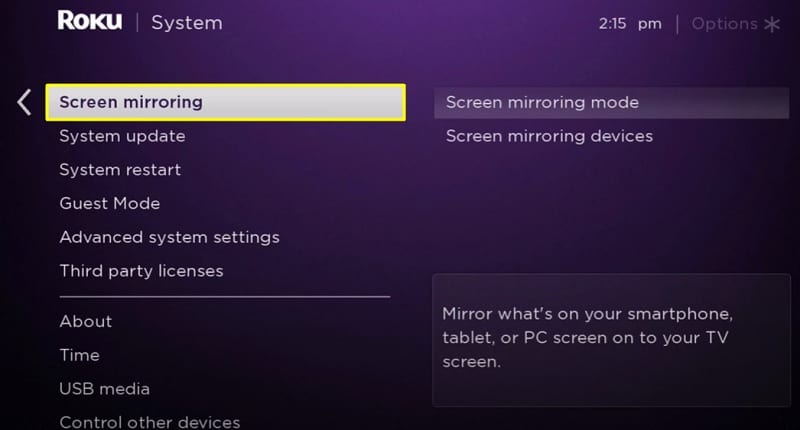 Step 3: Choose Screen Mirroring Mode and click on Always Allow or Prompt.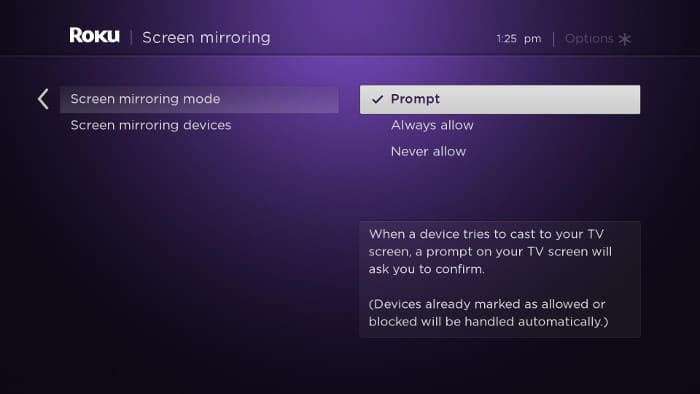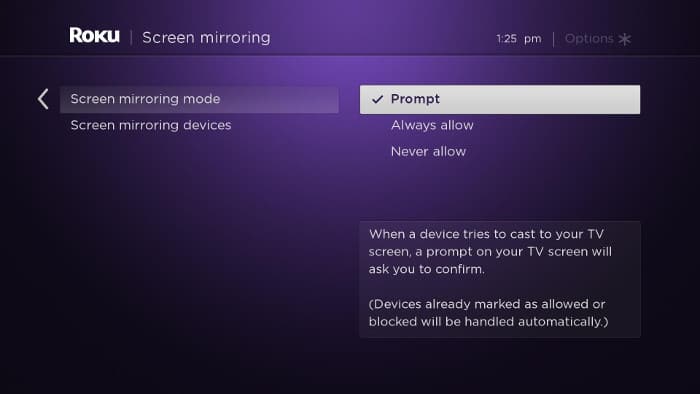 Step 4: On your Windows PC, navigate to Settings.
Step 5: Select Devices.
Step 6: Choose Add Bluetooth or other devices.
Step 7: Click Wireless display.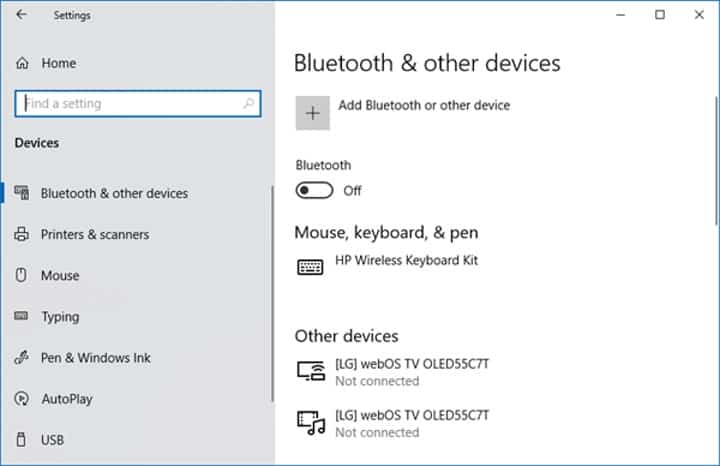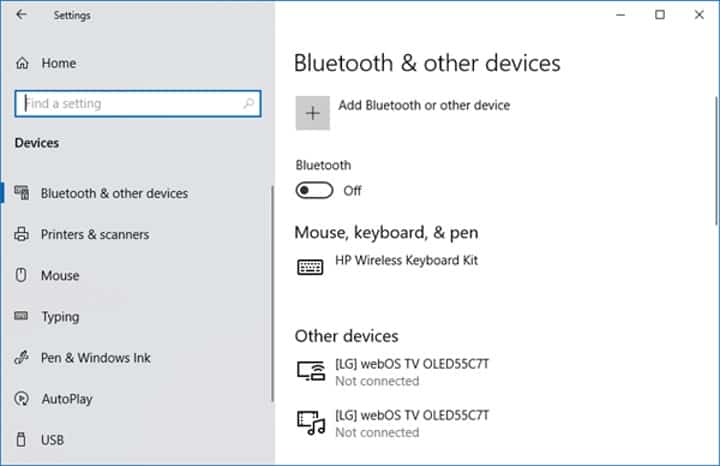 Step 8: Choose your Roku device from the list.
Step 9: Connect to Roku and click Done.
Step 10: Launch Kodi on your Windows PC and stream whatever you want.
Step 11: Your device's screen will now be visible on your Roku.
Step 12: On your Roku device click Allow, if prompted.
Alternatives For Kodi on Roku
---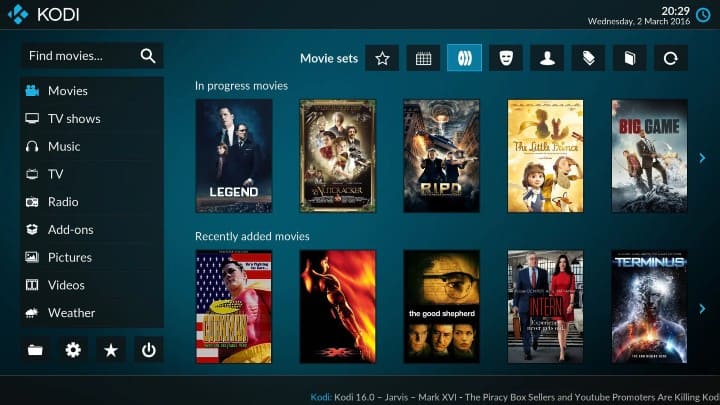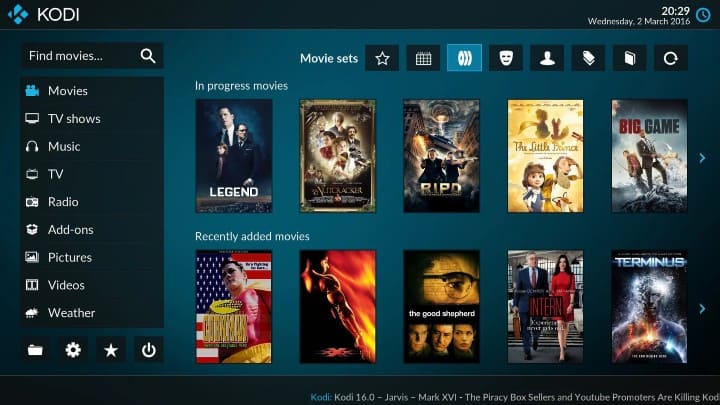 Kodi is famous all over the world for its top-notch media streaming service. So, it's not false that the alternative for Kodi won't match up to its performance. However, some streaming services can be used as a Kodi alternative. For instance:
Media Portal
Stremio roku
Emby
Related: Download amazon prime on roku stick
FAQ
---
Can you screen mirror Kodi from iPhone?
No, you cannot screen mirror Kodi from iPhone. Apple has dropped the Airplay option for Kodi. That means you cannot connect your iPhone to Roku or any other device to screen mirror Kodi content.
Can you jailbreak Roku stick?
Unfortunately, you cannot jailbreak the Roku stick since it has very secured software. Though, that shouldn't stop you from streaming content on Roku devices. You can use the screen mirroring feature to mirror any content on your Roku.
What Roku devices can I install Kodi?
You cannot officially install Kodi on Roku devices since Roku does not support Kodi. But you can stream Kodi content on Roku by following the instructions mentioned in this guide. If you perform all the steps correctly, you will get Kodi on Roku instantly.