If you are an NBA fanatic, I am certain you know the NBA league pass free trial. It is a top-rated service where users can watch live games of all the teams and customize their packages to watch a particular team. This is the most suitable place for basketball fans while the NBA season is in the swing.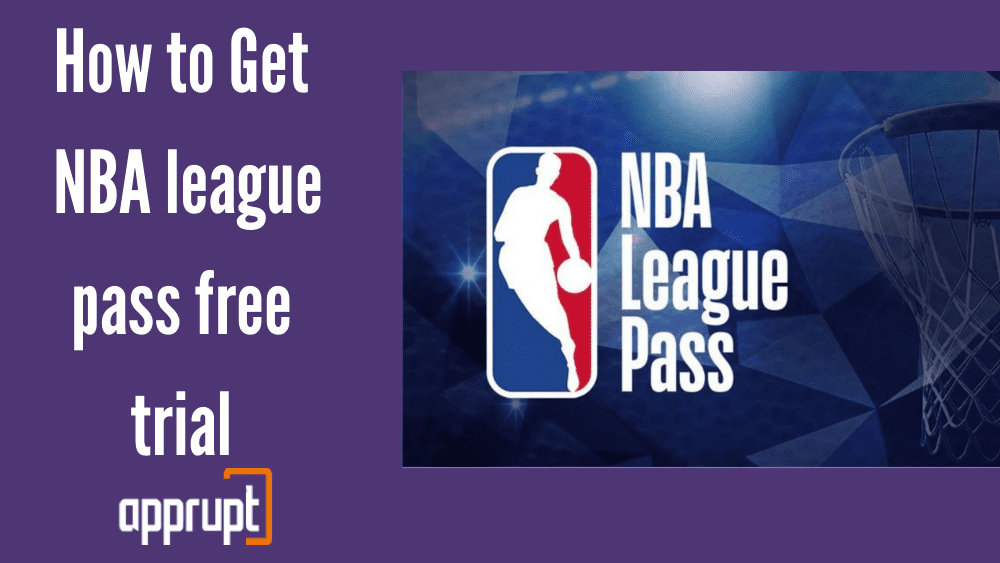 In this article, I am going to tell you how you can get a NBA league pass free trial and all the additional streaming services that offer a NBA league pass.
How to Order NBA league pass free trial  
---
You can get the League pass from the NBA website directly since the NBA is currently offering a 7-day free trial to all of its new users.
And if you have never subscribed to NBA before then, you can avail of this free trial, and here's how you can do so: Head to the official website of the NBA or click here.
Step 1: Click on the 'Start Your Free Trial' button that appears on the screen.
Step 2: You will be asked to choose a subscription plan; we have listed all the available subscriptions with their cost later in this section.
Step 3: After you have selected a plan, you will have to enter your payment details as you will be billed when the free trial ends. However, you can cancel anytime you prefer before the billing begins.
NBA League Pass offers several different plans that you can choose from; they vary in price:
League Pass Premium: This premium plan costs $39.99/month and $249.99/year. With this plan, you will have access to all the Live games and will be able to stream them ad-free; you can stream them on two devices at once.
League Pass: with this plan, you will be able to stream live games for all teams at the cost of $28.99/month and $199.99/year.
League Team Pass: Lastly, the League Team pass will cost you $17.99/month and $119.99/year for streaming games from one team of your choice.
Is NBA League Pass Offering a Free Trial?
---
Yes, the NBA is currently offering a 7-day free trial to all new users. After the trial ends, the monthly subscription will begin automatically, and therefore, if you don't want to continue, you must cancel your free trial before it ends. The auto-renewal feature will bill the subscription for the consequent month on your account.
The NBA League Pass is compatible with almost all of the devices, including Android devices, iOS devices, Chromecast, Apple TV, Android TV, Roku TV, Xbox One, and PlayStation.
Does Hulu Offer NBA League Pass Free Trial?
---
Unfortunately, Hulu doesn't offer NBA free trial as one of its Premium add-ons like Amazon Prime Video and Starz trials. Thus, you must look for free trials with other streaming platforms until Hulu collaborates with NBA League Pass. You can always get a 7-day free trial from the NBA official website.
NBA league pass free trial With Amazon Prime
---
Yes, you can get a free NBA League Pass trial with Amazon Prime Video. However, this opportunity is only available for Prime members and those who have not subscribed to the NBA before.
You can have a 7-day free trial of NBA along with a 30-day free trial for Amazon Prime Video.
There are two offers to choose from; you can get the All Team Pass clubbed with Amazon prime Video; this will also include access to NBA TV and will cost you $14.99/month once the trial ends.
Or you can get the Single Team Pass plan trial with Amazon prime, but it will not include NBA TV and will cost you $13.99/month when the trial ends.
To get this offer, head to the Amazon Prime offer page by clicking here and then click on whichever package you prefer. You will have the opportunity to cancel anytime you like before the trial ends, and no cable is required for this subscription. You will get to Live stream your favorite teams and games.
Additional NBA League Pass Streaming Options:
---
There are several other streaming options that you can look at for the NBA League Pass trial. SlingTV also offers a free trial for NBA, including both League pass at $28.99/month and Team Pass at $17.99/month. FuboTV, Youtube TV, Yahoo Sports, and DIRECTV are also a few of the streaming services from which you can buy a League pass.
How To Cancel the NBA League Pass Free Trial?
---
Here's how you can cancel your NBA free trial if you don't prefer to continue and don't want to be billed for further subscriptions. It is important that you remember to cancel your subscription before the free trial is over, i.e., within seven days:
Step 1: Head to the official website of the NBA by clicking here.
Step 2: And then, log in to your NBA account with your credentials.
Step 3: Once logged in, click on the profile icon located at the top-right corner of the screen. And look for the 'Manage subscription' option.
Step 4: Then, you have to tap on the 'Cancel Subscription option.
Also check some free trials offers: