Don't fright! This issue of "Netflix Not working on Roku" is pretty common. Mainly it occurs due to some technical issues from Netflix service or due to your Roku OS. Luckily, you can fix the common problems yourself. And, you don't need to be tech-savvy for that.
To get you sorted, we've compiled a list of the common problems with Netflix on Roku and their solutions. Find them below!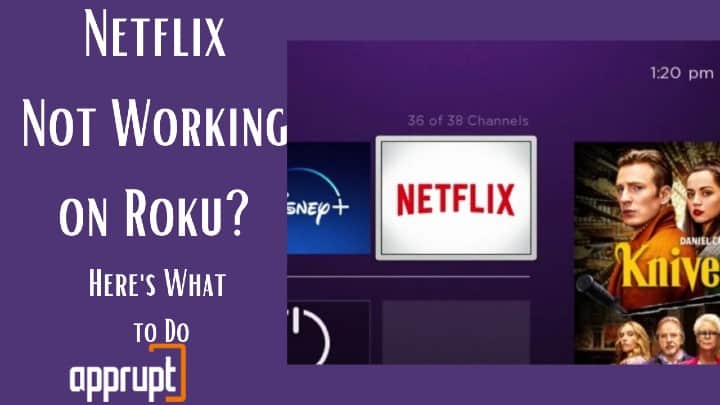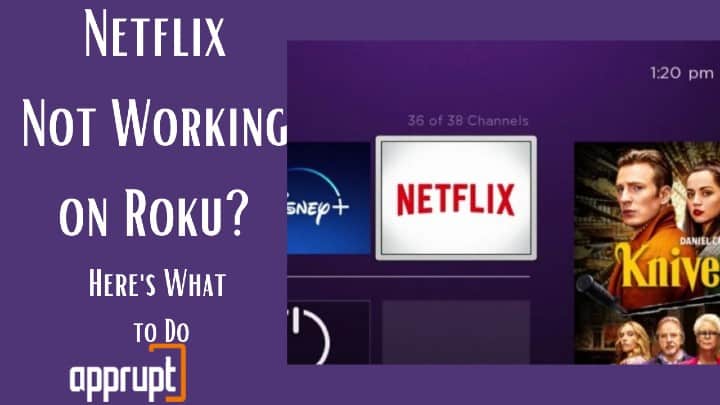 Why Does Netflix Keep Crashing on My Roku TV?
---
Most streaming channels crash mainly due to server, hardware, or internet issues. Netflix is no exception! If you cannot stream Netflix on Roku TV, there could be a problem with Netflix's server, your internet connectivity, or your Roku device.
Worst of all! You might have even forgotten to renew your Netflix subscription. (If you are in doubt, check that before trying other fixes.)
Unfortunately, Roku doesn't display any error code when the Netflix app crashes. So, you will have to figure out the issue yourself.
How to Fix When Netflix Not working on Roku
---
Netflix crashe applies to all Roku streaming players including Roku Express, Roku Streaming Stick, Roku Ultra, and Roku Streamba.
For instance, you might see no activity happening at all after clicking the Netflix channel icon on Roku. The app might freeze while loading or only a black screen will display.
Regardless of your issue, you can troubleshoot Netflix streaming issues using any of these methods. Remember that you don't have to apply all the techniques. Just pick the one that solves your problem.
1. Check Your Network Settings: A slow or unstable internet connection can mess up your Netflix streaming plans anytime. Especially when the video keeps buffering, or the Netflix icon keeps loading, the chances are that your internet is not functioning correctly.
The quickest way to check whether the issue is with your internet connectivity is by navigating to the Roku Settings page >> Network. Next, check the status by hitting on Check Connection.
If the connection is slow, head towards your router/ modem and reboot it. Once you are done, reconnect your Roku streaming device to the internet, and the issue will be solved.
2. Restart your Roku: One of the most convenient ways to fix a Netflix stopped working issue is by restarting your Roku device. You might be assuming that restarting means just switching off and on the Roku streaming device.
But, that's not all!
You need to restart your Roku device correctly to ensure that it reloads and refreshes the OS perfectly. Here's how to do it.
Step 1: Switch off your Roku device and unplug it from the socket.
Step 2: Leave it as it is for 10 seconds.
Step 3: Plug in your Roku and let it boot up.
Step 4: Don't do anything for one minute.
Step 5: Launch Netflix on Roku and see if the issue is fixed.
You can also Log Out of Netflix on Roku Tv
3. Update the Roku and Netflix App on Your Roku Device: Roku and Netflix apps regularly update, which is another reason that causes problems while streaming. So, you need to check for Roku and Netflix channel updates, and if any update is available, get it done right away!
To update your Roku and Netflix app, you must check for updates under the Settings >> System >> Software Update section. Once you hit Check Now, it will look for updates for your Roku device and Netflix app.
After checking, if updates are available, you will see a set of instructions on your screen. Follow them and the app will get working as before.
4. Netflix not Working on Roku? Check Your Netflix Account: If your Roku device is not responsible for the Netflix streaming problem, your Netflix account must be faulty. This could be due to payment failure or exceeding the maximum count of simultaneously streaming accounts.
Whatever the reason, head to your Netflix account and solve it. You can either opt for an advanced plan, clear dues, or provide the correct payment details. Then try to access Netflix on Roku. You will now be able to stream your favorite shows.
5. Check Roku Parental Controls: Parental controls limit access to Roku channels and shows. If you or any of your family members have enabled parental controls, it will prevent you from accessing Netflix on Roku. If you don't know how to hide a channel on roku read this article.
To fix this, you will have to do the following:
Step 1: Visit your Roku account on your PC or mobile device.
Step 2: Navigate to PIN preference and click Update.
Step 3: Choose Parental Controls PIN Preference.
Step 4: Disable the option.
Step 5: Accept the Terms of Service and hit Save Changes.
Additionally, check if parental controls are enabled on your Netflix account and disable them from the app as well.
6. Turn Off VPN: VPN is a great way to access geo-restricted Netflix content. But not all VPN services work efficiently. As a result, this causes trouble in streaming Netflix.
If you are trying to watch the Netflix app using a VPN, likely, it won't stream on Roku. That's because Netflix flags users that attempt to access it using a VPN. So, make sure you disable your VPN before streaming Netflix.
7. Report the Problem to Netflix: The last option is to get in touch with the Netflix team if nothing works. You can call Netflix Customer support or talk with them via live chat from the Netflix app or website. You should also check if Netflix is down or not.
Remember that you indicate your problem correctly and give proper information about your device. Netflix has outstanding customer service, so your issue will be fixed in no time!
Alternatively, you can also scroll past the guides under the Netflix help tab. Netflix has answered the most common questions here.
That brings us to an end! Hopefully, you got your answer on how to solve the Netflix not working issue on your Roku device. So, try out these fixes, and you'll surely be able to continue with your Netflix and Chill plan.
8. Contacting Roku Support: Contacting Roku customer service is easy – simply click on the below button and they'll be more than happy to assist you.
Related Posts: