Did you know you can watch thousands of movies and TV shows in high definition quality for free on your Roku? Sounds too good to be true, doesn't it? But guess what? It is absolutely true! Popcorn Time on Roku offers exactly that and much more!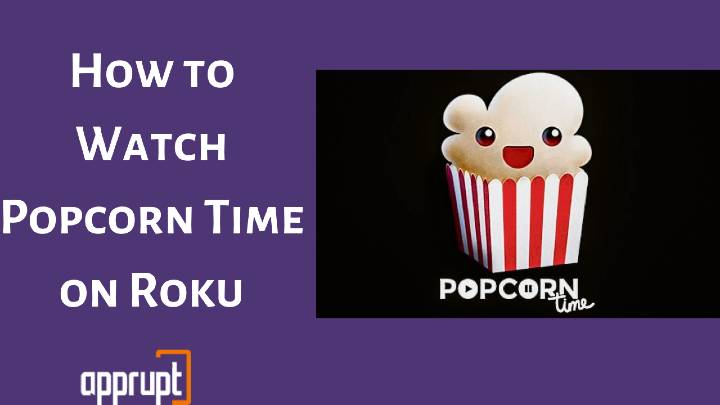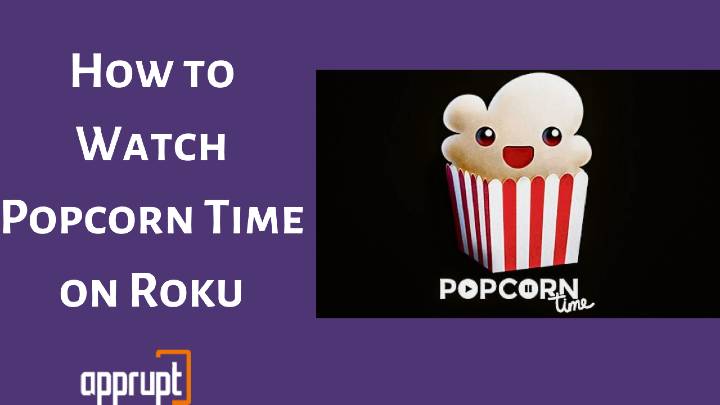 This channel searches and collects the highest quality Torrent video streams of a wide range of content from all over the internet. You can watch it unlimitedly online with fresh content added regularly to its database. It even lets you add subtitles and stream the content in any language you want. It does not even cut your watch time short with playback or download time and plays instantly.
In this article, we will tell you A to Z about this amazing channel and how you can get the most out of it.
Can I Stream Popcorn Time on Roku?
---
Yes, you can watch Popcorn Time on Roku. However, you would require the help of an Android or Windows device to watch movies and TV series on your Roku screen since the app is not officially available on the Roku Channel Store's platform.
How to Install Popcorn Time on Roku?
---
Installing Popcorn Time on Roku is not as straightforward as most other channels as the channel has no designated app for Roku's platform. But there are still two different alternatives for you to watch all your favorite content from this channel on your big screen. We have described both the procedures in detail in the sections below.
Stream Popcorn Time Roku Channel using Plex app?
In this section, we have taken you through the process of streaming Popcorn Time on Roku using the Plex media player step by step:
Step 1: The first step is to install Plex media server app on your PC. You can download it for the Windows platform from here.
Step 2: Once you complete the setup, log in to your Plex account using proper credentials.
Step 3: Now, head to the Plex Unofficial Channels category and look for the Popcorn Time app. Install the app on your Plex. You are now done with your external PC and need to turn on your Roku device.
You can install plex on roku from here.
Step 4: Make sure to connect your Roku device to a strong Wifi connection. Go to the Roku Channel Store to download and install the Plex Media Server app on your Roku.
Step 5: Launch the app once installed and log in using the same credentials that you used earlier on your PC.
Step 6: You would find the Popcorn Time channel on the channel menu on your Plex. You can finally dig into the content you wish to watch.
Stream Popcorn Time on Roku using PC (Windows or Mac) Via Screen Mirroring?
---
Another alternative to swatch Popcorn Time on Roku is by screen mirroring the content of your preference from its app on your PC (Mac or Windows) onto your Roku TV screen. This can be done in the following way:
Step 1: First of all, you should enable the Screen Mirroring feature on your Roku. For this, turn on your Roku device and the Roku-connected TV, and navigate to the Settings section.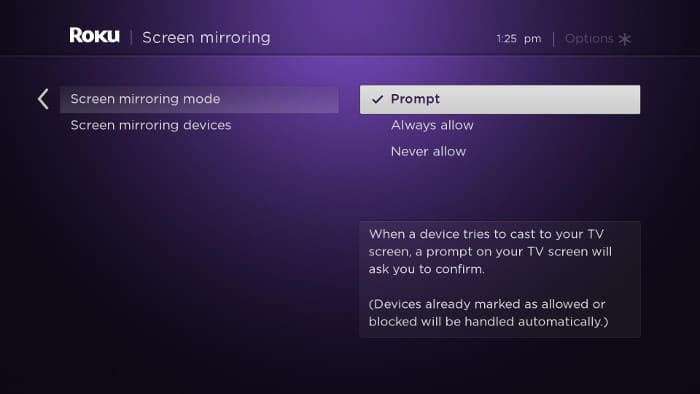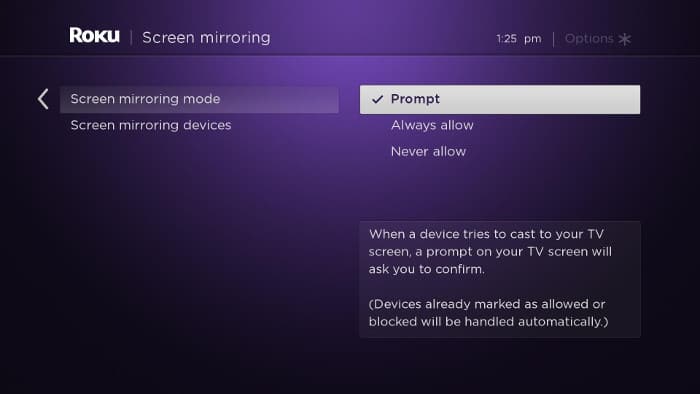 Step 2: Under Settings, select System and then Screen Mirror. Then click on the Screen Mirroring mode option on the right side of the screen.
Step 3: You need to select either Prompt (it would ask for your permission every time before screen mirroring) or Always allow (it would automatically allow screen mirroring without asking for your permission every time) from the list of options.
Step 4: You must connect your Roku device and the PC you are screen mirroring from, to the same Wifi network. Now, download and install the latest version of the Popcorn Time app for your PC from here.
Step 5: On your PC, press the Windows Key + P (for Windows) or Command Key + P (for MAC) to open the Easy Display Switcher menu.
Step 6: Next, pick your Roku device from the list of available devices to screen mirror on it.
Step 7: If you had set the option to Prompt in Step 3, then you would be prompted for permission on your Roku. Select Accept.
Step 8: Finally, open the Popcorn Time app and choose any content you like to play. It would be mirrored from your PC screen onto your Roku screen. So, relax and have a great watch!
Frequently Asked Questions
---
Is there an alternative for Popcorn Time on Roku?
Since all the content on Popcorn Time may not be streamed legally, many might hesitate to use this app. In that case, you always use other streaming services like Netflix, Amazon Prime Video, Disney Hotstar, Hulu, Pluto TV, etc. However, these services will not come for free of cost.
To Sum Up
And that is how you stream Popcorn Time on Roku! Despite it not being a legit streaming service, its use of BitTorrent protocol lets it be a great option for millions of users across the world who prefer budget-friendly entertainment. We hope you found this article helpful.