As a smart TV, the TCL Roku TV offers a lot of streaming content that you might want to explore. However, there are times when you might be experiencing problems with the TCL Roku TV. One problem that some users have had is that their TCL Roku TV doesn't automatically connect to the available wireless network.
You must be frustrated if you are expressing issues with that It used to automatically connect Roku on boot up but now I have to manually do it.
You often count on your TCL Roku streaming device to brighten up your day by streaming your favorite media programs. And there you find a problem saying your Roku TV not connecting to the wifi router.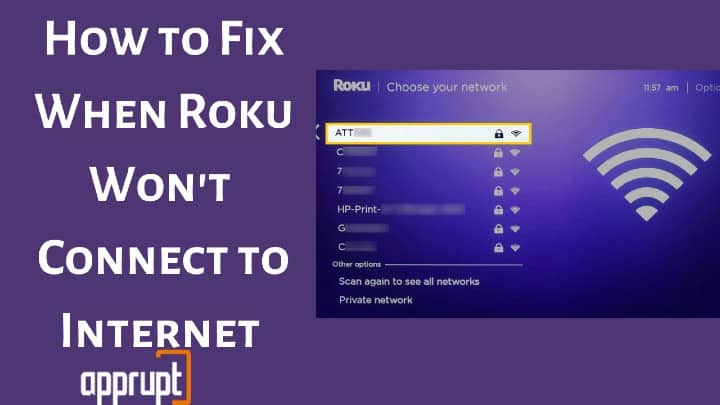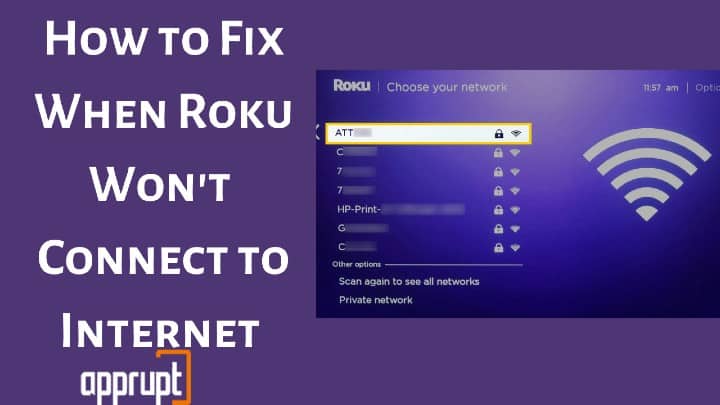 How will you cope with this situation? Will you buy a new Roku model or fix it yourself? Of course, you'll go with the second option.
Yes! You can fix all the problems while connecting to wifi with your Roku.
Roku users may frequently face issues while Roku not connecting to wifi since they might have been using their Roku for longer periods. But that's not the only reason.
Several other reasons would result in a TCL Roku TV not being connected to the internet problem. And this article will guide you about the most possible wifi connection issues with your Roku. Here is everything you need to know about Roku not connecting to wifi.
How To Troubleshoot Your Roku TV Not Connecting To Wifi?
---
If you face issues while connecting to wifi, you can easily fix them on home screen. But before diving into the cure, let's find out the causes that stop your Roku TV from connecting to wifi.
Reasons that interrupt or do not let Roku connect to the internet
---
The connection problem may be due to a couple of reasons, but the main culprits often come from the router and wireless connection signal strength. Besides, the cache memory may also cause this internet-related issue. Below are some common reasons that result in poor internet connectivity.
Slow internet – One of the most frequent problems that hinder the connectivity between Roku and its server is a slow internet connection. For streaming seamless content, you need an internet service that is fast as well as stable.
Loose cables – A loose cable connection can also result in an internet failure. So, ensure that the cables are connecting properly.
Router outage – Due to a wireless router or power outage, the internet services may be temporarily interrupted.
DNS Cache – The routers cache the DNS configurations to connect with the internet. In some cases, these DNS configurations may be corrupted. Because of this issue, some DNS servers are unable to connect, causing an interruption in the connection process.
Device configurations – Sometimes, internal problems may be present in the device that cause hindrance to proper connection to the servers. A bug may cause these internal problems in the system software in some cases. Due to this, the system software gets corrupted over time, which causes some of its functions to restrict.
Malfunctioning – A malfunctioned device may also be the reason for poor connectivity or other internet connectivity issues. Another reason may be your device overheating.
If your Roku TV is not connected to the internet due to the above reasons, you can follow troubleshooting steps so your device starts within minutes.
Besides, it is worth understanding that when you face Roku internet connection problems, it might not necessarily be in the Roku itself. But it can be with other devices in your home, or the connection settings, or with the router.
So, let's see some simple steps on how to fix Roku TV automatically not connecting to the wifi problem in detail.
Fix 1: Checking Physical Hardware
---
The foremost thing before initiating the troubleshooting is to go through an inspection of the hardware. Check if your router and roku devices are working perfectly, sometimes they need a fresh start. And if you are using an outdated Roku stick or router, you might want to replace it to fix the internet issues.
Fix 2: Make Sure All Cables are Properly Connected
---
As mentioned earlier, loose cables can result in poor internet connection or internet failure. So, check the cables connected to your Roku TV and router and ensure they are connected appropriately. You can also disconnect and reconnect the cables if needed.
Fix 3: Do an Internet Speed Test
---
The next step to verify your internet connection is by running an internet speed test and double-check it. You can check the internet speed from your Roku settings Menu using the following method.
Step 1: Go to your Roku's Settings page.
Step 2: Navigate to Network.
Step 3: Select Check Connection. This option will check your wifi speed and display the result as fair, poor, or good on the Roku screen.
If the internet speed seems good, try playing the media again. However, if it is poor, turn off the internet connection of additional devices. This will give more bandwidth to the Roku to improve signal strength and speed from your router.
Alternatively, you can also bring Roku closer to the router. This will enhance the health of the connection.
Fix 4: System Restart your Roku
---
Restart your Roku after 30 seconds is the solution to most Roku problems. Likewise, to fix internet issues on Roku, you can restart the device, as stated below:
Step 1: Navigate to the Roku settings menu from the home screen system menu.
Step 2: Click System through the Roku remote control.
Step 3: Select System Restart.
Wait 30 seconds for your Roku restarts, then try playing any video on your Roku. You can also try updating your Roku or turn off Roku and then again turn it on.
Fix 5: Connect an Ethernet Cable to your Roku
---
An all-time working trick to fix a slow Roku internet connection is using an ethernet or wired connection.
This will create the most strong connection. All you need is to plug in an ethernet cable and connect it to a compatible Roku player.
Ethernet Cable will provide direct internet connectivity to your Roku. Hence, no issues like wifi not connecting to Roku will occur.
Fix 6: Check wireless network Name (SSID)
---
A wifi connection issue can be faced by people when they select the wrong wifi name. Therefore, while entering the wifi SSID credentials, you have to be very careful.
To prevent any problem regarding this, take notes because the paraphrase alphabets are commonly case-sensitive.
Fix 7: Check HDMI Cables
---
Once you're gaining the value of a Roku device, it's necessary to ensure that all the cables are installed in place because inaccurate plugging or disconnected cables can be a good reason behind a local network issue that can impair the connectivity further.
Hence, one head of the HDMI cable needs to be connected to the TV and the other to the Roku device. Recheck this connection and fix it if it is loose or connected inappropriately.
FAQ
---
Why is my wireless network name (SSID) missing from the list of wifi networks?
Sometimes, the router may be hitting its SSID, making it invisible. As a result, you won't be able to find your wireless network name (SSID) on the list. In order to solve this problem, you need to click on the Add Network to configure your network name manually.
Also, place your Roku device in the range of the wifi router. This issue may also occur if you are using an older Roku device. In that case, you will have to replace your Roku.
Is there a way to connect the Roku to wifi without the remote?
Absolutely. You can always connect your Roku to wifi without a remote. However, for that, you will have to use your smartphone. You will first have to install the Roku mobile app on the device. Then sign in to your Roku account and use the Roku remote to control your Roku device.
Keep in mind; you will have to connect your Roku and mobile device to the same wireless network to use the remote.
What does it mean when it says connected to your local network but unable to connect to the internet?
Sometimes the Roku will connect to wifi, but the internet won't work due to technical failure. In that case, you need to click on Forget Network. Next, you can try putting the name and password again and tap connect. This way, your Roku will get back online.
Conclude
---
In this article, we have shown all the possible reasons sue to which Roku not connecting to wifi. We have also gone through all the best solutions to resolve this problem.
Carefully reading and following these outlined guidelines and ways will certainly help you resolve the problem as soon as possible. However, finding the problem before treating it is a recommended method!
Still, if nothing out of this article could solve the problem, you might need to consider contacting Roku support. They will check the warranty and hopefully replace the device altogether.