Shudder is a streaming service provider which AMC Networks own, offering 500+ movies and shows. It is the best place to watch TV series and movies belonging to genres like horror, thriller, and suspense. And those who love these genres would want to try this streaming service and must be wondering how they can get its free trial.
With its free trial, you will be able to watch the most popular horror shows like Creepshow, Hellraiser, Wolf Creek, and many more.
This article will tell you how you can get a Shudder free trial and what its subscription will cost you once the trial is over.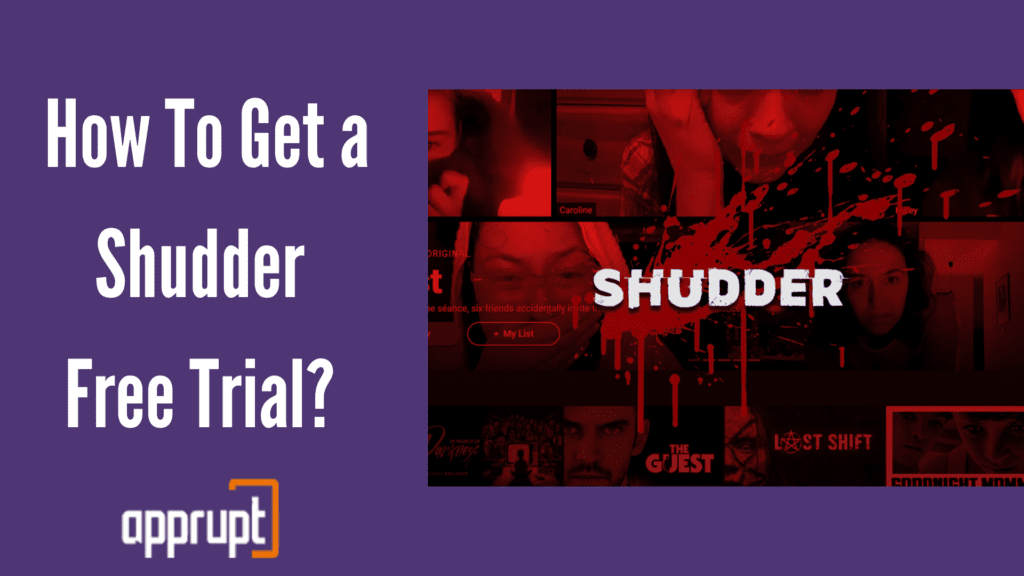 Does Shudder offer a Free Trial?
---
Yes, Shudder offers a free trial on its website, and its currently offering a 7-day free trial. You can sign up for its free trial if you are a new user. With the trial, you will have access to Shudder's entire content library for free and get to experience the platform. If you don't like the service, you'll have a choice to cancel anytime you want.
You will have access to famous horror movies like Mandy, Black Christmas, Dogtooth, The Beach House, and many more. Shudder is highly compatible with most devices, including Roku, Android/iOS devices, Apple TV, Xbox One, etc.
How to Get Shudder Free Trial
---
Now you must be wondering how one can sign up for this free trial and access the content for free. Well, no need to worry anymore as I am going to tell you the entire process of getting the Shudder free trial; the process is quite simple:
STEP 1- Head to the official website of Shudder by clicking here.  
STEP 2- Then, you have to tap on the 'Try 7 days free' button displayed on the screen as the webpage opens.
STEP 3- You will be required to enter your email address and a password to create an account.
STEP 4- Then, proceed by clicking on the 'Create your Free Account' option.
STEP 5- You will be asked to select a subscription that you prefer to continue with once the trial ends.
STEP 6- Then, on the payments page, you will be required to enter your credit card information; however, you will not have to pay anything until the trial ends.
STEP 7- Lastly, tap on the 'Start Your Free Trial' button.
How do I subscribe to Shudder Free Trial on Amazon Prime?
---
You can also sign up for a Shudder free trial with Amazon Prime Video. However, this offer is only available for Prime members, and thus, if you are not a member, you can't get this offer. Amazon Prime Video offers its subscribers a choice to add Shudder as a premium channel add-on to their Amazon Prime Video subscription.
New users will be able to get a 7-day Shudder free trial offered by Amazon along with a 30-day free trial of Amazon Prime Video.
Once the trial ends, you will have to pay $5.99/month for continuing your Shudder subscription after the trial ends. And if you wish to discontinue, you can cancel the Shudder free trial from Amazon itself.  
To sign up for this free trial, you will have to log in to your Amazon account with your credentials.
You can visit the Amazon offer page by clicking here. You will have to provide your payment information; however, you will not be charged until your trial ends.  
Is Shudder Free with AMC?
---
Yes, users get free access to Shudder's entire content library when they subscribe to AMC+. If you are unaware, AMC+ is a recent streaming bundle where users will have access to Shudder, Sundance Now, and IFC Films Unlimited. To subscribe to AMC, you can visit their website directly or through their AMC+ app.
Is there Shudder 30-day Free Trial code 2022?
---
Currently, there's no active code using which you can get a 30-day free trial of Shudder. However, recently there was a promo code 'SHUTIN' to unlock a Shudder free trial of 30 days.
As you must be aware that Shudder only provides a 7-day free trial on its website, but if you use this promo code, you'll be able to access an extended version of the trial. But there is no guarantee that this promo code will work as it might have expired already; you can give it a try.
How much does Shudder cost after a Free Trial?
---
Shudder doesn't offer many types of subscriptions; it only offers two kinds. There is only one basic Shudder plan that will cost you $5.99/month after the free trial ends. And you can also get its annual subscription which will cost you $56.99/year.
What movies and TV shows are on Shudder's Free Trial plan?
---
Users will have access to the entire Shudder library, which includes some of the best horror classics like Carrie, Black Christmas, Sadako vs. Kayako, Mandy, A Girl Walks Home Alone at Night, and Cannibal Holocaust (which is banned on most platforms).
Also, access to movies like Halloween, Psycho, Evil Dead, Satan's slaves, and Rear Window.  
You will also have access to several Shudder Originals that are broadly famous, including Christmas Presence, The Beach House, Random Acts of Violence, Iskander: Shadow of the River, Creepshow, and The Witch in the House.
Shudder Free Trial not working? What to do?
---
If the Shudder free trial is not working or you cannot create an account on Shudder, I'd recommend that you ensure these things. You need to make sure that you have a stable Internet connection because it's important to have a strong internet connection to proceed with the signup process.
Also, you can try reloading the webpage once again or re-opening the website to see if you can get the free trial. Lastly, you can not use an email address used earlier on Shudder. Only new members that have never signed up for Shudder are eligible for its free trial.