In this article, we will walk you through detailed steps on How to Install Terrarium TV on Firestick. The terrarium tv app is best for users who love to stream the latest tv shows and popular movies.
It doesn't cost you a penny. You can also use the outlined methods for a Fire tv cube and Fire tv.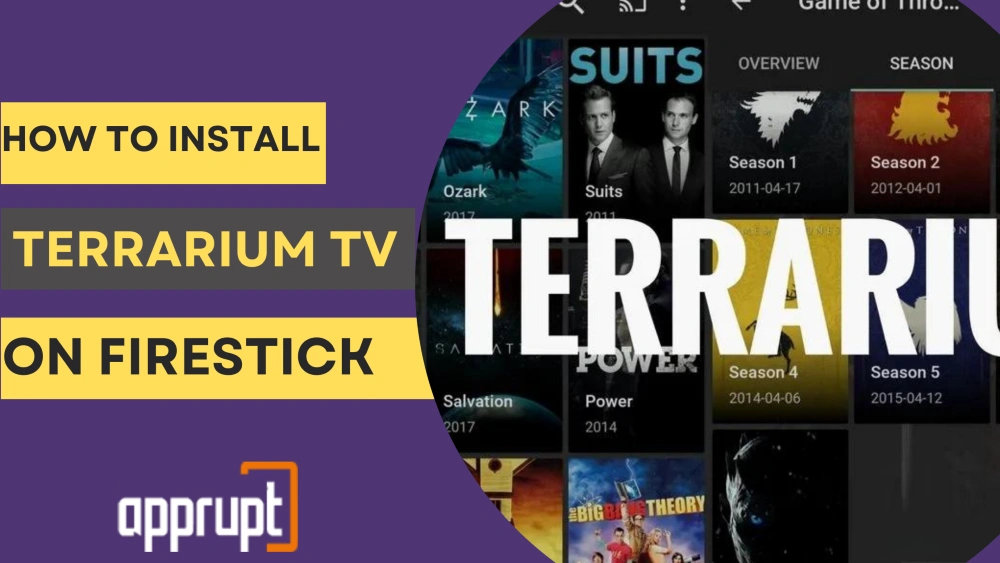 Is Terrarium Tv Still Available on Firestick?
---
The original Terrarium tv app is no longer available to install. It was closed down in 2019. After it shut down, many new apps surfaced with almost the same look, user interface, and features, like the Terrarium tv app. Titanium tv is one of the popular apps in exchange for Terrarium tv.
It was created with the left-over content library of the Terrarium TV app. You can install the titanium tv on your fire tv stick to stream free movies and tv shows in HD quality.
How to Install Terrarium Tv on Firestick
---
Titanium tv is not available to install from the official Amazon app store. Such third party apps are added using a sideloading application on fire stick devices.
We will discuss two famous sideloading apps that help you install a third-party app like titanium tv on Firestick. We have split the two methods into three sections so you understand every step.
1. Titanium tv installation steps using Downloader app.
Amazon app store has added the downloader app in their library to install it for completely free.
1. Add the Downloader app to Firestick.
2. Get permission for the Downloader to install apps from unknown sources.
3. Install the Titanium tv apk file on the Downloader app.
Before installing the apk file, we will "enable JavaScript" to avoid facing technical errors.
If opening for the first time, select "Allow."
Select "OK on the Quick Start Guide pop-up.
Select "Settings."
look for the option "Enable JavaScript." Check the box against this option.
Select "yes" on the JavaScript warning message.
Select the "Home" option from the left column.
Search for the URL field. Use the remote to select this.
Enter the URL of the Titanium tv apk file.
Select the "Go" button.
Wait till the apk file downloads.
Select the Install button to get the Titanium app on your Amazon fire tv stick.
You get two choices: Done and Open
Select "Open" to launch the app immediately. Select "Done." Delete the apk file first.
2. Titanium tv installation steps using Es file explorer
ES File Explorer, known as a file manager, is also a widely used sideloading application for Amazon fire tv and Android devices. Its sideloading feature is included in its premium subscription plan.
1. Add Es File explorer to Firestick
2. Get permission for the Es file explorer to install apps from unknown sources.
3. Install the Titanium tv apk file on the Es file explorer.
Open the app
When you open this app for the first time, some pop-ups appear on the screen.
Select "Agree" and "Allow."
Buy its subscription plan.
Select the "Free Trial."
Accept the on-screen instructions to initiate your free trial.
Select the "Downloader" option from the bottom end of the screen.
Select the "New" icon at the end of the screen.
Select "Path." Enter here the following URL of the Apk file. Don't skip adding HTTPS://.
Select the "Name field" to type any name. Select the "Download Now" button.
The titanium tv apk file will download.
Select "Open file."
Select "Install."
ES File Explorer sets a path for you to install Titanium tv.
Select "Install.
Wait till the "App installed" message appears on the screen.
You can either click "Done" or "open."
Alternatives for Terrarium Tv App on Firestick
---
Many terrarium tv alternative services are available with the same user-friendly interface to stream the latest free movies and tv shows. If you want, select any one of the below instead of the titanium tv app.
Airtv Extra Iptv
AirTV Extra IPTV is an outstanding streaming service for watching over 1000 Live channels and on-demand movies. You can watch the skipped episodes of your favorite shows with its 7-day catch-up.
Including Firestick, this application is accessible on multiple devices such as Android tablets, Smartphones, Samsung phones, Android TV Boxes, Nvidia Shield, etc.
Ckay Tv
CKay TV has a content library of on-demand videos and 1000+ live TV channels. Users of different age groups can enjoy channels from diverse categories such as Movies, Entertainment, News, Kids, and more.
You can integrate its app with other video streaming apps such as MX and VLC Player.
Cinema Hd
It was previously known as an HD movie. This Cinema provides you with a treasure of shows and movies in more than 60 categories. You can watch movies from unique genres, such as romance, anime, horror, and more.
You can stream the latest TV shows live and on-demand for entirely free with Cinema HD.
Teatv
Teatv offers ad-free streaming services and hosts television shows and movies from worldwide. You can stream its video content on your tv screens in HD quality. You can add any content to the favorites list to watch anytime and anywhere.
Cyberflix Tv
Cyberflix tv offers free unlimited streaming of the latest shows and movies. They update their content library regularly. Its interface includes the same features as the terrarium tv.
Catmouse
CatMouse is a great Terrarium TV alternative that allows you to stream diverse genre movies and the latest TV Shows in HD quality. If you want, integrate its app with third-party video players to enhance the viewing experience.
Conclusion
---
As terrarium tv has been closed on all devices, you can select any of its clone applications for streaming content. We have explained two working methods to install the titanium tv app on Firestick. Implement every step described above in the same manner.