Marquee Sports Network is a widely popular regional sports network focused exclusively on Cubs baseball. Gaining immense popularity, this sports channel went so far as to replace several other channels as the exclusive broadcaster of Chicago Cubs sports events.
With cord-cutting being the new norm and people diversifying to find better and cheaper options to watch their favorite content, a myriad of options is now available to the users at the click of a button.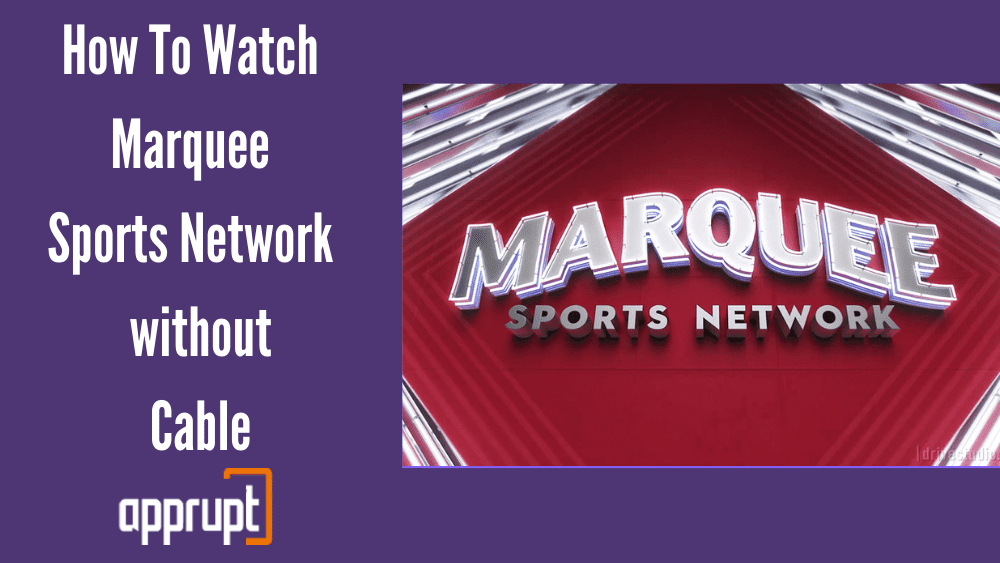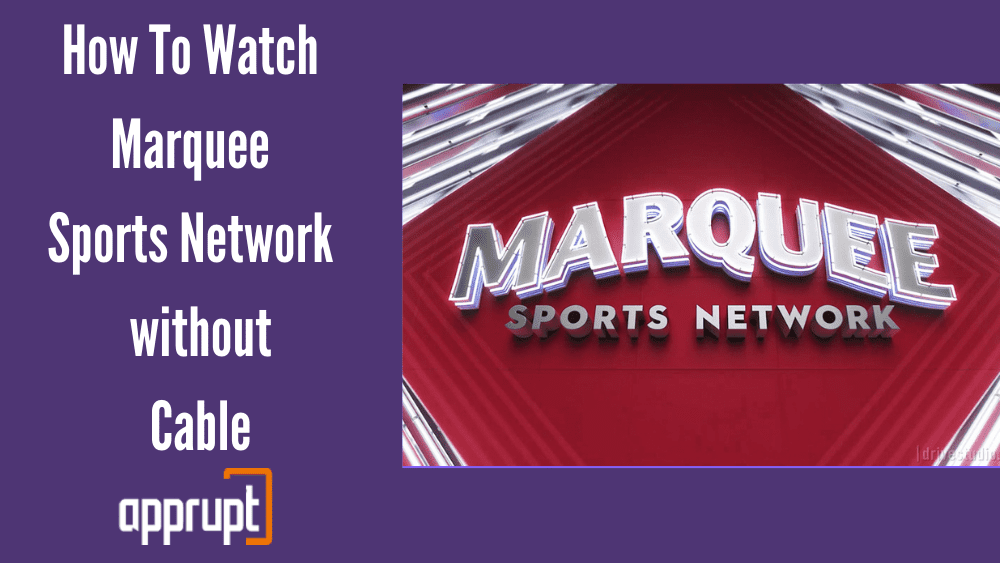 In this article, we will discuss a few of the prominent streaming options available to watch Marquee Sports Network without cable –
Streaming Services with Marquee Sports Network
---
These days, switching to a streaming service is a much-desired option compared to a conventional cable connection.
Live TV streaming services like FuboTV, DIRECTV STREAM, Hulu Live TV, etc., are some of the well-known choices available in the market.
The streaming services mentioned below are compatible with mostly all streaming devices. A few popular names are Amazon Fire TV, Apple TV, Roku, Google Chromecast, etc.
With a periodic subscription and a good internet connection, you can easily avail of these services, so you never have to worry about missing a good Cub fight again!
Watch Marquee Sports Network on FuboTV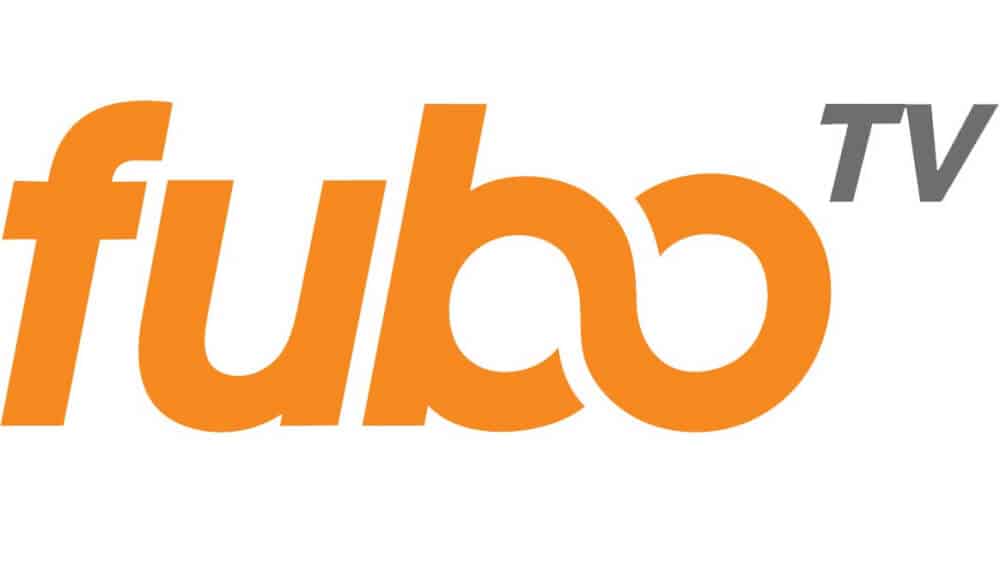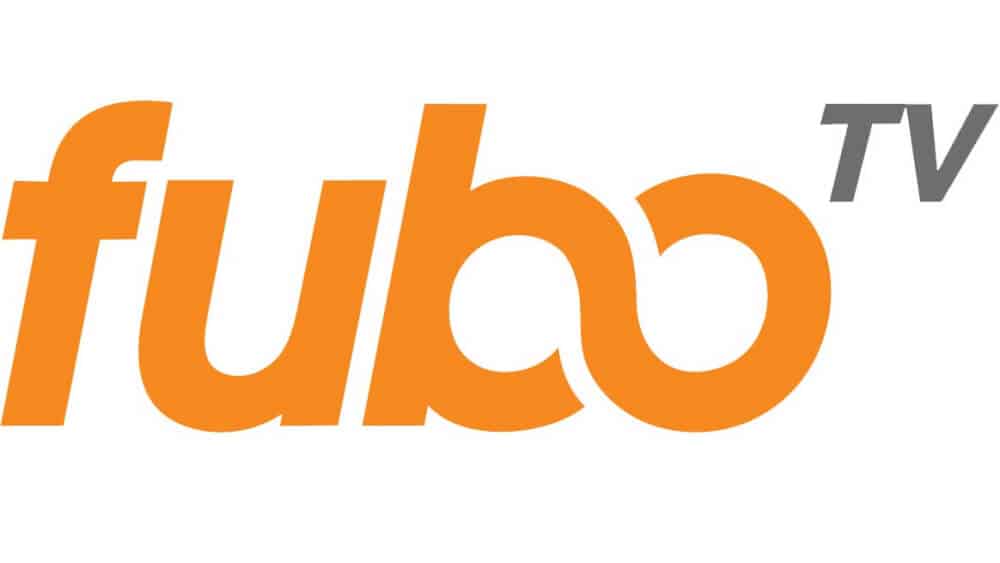 Fubo TV recently added Marquee Sports Network to its channel lineup. The basic plan starts at $64.99 per month and offers simultaneous streaming of up to three devices, 250 hours of cloud DVR storage, and a 1-week free trial.
Fubo TV, essentially a sports-focused streaming service, offers many popular sports channels in its lineup to fulfill your sports streaming needs!
Watch Marquee Sports Network on DIRECTV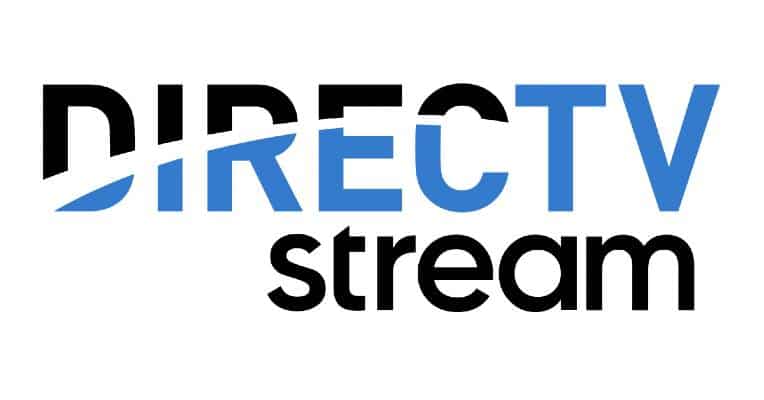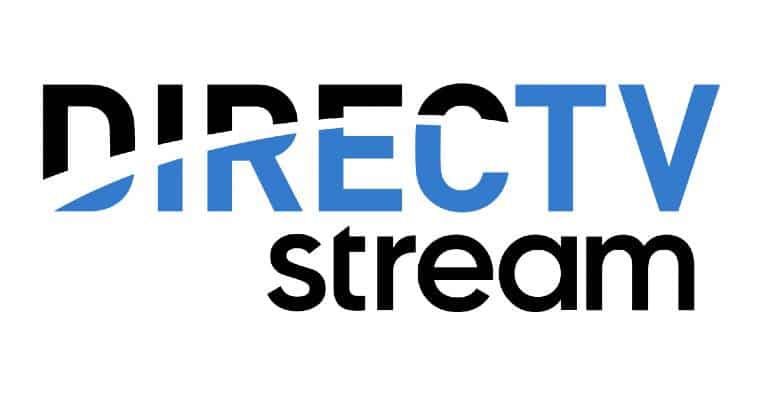 DIRECTV carries Marquee Sports Network in its choice package priced at $84.99 a month. AT&T TV, recently rebranded as DIRECTV STREAM, has over 65 channels in its lineup along with Marquee like Discovery, Bravo, CNN, Comedy Central, etc.
Having unlimited cloud DVR, you can record your favorite games and rewatch them at your convenience.
Although it is the most expensive streaming service out there, it also has its perks – DIRECTV STREAM is the only streaming service offering up to 20 devices to stream simultaneously!
Is Marquee Network on Hulu?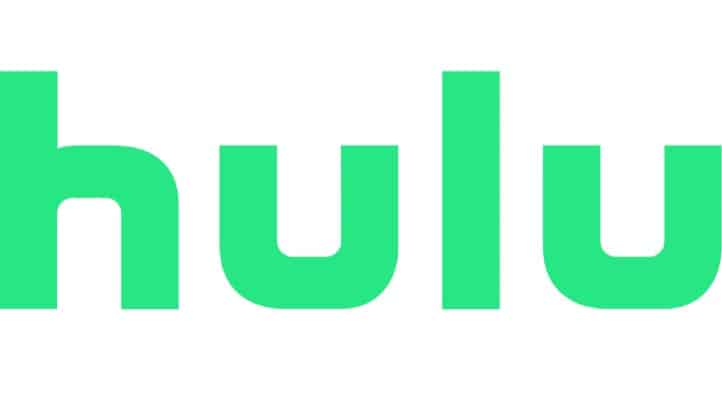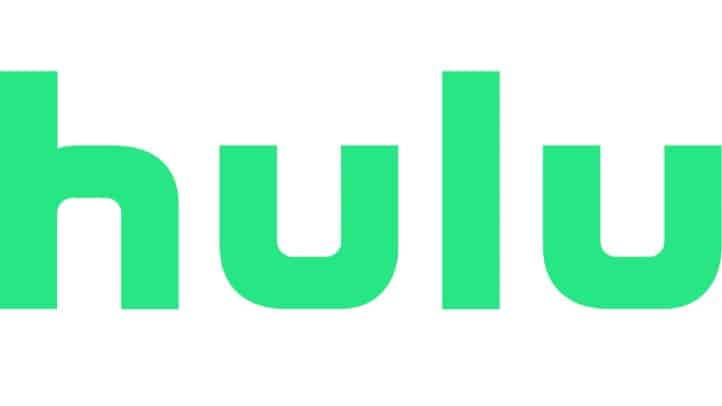 Hulu Live TV does not offer Marquee Sports Network.
However, Hulu Live TV does have NBC and ESPN, along with 70+ other channels in its lineup, offering you an alternative to watching all the Chicago Cubs games.
Hulu Live TV is compatible with a wide range of streaming devices. It is priced at $69.99 per month. Offering 50 hours of cloud DVR and simultaneous streaming of 2 devices, Hulu has gained immense popularity in recent times.
Is Marquee Network on YouTube TV?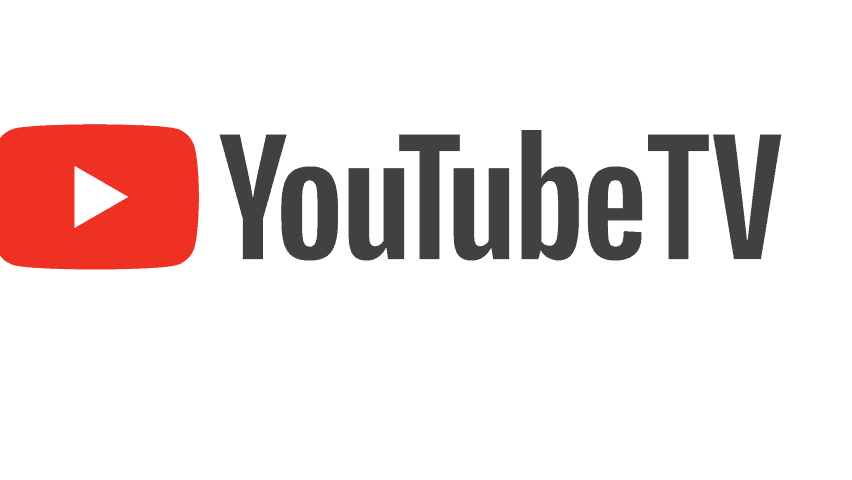 No, Marquee Network is not available to stream on YouTube TV.
Despite that, it does have ESPN and NBC in its channel list so that you can watch all the major Cubs games and more!
It offers 60 channels as a part of its plan, including famous networks like TLC, ESPN, FOX, Disney, etc. For $64.99 per month, you get access to unlimited cloud DVR storage, 1-week free trial, and simultaneous streaming on up to 3 devices.
What If You Live Outside the Marquee Sports Network broadcast area?
---
Marquee Sports Network's broadcast area includes the Chicago TV market – parts of Illinois, Indiana, Iowa, and Wisconsin. Marquee Network will not be available if you live outside the broadcast area, irrespective of your streaming service.
You can still watch your favorite Cubs with the MLB if you live outside the broadcast area.
MLB stands for Major League Baseball and gives you access to all major league baseball games irrespective of regional, national, or other blackouts.
MLB.TV costs $129.99 per year for the "all teams, all games" plan and is compatible with popular streaming devices.
You can also choose to watch Cubs games through the single team plan for $109.99 per year.
An important thing to note here is that MLB.TV does have some blackout rules for games, depending on where you live. Detailed online guides and workarounds are easily available on the net to solve this issue.
Watch Marquee Sports Network on Roku
---
To watch Marquee Sports Network on Roku, all you have to do is install the Marquee app on your Roku device and activate it.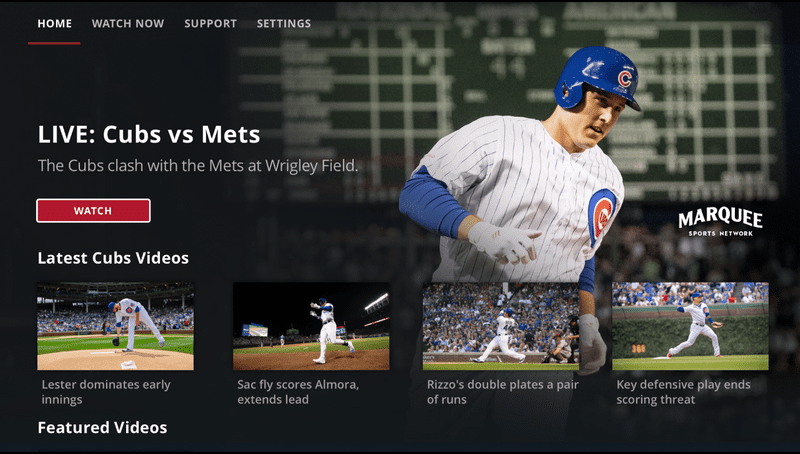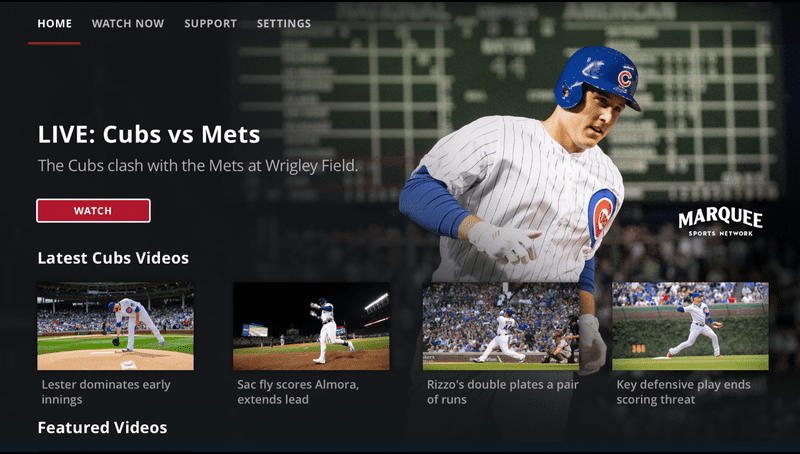 Here's a series of steps you need to follow to watch Marquee Network on Roku –
Step 1 – Go to the Home Page
Step 2 – Select Streaming Channels
Step 3 – Click the search icon, and search for Marquee Sports Network
Step 4 – Select Add Channel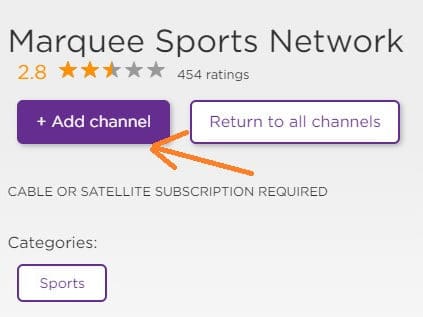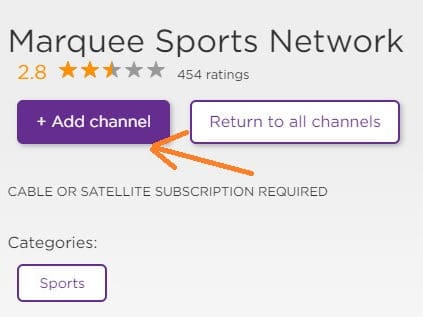 Step 5 – Once the download is complete, click on the Marquee Sports Network app to launch it.
Step 6- Enter your credentials and sign in.
Step 7 – If you select the Activate option, enter the activation code received at https://www.marquee.tv/activate to activate it.
Furthermore, you can also watch Marquee Network on Roku by selecting and setting up an appropriate streaming service like FuboTV, DIRECTV STREAM, etc.
How much is Marquee Sports Network on Roku?
Marquee Network does offer some free content on Roku. Still, the full access, which includes the Cub games, needs a subscription with a pay-tv provider for full access.
It has a 7-day free trial period, after which you need a monthly or yearly pay-tv subscription to watch its content.
Can I watch Cubs games on Roku?
Cubs games can be watched on Roku with a subscription plan of a suitable pay-tv provider.
Some free content is available, but to watch the games, you will need a subscription to a pay-tv service or a streaming service like Fubo TV, DIRECTV STREAM, etc.