By 2030, the size of the SaaS market is expected to reach $819.23 billion, according to Grand View Research Inc. For such a huge industry, it is important that regulatory requirements should be fulfilled.
For the privacy and security of organizations, access control to SaaS applications has become very crucial. By implementing strong access control systems, SaaS providers can efficiently track user activities, restrict data access to authorized individuals, and manage user access or permission while adhering to the obligatory regulatory instructions.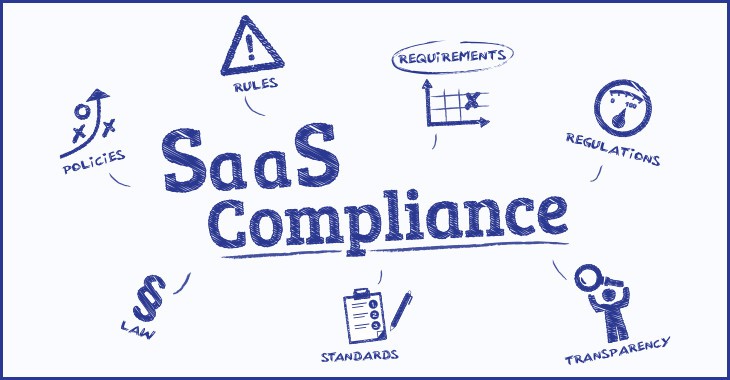 Understanding SaaS Compliance: An Overview
SaaS compliance refers to the adherence of SaaS providers to important rules, policies, and industry standards to ensure the security and privacy of clients' information and operations. Compliance requirements can be different according to the industry and geographical location, with ordinary frameworks, including GDPR, SOC2, and HIPPA.
Key Regulatory Requirements for SaaS Applications
SaaS providers should stay up-to-date and work with experts to guarantee compliance with all relevant regulations. Some key regulatory requirements for SaaS application are as follow:
ISO/IEC 27001
It is a common standard for data privacy management. It is defined as the framework of practices, policies, and procedures for organizations to control their main assets' reliability, privacy, and availability.
SOC2 (Service Organization Control 2)
It is a standard auditing process developed by the American Institute of Certified Public Accountants (AICPA) to check a SaaS provider's system and processes' security level, integrity, and privacy. SOC2 is well known as a gold standard for assessing the reliability and confidentiality of SaaS platforms and applications.
PCI-DSS (The Payment Card Industry Data Security Standard)
PCI-DSS is a set of data protection standards designed to ensure that organizations that store, process, transmit or accept credit card data maintain a safe environment.
The Role of Access Control in SaaS Compliance
Access control is important in ensuring SaaS compliance with regulatory requirements connected to security and data privacy. It refers to the processes used to direct users' access to a SaaS application's data, assets, and functionalities. Below are some access control measures.
Data Privacy and Protection
Access control ensures that the users only have access to those data crucial for their responsibilities and roles. It helps in minimizing the risk of deliberate or accidental data exposure.
Security Standard Compliance
Access control is vital to security standards like SOC 2 and ISO/IEC 27001. These standards require organizations to execute appropriate access control to protect sensitive data and ensure data reliability, privacy, and availability.
Accountability and Audit
Access control mechanisms often include monitoring and logging capabilities that record access attempts and user activities. These logs are essential for compliance auditing and investigating security incidents.
User Authorization and Authentication
Access control involves the user's authorization (granting appropriate access levels) and authentication (verifying user identities). Multi-factor (MFA) authentication can add an extra layer of protection. A robust authentication mechanism complies with several industry standards, e.g., PCI DSS for handling credit card information.
Navigating Compliance Standards: GDPR, HIPAA, and SOC 2
Navigating compliance standards is a serious aspect of operating a SaaS business, as it involves managing private data and ensuring the safety of customer information. Let's explore how SaaS providers can address the compliance requirements of GDPR, HIPAA, and SOC 2:
General Data Protection Regulation GDPR
GDPR applies to SaaS providers that process individuals' data residing in the EU, regardless of the provider's physical location.
Key Compliance Requirements:
Consent management
Data subject rights
Data protection measures
Data transfers
Data breaching notification
Health Insurance Portability and Accountability Act (HIPAA)
HIPAA applies to SaaS providers that handle protected health information (PHI) in the U.S. HIPPA compliance is essential for SaaS health-based services providers, e.g., payment portals, insurance management tools, and monitoring applications.
Key Compliance Requirements:
Confidentiality rule
Safety rule
Breach notification rule
Business Associations Agreements (BAAs)
Service Organization Control 2 (SOC 2)
SOC 2 is a framework developed by the American Institute of CPAs (AICPA) to assess the accessibility, safety, reliability, and privacy of service providers.
Key Compliance Requirements:
Security
Availability
Process Integrity
Confidentiality
Privacy
Case Study: Effective Access Control Implementation for Compliance
This case study focuses on the U.S famous company IBM (International Business Machines Corporation). The company acknowledged the need to strengthen data security and comply with data privacy regulations such as GDPR. They undertook comprehensive access control management to attain the goals and offered Role-based Access Control (RBAC) as part of their cloud security system.
IBM categorized users into roles such as managers and support staff, each with specific access permission based on their responsibilities. The company also established a robust auditing and monitoring system to track user activity and access attempts.
Tools and Techniques: Streamlining Your Access Control Processes
Streaming access control processes in a SaaS environment is essential to efficiently manage user access, guarantee compliance, and increase security. Here are some techniques and tools particular to SaaS that can assist in streamlining your access control processes:
Identify and Access Management (IAM) Solutions
IAM solutions are essential for managing user authentication, identities, and access privileges in a centralized manner. Well-known IAM solutions for SaaS include:
Okta: It provides comprehensive IAM platforms with Multi-Factor Authentication (MFA) and Single Sign-On (SSO) capabilities.
Azure Active Director (AZURE AD): It is a cloud-based IAM service for Microsoft, compatible for integrating with Microsoft-based SaaS applications.
SaaS- Specific Access Control Platforms
Some vendors offer access control solutions mainly designed for SaaS applications. These tools help streamline access management and access reviews for SaaS environments. These tools are:
OneLogin: It provides access control and IAM solutions tailored for SaaS environments, including MFA and SSO.
BetterCloud: It offers centralized access control and automation for several SaaS applications, including Microsoft 365 and Google Workspace.
Activity Monitoring and Analytics
Implement real-time monitoring and analytics to detect anomalies and track user activities. Analyzing access patterns assists in identifying possible privacy threats and unauthorized access attempts.
Building a Compliance-First Culture in Your Organization
Building a culture of compliance in the organization must be fully supported by top management and directors. With a supportive climate from the top leadership, the compliance-first culture will be influential. No matter your industry, there are regulations you must follow.
Senior management support
Training and internal communication
Code of conduct and compliance policies
Reporting channels
Evolving Compliance Standards and Access Control
As the regulatory landscape change, compliance standards for SaaS applications also continue to adapt and become more rigorous. One of the severe compliance components in the SaaS perspective is access control. Below are some aspects to consider concerning evolving compliance standards and access control in SaaS.
Increased Emphasis on Data Privacy and Protection
With the growing concern over privacy violations and data breaches, compliance standards place greater importance on data security. Access control is essential in protecting sensitive information by enforcing user consent, data encryption, and implementing MFA to stop unauthorized access.
Cross-border Data Transfer
SaaS providers serving users in multiple jurisdictions must conform to various data protection regulations. Access control measures should consider the location of data storage and ensure that data is accessed and transferred in compliance with relevant laws.
Application Programming Interface (API) Access Control
As SaaS applications gradually rely on APIs to integrate with other services, access control for APIs becomes essential. Compliance standards may identify guidelines for safe API access and data exchange.
Final Words
Implementing competent access control measures in SaaS platforms considerably simplifies the task of ensuring regulatory compliance with industry standards. By adopting a strong access control system, SaaS providers can effectively monitor user activities, limit data access to authorized customers and manage user permissions.